For a while now at my old apartment and now my new one, I've been getting the magazine Vegetarian Times, thanks to my fiance who ordered it for me :)
I always love looking through them and bookmarking recipes that I can't wait to make.
They always seem to fall to the back burner though, and I have so many issues that it's hard to go back to see what I truly want to make.
I made two the past couple of weeks from two different issues that were definitely "blog worthy."
The first one was from the May/June 2010 issue! This whole issue was jam packed with recipes that I wanted to make.
I actually chose one that wasn't even vegan! Of course, I vegan-ized it but subbing the cheese with vegan cheese.
The magazine had a whole section on "packets". these being food you put into aluminum foil packets and bake it and it comes out cooked and delicious!
I chose the "Tomato Mozzarella Packets with Polenta"
I have yet to cook with polenta prior to making this, i've only ever had it out and loved it but was intimidated by the packaging in grocery stores to even know what to do with it!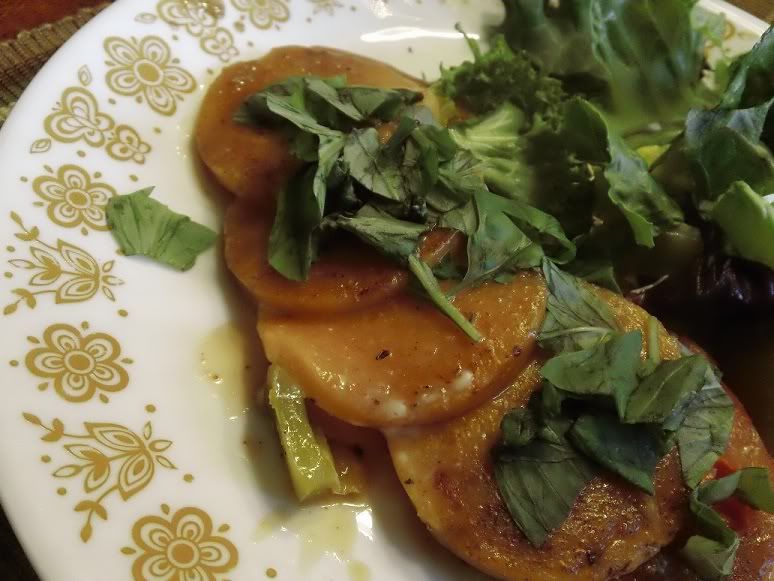 This was a VERY simple recipe and paired with a side of mixed greens, made a delicious meal!
Tomato-Mozzarella Pakcets with Polenta:
1 16 oz tube prepared garlic-herb polenta, cut into 16 slices. (I used sundried tomato)
2 large tomatoes, each cut into 8 slices
16 pitted olives (I omitted this)
4 tsp garlic olive oil (I just mixed olive oil with garlic powder)
2 t balsamic vinegar
1 tsp dried italian herbs
4 oz (1 cup) shredded vegan mozzarella cheese (i used vegan gourmet)
1/2 cup chopped fresh basil
Preheat oven to 400 degrees. Place 4 16" lengths of aluminum foil on work surface. Fold foil in half from short side. Unfold. Shape corners and edges of one half into semicircular "bowls" with 1/2 inch sides. Coat insides with cooking spray.
Place 4 polenta slices, slightly overlapping in each foil semicircle. Arrange 4 tomato slices over polenta. Drizzle each serving with 1 tsp garlic olive oil and 1/2 tsp balsamic vinegarn, and sprinkle with 1/4 tsp italian herbs, season with salt and pepper. Top each with 1/4 cup shredded mozzarella. Fold other half of foil over ingredients, and seal edges in overlapping folds until packets are sealed. Transfer to baking sheet and bake 25-30 minutes.
Remove baking sheet from oven, and transfer packets to serving plates.
It will be hot when you open them, and it was easiest for me to dump them upside down (that's why you don't see the cheese in my photo, it was on the bottom from flipping it )
I would definitely make these again, they were a super easy, delicious meal! i'm trying to find more things to do with polenta now!
The other recipe I recently made was from the Vegetarian Times recent issue - the July/August 2011 magazine. this magazine also had a TON of recipes I'm planning on making soon!!
I made the Zucchini-Quinoa Lasagna first from it. Since I already had vegan cheese from the polenta left over, I wanted to use it up instead of ending up staying in the fridge too long and throwing it out!
This recipe was quick, easy, and I loved using zucchini instead of the traditional pasta noodles!!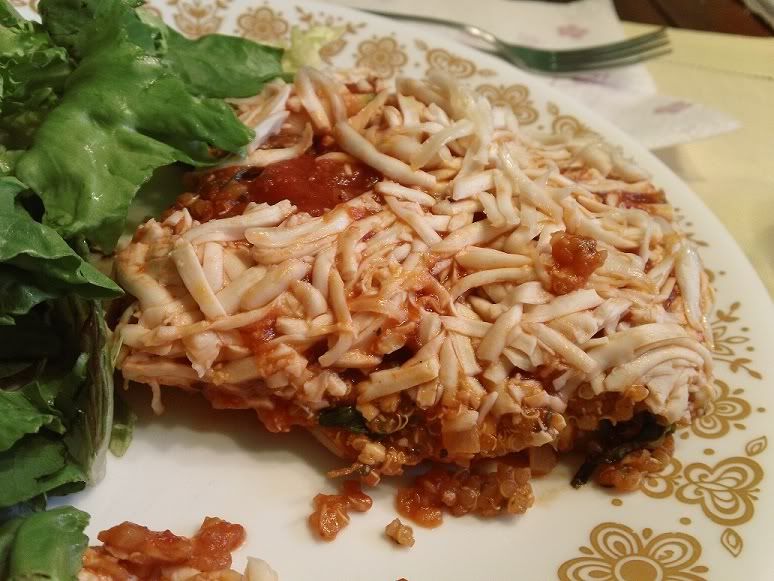 Zucchini-Quinoa Lasagna: (serves 6..I halved it for the two of us, and still had leftovers for lunch!)
2 large zucchini, cut lengthwise into 12 1/4 inch thick slices
1 t salt
2 c low sodium broth
1 c quinoa
1/2 c tomato sauce
1/4 cup chopped onion
1 t dried oregano
1/4 c fresh basil leaves, chopped
1/4 cup parsley leaves, chopped
1 25 oz jar marinara sauce
1/2 c shredded vegan mozzarella cheese
Preheat oven to 400 degrees. Place zucchini slices on bed of paper towels and sprinkle with salt, then cover with paper towels and let stand to release moisture.
Bring broth, quinoa, tomato sauce, onion, and oregano to a boil in saucepan.
Cover, reduce heat to medium-low and summer 25 minutes or until all liquid is absorbed. Remove from heat, and stir in basil, parsley, and cream cheese if using.
Spoon 1/3 cup marinar sauce over bottom of 8 inch square baking dish. Blot remaining moisture and salt from zucchini slices and lay 4 zucchini slices over marinara sauce in pain. Spoon half of quinoa over zucchini, and cover with 1/3 cup marinara. Repeat with 4 more zucchini slices, remaining quinoa, and 1/3 cup marinara. Top with the rest of stuff and the shredded cheese. Bake for 30 minutes or until zucchini is tender and the top is bubbly.
This recipe was awesome, hands down. It's from the blog section of the magazine,and from peasandthankyou.com blog!
I hadn't heard of that blog until the magazine came out, so it introduced me to a new blog to read up on all the time! :)
I'm glad I've been trying more recipes from Veg Times, it really is such a great magazine to have! Their cookbook has been really great to flip through as well! :)