school has been keeping me
quite
busy lately with papers, mid term exams (how is it midterms already..?? i do not know.) and whatnot.. so sadly this makes my blogging fall to the back of the to-do list.
but i do have fun stuff to share about being in new york and a deliccccious veganized dessert recipe that i made last week!
a couple of weekends ago i was in new york with the boyy and of course, had a fabulous time :)
but we made some more stops at some fabbulous vegan places in the city.
on friday night we went to
Baby Cakes
for dessert after eating some tofu chinese food at a random spot.
Since I had been to Vegan Treats the weekend before, I was expecting something as awesome as that.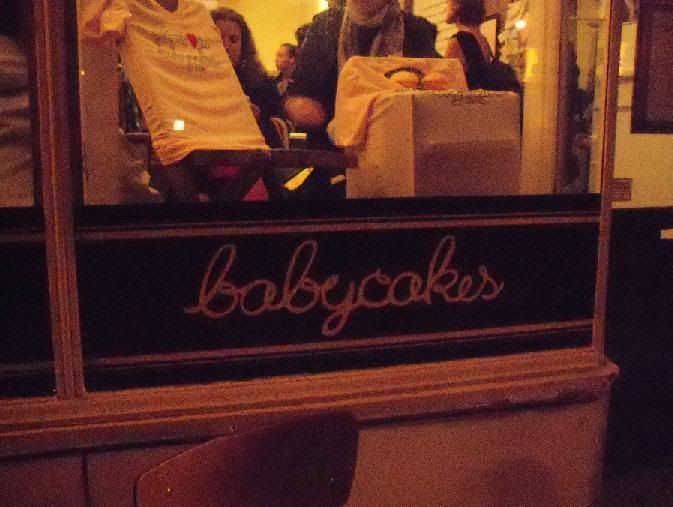 the outside and the sign-age was definitely very cute :)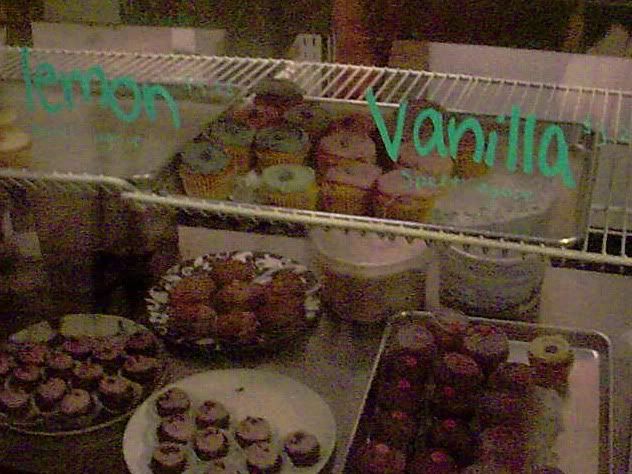 I apologize for the bad and dark picture quality..I recently got a new camera and haven't quite figured out all the good settings to use..but i'll get the hang of it soon, hopefully..
Up first to try from BabyCakes was the
frosting shots
!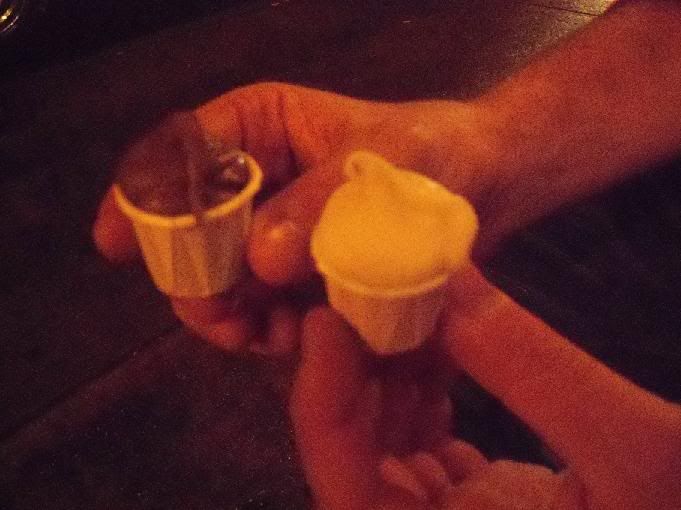 Ever since I heard that they had shots of frosting there I was already excited..i loove frosting so this sounded like an amazing idea. We both tried the chocolate and the vanilla..I was a bigger fan of the chocolate.. Oh and isn't he a great hand model? ;)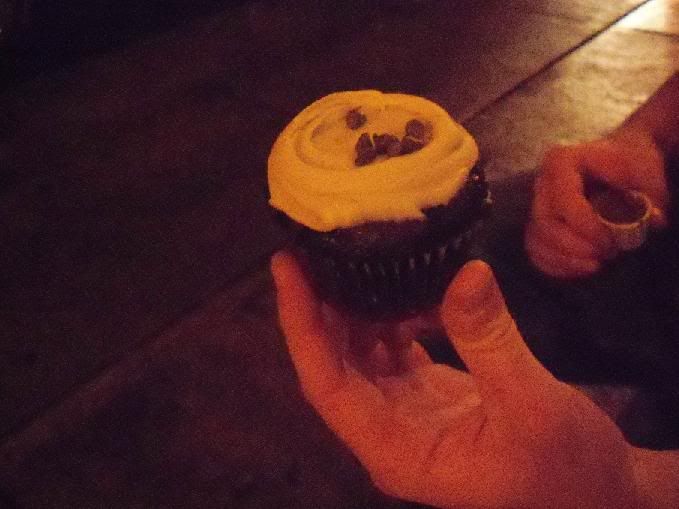 Minnne.. I chose the chocolate mint brownie cupcake.. it was reallllly tasty, and the frosting was perfectly minty without being too much. The cake was also super moist, de-lish!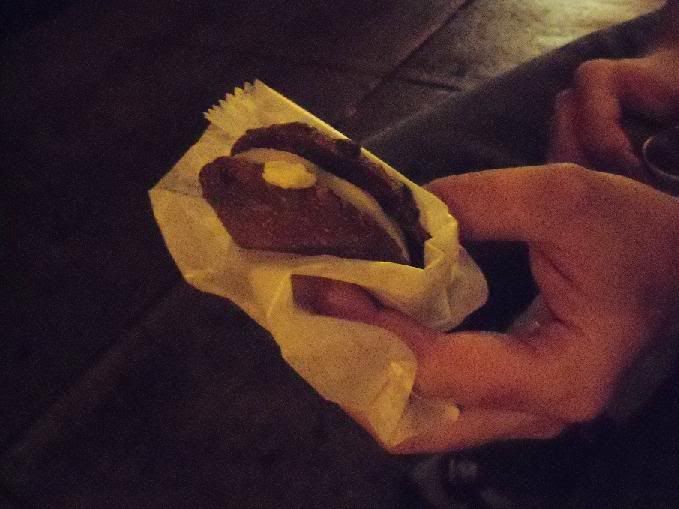 If they didn't have the cookie sandwiches, jason would have been pretty upset haha he'd been looking forward to trying those..and luckily they had them. it was quite delicious as well :)
I will say that even though everything I had from BabyCakes was verry scrumptious, they had a much smaller assortment than I had been expecting, but there was still a few really good options there. I'd definitely love to go back and try another cupcake sometime though! :)
For dinner on saturday night we went to try out
Candle 79.
Last time we came to the city we went to Blossom, which was soo awesome, so we had our expectations high for Candle 79 to hopefully be justttt as amazing.
I'd definitely say it was..
For an appetizer, we shared the
Guacamole Timbale
, no picture was taken though, but i assure you it was delicious and gone :) The description -
chipotle black beans, caramelized onions, tomato-cucumber salsa, tortilla chips, ranchero sauce
...the caramelized onions in it was a really good combo with the salsa.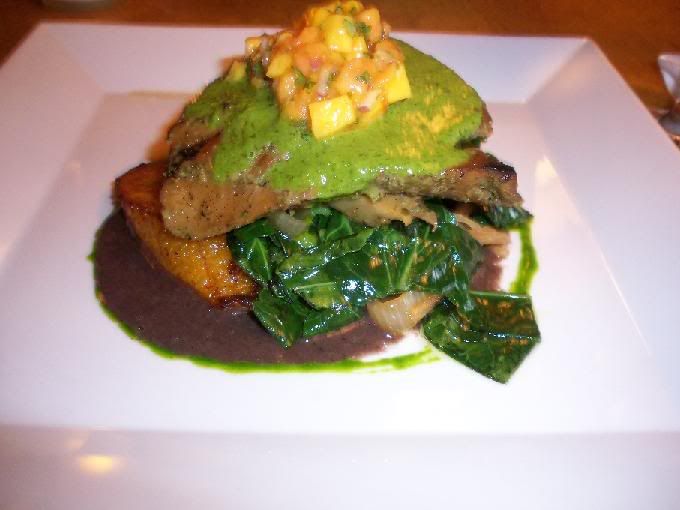 My dish was really good. I liked it more than what I got at Blossom I think, but they were both different so it's hard to tell. I got the
Carribean Jerk Grilled Seitan
which was
brown ale black bean sauce, sautéed collard greens, caramelized onions, plantains, mango-papaya salsa, jalapeño-cilantro coulis
talk about amazing. the fruity salsa was perfect with the spiced veggies and plantains.
Jason got the
Seitan Piccata
, which is their "classic"..everyone talks about how amazing that dish it.
creamed spinach, grilled potato cake, oyster mushrooms, lemon-caper sauce
It was really good, and the sauce was really good over the seitan. It reminded me a lot of what he ordered at Blossom..which was also quite good.
Definitely too full after all this to try dessert at Candle 79, but I have heard good things..the specials of the day all sounded really good as well!
Also while we were in new york we stopped in the Whole Foods..i'm not sure which one it is or how many there are in nyc..but it was jam-packed! all I wanted was some almond butter and rice dream chocolate, but the line was wrapped around and it seemed pretty silly to wait for that. guess people in ny love their whole foods ;)
So last week for my sorority we were having a bake sale to support one of the sisters causes.. I dooo enjoy baking for bake sales, especially for non-vegans!
I wanted to make something that I hadn't had in a while, I mean cookies are great..but it's nice to switch it up a bit.
I remembered last years bake off someone made Magic Cookie Bars and I kept thinking how much I used to love those pre-vegan days!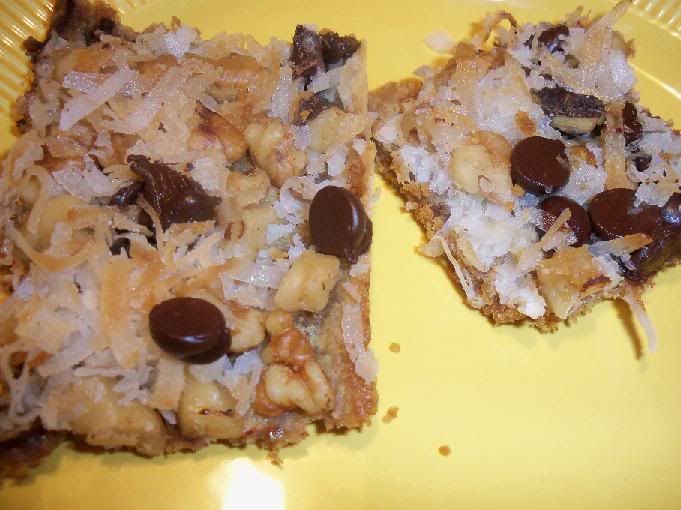 These were soo good! Just as I remember of Magic Cookie Bars..soo many good flavor combos with the walnuts, chocolate chips, and coconut over a tasty crisp graham cracker crust. perrrfection. People at the bake sale seemed to enjoy them as well ;)
Magic Cookie Bars:
1/3 cup extra firm silken tofu
1/3 cup vanilla soy milk ( i used almond breeze)
1/3 cup sugar
1 tablespoon of cornstarch
1/4 cup earth balance
3/4 cup graham cracker crumbs
1/2 cup chopped walnuts
2/3 cup flaked coconut
3/4 cup chocolate chips
Preheat oven to 350 degrees. Spray and 8x8 baking dish with baking spray. In a blender, puree tofu, milk, sugar, and cornstarch until smooth. Put margarine in a bowl and melt in the microwave. Add graham cracker crumbs and mix until well moistened. Pour into baking dish and press to coat the pan. Pour tofu mixture over the crust. Sprinkle with nuts, coconut, and chocolate and press all into dish firmly with a fork. Bake for 30 minutes, until lightly browned and the coconut is crispy.
I found this recipe on Fat Free Vegan and was soo excited to try it out! have i mentioned how much i LOVE her site? no? well i do. :) a lot. i'm even in the group on facebook..haha..
well i'm off to enjoy some vegan mexican food, margaritas, and enjoy whats left of the weekend! happy saturday! :)