So I got back from new york on sunday, and it was a nice time..seeing family and such. Unfortunately, I didn't get a chance to see any vegan restaurants or food stores while I was there, but that's okay...next time haha.
I did get my cousin's fiancee The Joy Of Vegan Baking for her bridal shower though.. I really hope she actually uses it! She's a dietician and really health conscience (not sure why she isnt at least vegetarian then..hm) so I'm sure she'll appreciate it..hopefully. I was looking through the book and I was like man I really NEED this book..haha the recipes in it look soo good. I will definitely be ordering it soon.
While in new york, I picked up the book Twilight by Stephenie Meyer..
I have heard SO much about that series..and I didn't know what the fuss was all about. But I've got about 30 pages left of it, and I must say..it's really good! Definitely hard to put down too..so I really like it. I'm excited to read the rest of the series..and the movie is supposed to come out in December..so that should be really good too!
So my sister's birthday was yesterday.. as if I needed an excuse to make a cake. I looked around online.. and I was trying to narrow down the types. I found online the recipe for the Vanilla Golden Cupcakes from Vegan Cupcakes Take Over The World (no I still do not own this book..unfortunately..i need it!) and I figured I could just double the recipe to make a cake. And then figuring that who doesn't love funfetti cake? Soo it was born. I also used the Buttercream Frosting from the VCTOTW book as well.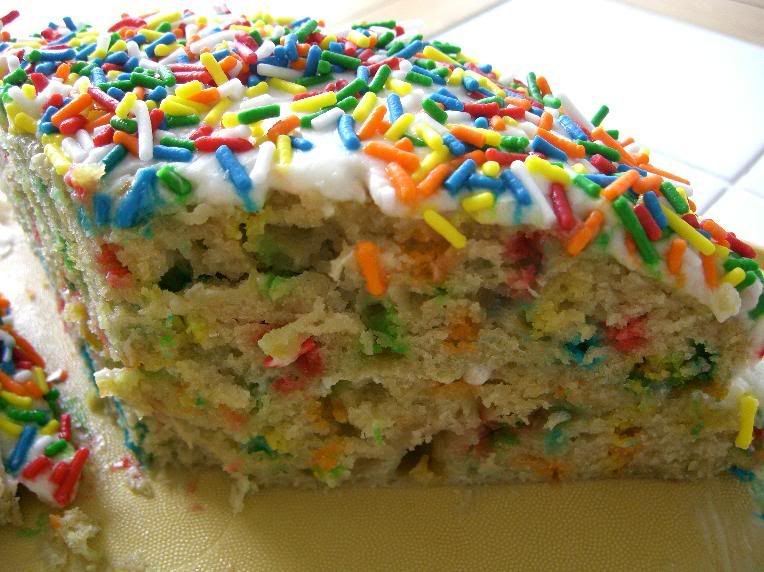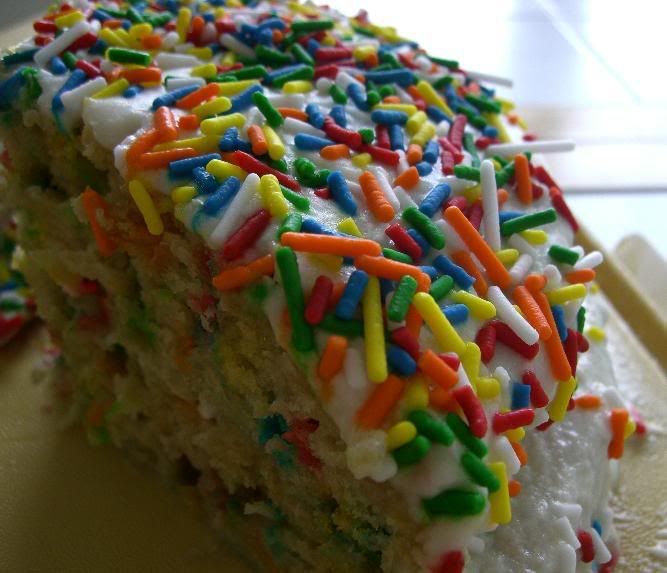 I found the recipe online in actually numerous places, So I'll post it in case someone else for some odd reason doesnt own the book either. I plan on getting it soon soon soon.
Golden Vanilla Cupcakes: (Ingredients are doubled for the cake version)
2 cups soy milk
2 tsp apple cider vinegar
2 1/2 cups flour
4 tablespoons of cornstarch
1 tsp baking soda
3/4 + 3/4 tsp baking powder
1/2 tsp salt
1 cup non hydrogenated margarine
3/4 + 3/4 cup sugar
4 tsp vanilla extract
1/2 tsp almond extract
1/4 cup rainbow sprinkles (for funfetti version!)
Preheat oven to 350 degrees. Grease a 9x13 pan or 2 circle pans (thats what i used..). Whisk the soy milk and vinegar together in small bowl and set aside a few minutes. In a large bowl, beat together soy milk mix, margarine, sugar, vanilla and almond extracts. Sift in the flour, cornstarch, baking powder and soda, and salt and mix until no large lumps are left. Add the sprinkles and mix in. Put into pan(s) and bake for about 22 minutes until a toothpick comes out clean.
Vegan Buttercream Frosting:(i doubled this for the cake but it came out WAY too much frosting..so it'd be best to stick to the original amount)
1/2 cup non hydrogenated shortening
1/2 cup non hydrogenated margarine
3 and 1/2 cups powdered sugar
1 and 1/2 teaspoons vanilla extract
1/4 cup soy milk
Beat the shortening and margarine together until well combined and fluffy. Add sugar and beat another 3 minutes. Add the vanilla and soy milk and beat for 5-7 minutes until fluffy and icing consistency.
Add more sprinkles to the top and you'll have a beautiful rainbow funfetti cake!