So tonight I'm going back up to Philadelphia, just for 2 days. There is a show tomorrow night at the Trocodero that I'm really looking forward to with PlayRadioPlay! playing..soo it should be a fun time. Plus I can't wait to be near vegan restaurants again! :) Govinda's is definitely calling my name..yumm. Hopefully I'll get a nice pretty picture while I'm there..
Soo I had watched the video on everydaydish about the author of My Sweet Vegan cooking the whoopie pies. They looked awesome! So last night I randomly decided that I needed to make them. And I had not too long ago learned that the Giant in my town has tofutti sour cream and cream cheese, so I was able to use the sour cream in the recipe! They turned out smashing, of course. This cookbook is another to add to my need to buy list!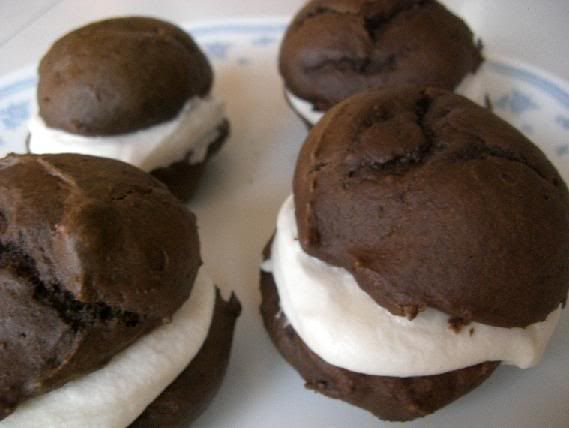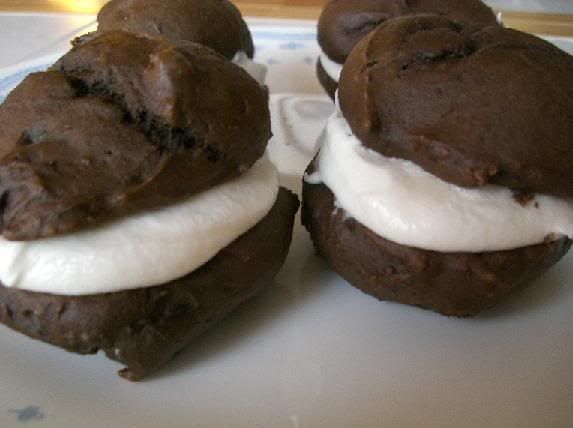 The icing was a bit ...i dont know the word..haha but they tended to get a bit messy..so I put them in the fridge and this made the icing set a bit better in the cookies. They taste like a better version of Devil Dogs in my opinion..(which were a childhood favorite!)
Whoopie Pies (from My Sweet Vegan):
1 c plain soy milk
1 tsp apple cider vinegar
2 c all purpose flour
1/2 c cocoa powder
1 tsp baking powder
1 tsp baking soda
1/2 tsp salt
1/2 c margarine
1/4 c granulated sugar
1/2 c packed brown sugar
2 T vegan sour cream
1 tsp vanilla extract
For Filling:
2 c powdered sugar
1/3 c vegetable shortening
3 T soy milk
1 tsp vanilla extract.
Preheat oven to 350 degrees. In a small bowl, whisk together milk and vinegar and set aside. In a medium bowl, whisk together flour, cocoa, baking powder, baking soda, and salt and set aside. In large mixing bowl in a stand mixer, cream together both sugars and margarine until creamy. Add the sour cream and mix until smooth. Take the milk mix and the flour mix and alternately add in batches to the margarine and beat until fully combined. You may have to scrape the sides to really get it mixed! Use an ice cream scoop and drop 3-4 T of dough at a time onto greased or with parchment paper cookie sheets. Leave about 2" between each, as they will expand a little. Bake 10-14 minutes until top is just cracked and let them cool completely. To make Filling: Put mixer on low and beat the sugar and shortening together. Add the soymilk and vanilla. Once sugar is incorporated, turn the mixer on high and really whip it for about 2-3 minutes to make it light and fluffy. Drop a dollop on one cookie and cover with another, gently pressing down. Repeat with all the cookies! :)
And if your icing turned out like mine, (messy but sooo delicious nonetheless) just put them in the fridge for a bit and that should make them easier to eat!