I made it back to philly yesterday and since then i've basically just been unpacking! You don't really realize how much you have until you pack and unpack it all :)
The second to last night that I was home I made another recipe from the lovely hungry girl cookbook (i might be obsessed..thats okay)
I made the Dan Good Chili, which was ALMOST vegan..it had worcestire sauce in it, so i just left it out, and i'm not sure if it even made a difference. i doubt it! (I subbed in celery and left out corn too..soo the recipe is a bit different from her actual one in the book)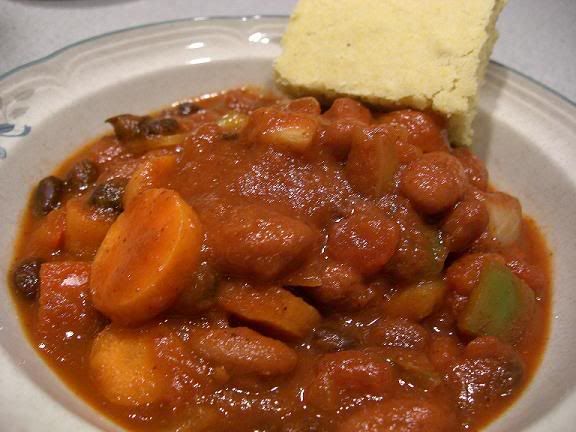 Dan Good Chili:
4 1/4 c canned tomato sauce
1 can of diced tomatoes with green chilies
3/4 c black beans, drained and rinsed
3/4 c light red kidney beans, drained and rinsed
1 1/2 c chopped onions
1 large red bell pepper, chopped
1 large green bell pepper, chopped
1 3/4 c chopped carrots
3/4 c chopped celery
1 1/2 T chili powder
2 tsp crushed garlic
1 tsp ground cumin
Place tomato sauce, diced tomatoes, chili powder, and cumin in a large pot. Stir over low heat. When mixture is heated, add the garlic and continute to cook for 5 minutes. Add carrots and celery and and continute cooking over low heat. Meanwhile, over medium heat, cook onions, and peppers for 3-5 minutes in a large pan with just 1/2 c water. They should still be a little crunchy. With a slotted spoon to drain water, add veggies to large pot. Add beans to the pot and mix well. Cook over low heat for 2 hours, stirring every 20 minutes or so. Chili is done when carrots have lost their crunch!
Just a heads up, at first taste, I thought it was quite spicy. My mother thought it was too..of course the guys didn't..or didnt admit they did ;)
So I suppose if spice isn't your thing you should probably reduce the amount of chili powder, but I thought it was a really good spice after the first bite!
Oh yes! And I also made cornbread to go with the chili. I used Happy Herbivore's recipe for thanksgiving, but I wanted to try something different this time. I used one that I just randomly found on VegWeb..but it came out really good! So heres the recipe, i definitely suggest making it alongside the chili!
Cornbread:
2 egg replacers (i used ener-g)
1 c soy milk
1/4 c oil
1 c flour
1 c cornmeal
1/4 c sugar
4 tsp. baking powder
3/4 tsp salt
Preheat oven to 425 degrees. Spray 8 inch baking pan with nonstick spray. In medium bowl, whisk flour, cornmeal, sugar, baking powder, and salt. Add "eggs", milk, and oil and beat until just smooth (do not over beat). Bake for 20-25 minutes.
So I don't start up with classes until Wednesday..so these next few days are going to be quite relaxing, and i'm really looking forward to it. :)
Have a wonderful, relaxing Sunday!!