A few weeks ago a group of people at my work went on an outing to an orchard not too far from us, and came back with tons of fresh apples and pumpkins! I was quite jealous I did not get to go on this outing..
So Jason & I went to the orchard the weekend after to get some apples for ourselves!
The orchard is Highland Orchards, and not only did it have TONS of different types of apple trees, but they had a really interesting market with tons of different local produce and local foods, and a huge pumpkin farm that you could pick your own as well!
I was just interested in the apples ;)
We took the bus they had to the trees and I was more than excited to pick my own apples from the tree. Especially Granny Smith! (my absolute favorite apple!)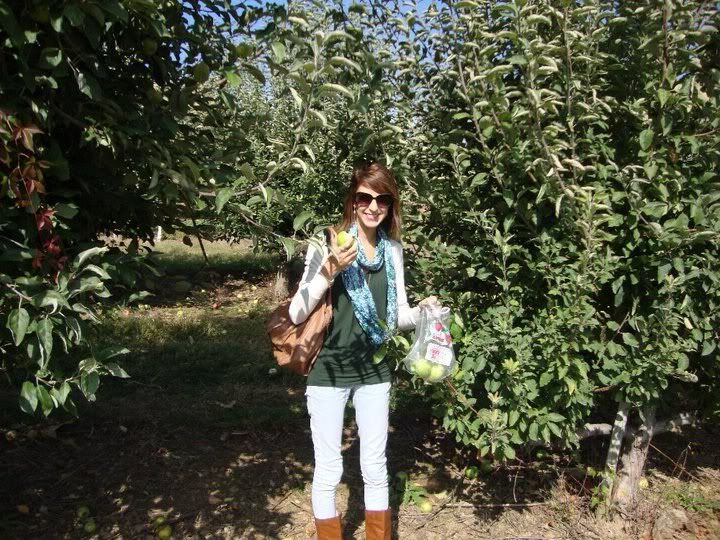 Yes, I ate an apple freshly picked from the tree..not sure if that was the most sanitary thing to do or not haha but hey I didn't get sick :)
so we got a smaller bag of apples, but still had waay too many that the two of us could consume in a normal amount of time.
I knew I had to find some apple recipes!
Since the weather had been getting cooler, I figured that soup was in order.
After stumbling upon different apple recipes, I knew I had some pureed pumpkin left in the fridge too, so I wanted to combine the two. This soup came out TOO good!
Apple Pumpkin Ginger Soup:
15 oz canned pureed pumpkin (I had a little less than this since I had used a bit for something previously, maybe 2 Tablespoons taken out of it?)
3 granny smith apples, peeled cored and chopped (note to self - I need an apple peeler!)
1 medium onion, chopped
2 tsp minced garlic
3 cups vegetable broth
some frozen veggies (I used a bag of cauliflower)
1 1/2 tsp grated ginger
1/4 tsp cinnamon
salt to taste
In a large non-stick frying pan, mix chopped apples, onions, garlic, and ginger. Add about 1/3 cup of water and cook on medium high heat until apples and onions are soft and all the water is gone (approximately 7 minutes). Remove from heat and let cool for a few minutes. Place apple mixture into blender (I used a magic bullet..another note - i need a blender!!) and puree until smooth. It will look like an applesauce-type consistency. In a large soup pot, mix pumpkin, apple mixture, and vegetable broth. Salt to taste and add cinnamon. Toss in veggies and let cook until heated throughout. Top with more ginger and pepper and serve warm.
This was such a simple recipe and was SO tasty, especially on a cool fall day. :)
Even so, that recipe used 3 apples..I still needed another recipe to use up some more apples!
My family was coming to stay with us for the weekend to do a trip to Syracuse, and since we were leaving early in the morning, I knew something quick for breakfast would be a good idea! The Joy of Vegan Baking has succeeded yet again. I can't find a recipe from this book that isn't perfect! Definitely one of my favorites :)
I decided on the Apple Pecan Muffins. My mother is still talking about how she wants me to make them again! They were quite good.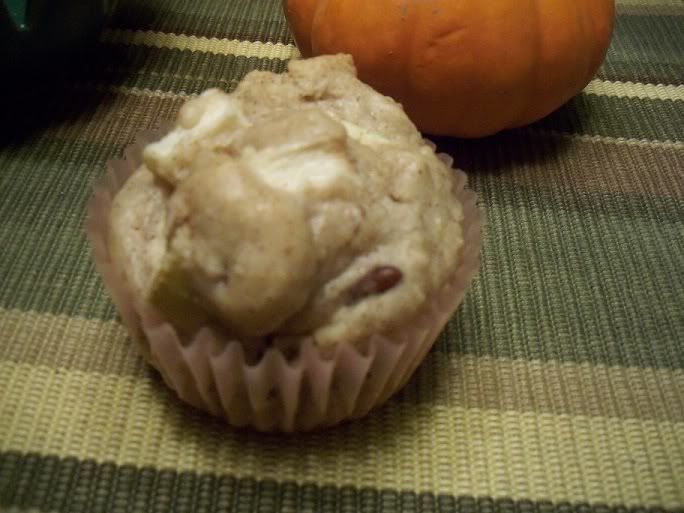 Apple Pecan Muffins:
2 c unbleached all-purpose flower
1 Tablespoon baking powder
1 teaspoon cinnamon
1/2 teaspoon salt
3 teaspoons Ener-G egg replacer
4 Tablespoons of water
1/2 cup unsweetened apple sauce
1/4 cup canola oil
1/2 cup granulated sugar
1 teaspoon vanilla extract
1 1/2 cups peeled and chopped raw apples (this came to about 2 medium sized)
1/2 cup chopped pecans
Preheat the oven to 350 degrees. Lightly grease your muffin tins(or use pretty papers like i did :) ) In a medium sized bowl, mix the flour, baking powder, cinnamon and salt.
Mix the egg replacer and water together in a small bowl to get a thick consistency.
In a seperate bowl, mix the applesauce, oil, sugar, vanilla, and egg replacer. Whisk until creamy smooth. Add to the flour mixture and stir until well blended but do not overmix. Still in the apples and nuts. It will be thick, but that's okay. Fill the muffin tins three quarters full and bake about 20 minutes, until a toothpick comes out clean.
I definitely see these being made again while I'm home for the holidays, maybe for a thanksgiving brunch? :)
I have lots more to blog about, and I know i've been SERIOUSLY slacking..I have been quite busy lately though, but I have tons to share! Including NYC reviews and more recipes!
Till then :)