Thanks to my fiance's family having an amazing garden and an abundance of fresh summer vegetables, it's been quite easy to have delicious produce with our meals lately!
When we left from NJ the other weekend, we left with a ton of zucchini, yellow squash, the sweetest cherry tomatoes ever, eggplant, and a few regular tomatoes.
I was hesitant at first to take the eggplant.. a) i've never cooked with eggplant and b) i'm not sure i really like eggplant.
I love baba ganoush, definitely, but grilled or on a plate I've usually never really been a fan. although i always try to be!
I tried to think up something to make that would utilize a bit of all the vegetables into one dish, I definitely don't want them going bad! I did freeze some of the squash which will be great for quick meals, but the zucchini & tomatoes I didn't want to freeze.
I figured a ratatouille would be perfect! I love using Whole Food's website to find inspiration for recipes, and their summer harvest ratatouille sounded perfect!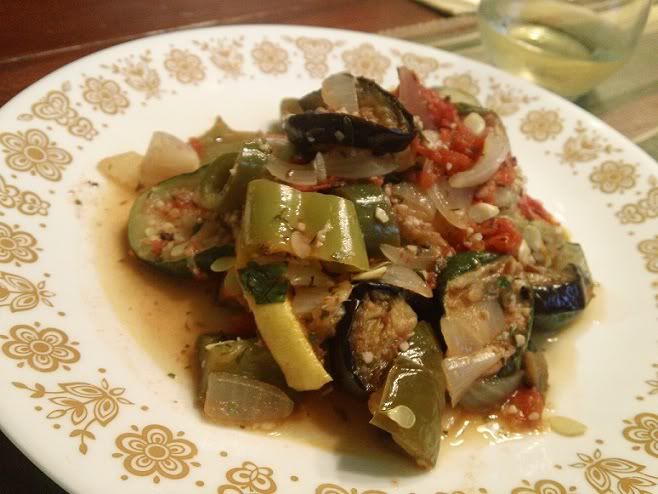 Summer Harvest Ratatouille:
1 bell pepper, seeded cored, cut into thick wedges
1 eggplant, cut into 3'4" slices
1 yellow squash, cut into 3/4"slices
1 zucchini, cut into 3/4" slices
1/2 c water
1 large tomato, seeded and chopped
1/2 onion, chopped
3 cloves garlic
1/6 t red pepper flakes'
1 T oregano
1/4 c fresh chopped basil
1 T dried parsley
1/2 T red wine vinegar
Preheat oven to 425 degrees. Have a baking sheet ready, place peppers, eggplant, squash, and zucchini on sheet. Bake, turning once halfway through cooking, moving to the bottom shelf if originally on upper, until browned (about 30 minutes.) Cool slightly, then chop.
Meanwhile, pour water in heavy pot, add tomatoes, onion, garlic, and pepper flakes. Bring to a boil, lower heat, cover and simmer until tomatoes are soft, about 20 minutes. Add chopped roasted veggies to pot, cover and simmer for 10 minutes. Stir in basil, parsley and vinegar and cook for 5 more minutes.
This dish was divine! We both enjoyed it and the fresh vegetables made it even better.
I definitely love the summer vegetables out now and see zucchini pasta in the near future ! :)