Let's pretend that I have updated once a week like I said I would.. ;)
Anyway! Unfortunately, I don't know where my cord for my camera is, which has a TON of pictures and good food that I've made and gotten in the past few weeks that I really want to share..but I can't seem to do that without uploading them :( boo.
Hopefully I'll find a cord I can use or find a place to buy one soon though...
I do have a few foods from before then though that i've made..(from thanksgiving, wow that was a while ago) BUT they were good regardless so I'll share :)
For the meal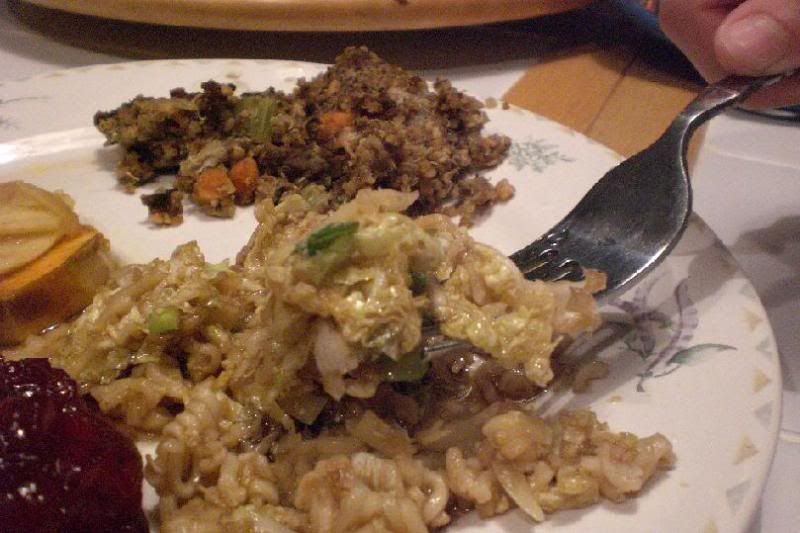 This was a cabbage salad that my mom made, and it was abbbbbsolutely delish! Not quite traditional thanksgiving-ish food..but it would be really good to whip up anytime. It had ramen noodles in it, which added a nice different crunch to it with vinegar and cabbage. She has the recipe, but I'd definitely make it again soon..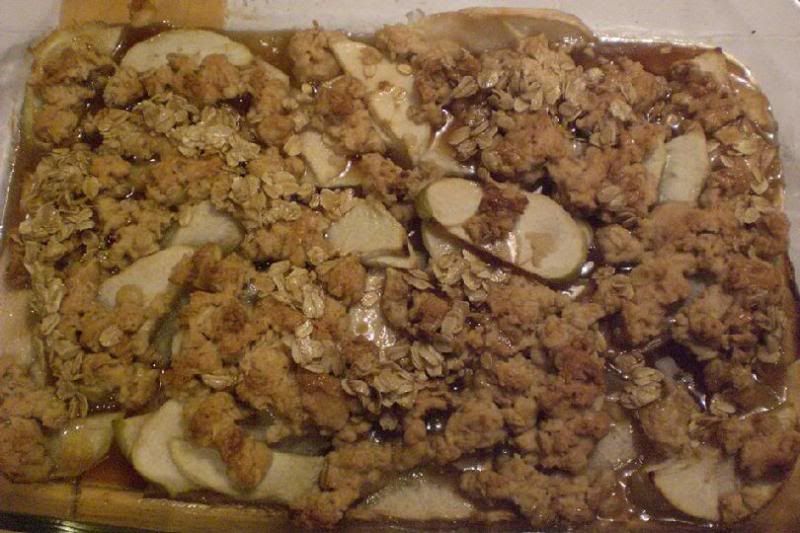 For dessert I made two things. This was the apple cobbler that I made, which was a lot like the one I made last year. I used granny smith apples, peeled and corred, with a crumble on top consisting of oats, brown sugar, and vegan margarine. It was really good and not toooo sweet which was nice with the apples.
I've never had pumpkin pie since this one. Last year I attempted to try pumpkin pie by making a chocolate pumpkin pie... I think I ate one bite and couldn't eat any more. I really did not like it, maybe it was the chocolate mixed with pumpkin that threw me off. Anyway, I did think this pie was eat-able. edible? hmm...
haha it's quite strange, I really like pumpkin flavored things, like coffee and tea and such..but not quite a fan of pumpkin pie. I'm a strange one, I know.
Other people enjoyed it though, so I blame my tastebuds :)
Vegan Pumpkin Pie (that other people will like if you don't like pumpkin pie) ;)
1 16 oz can pureed pumpkin
3/4 c sugar
1/2 tsp salt
1 tsp cinnamon
1/2 tsp ginger
1/4 tsp cloves
1 tsp allspice
1/2 tsp nutmeg
2-3 T cornstarch
1 package of silken tofu
9" vegan pie shell
Preheat oven to 425 degrees. Blend pumpkin and sugar. Add salt, spices, cornstarch, and tofu and mix well. Pour into the pie shell and bake for 15 minutes. Lower the heat to 350 and bake for an hour. Chill and serve.
Not going to lie, when I first blended it all and put it in the shelll, I thought woo its done! and was about to put it in the fridge without baking it! haha such a pumpkin pie newwwwbie. :)
So sorry for old shtuff, however they're quite good anyway and needed to be touched on ;)
I have lots of good stuff to share (think AWESOME reviews of products from Christmas, as well as a recipe from Candle 79!! )
So I'm hoping that I'll be able to find something to upload my pictures for soon!
Off to class in a bit, only the 2nd week and I'm already feeling the bore of classes...hurry up may!! :)