A few weekends ago I went down to Salisbury MD to visit with my parents, go to my friend's wedding, and have my own bridal dress fitting!
It was a very eventful weekend and was plan filled!
The dress fitting went great! Luckily, the dress that is 10 sizes too big can be adjusted to fit me..what a relief! We've already bought it and I fell in love with it so it's great that it will work!!
After the dress fitting, my mother & I went blueberry picking.
I love getting fresh fruit, and I think we both ate more bluberries while picking than we actually put in our buckets! We got a huge tub full and my mom packed me a ton to bring home which I've been using in cereal, baked goods, and just eating by the handful to get a lovely dose of antioxidants!
While home, Jason & I went out to dinner with my parents in Rehobeth Beach. I wanted to go there after my dad mentioning that there was a vegetarian restaurant out there that he had heard about. It was called "Planet X" and I had looked up the menu and it sounded amazing! More of a sit down, nice gourmet dish menu! They serve meat options, but have a ton of choices for vegans! Not to mention, the atmosphere is very awesome -- tons of buddhas and zen lighting and decor!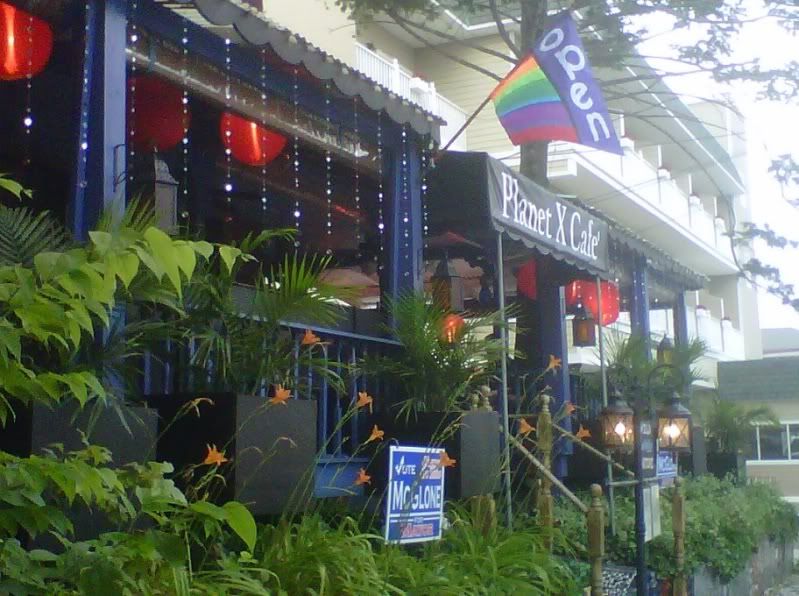 Heres the outside as we were approaching, already I knew I would like it!!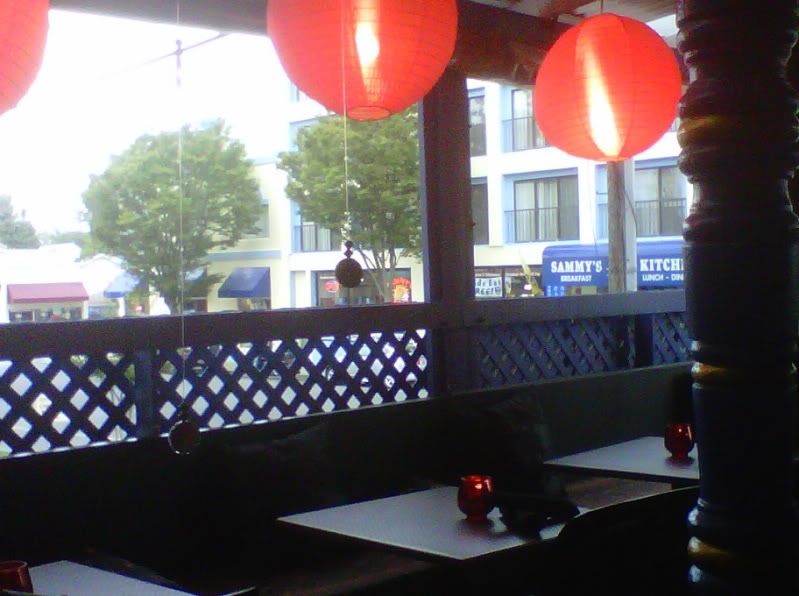 This was a view from our outdoor table. I felt like we were in a treehouse! It was a great atmosphere and all the comfy couches and pillows and lights really added to the feeling of it!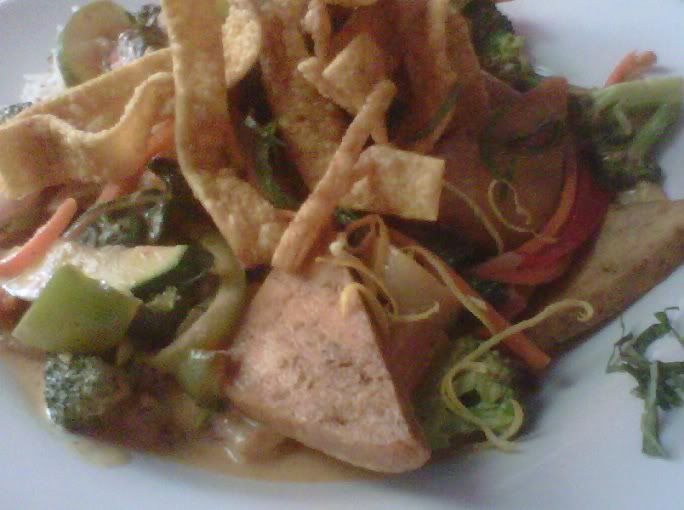 This was my dish..the only vegan dish that was ordered that night. My parents both opted for the salmon and Jason got the steak.
My dish was described as "crispy tofu red thai curry, seasonal vegetables, basmati rice, crispy wonton sticks, toasted coconut"
It was great! The option was either tofu or shrimp, obviously I got the tofu which was perfectly cooked! Not too mushy--not an overly fried--just firm enough to get the flavor with the delicious curry sauce!
Usually I'm hesitant to order a curry..i don't like it coming out soup-like..but Planet X's dish was the right amount of sauce to vegetable/tofu ratio! Plus the staff was super accomodating and very friendly! :) We all left happy with our dishes..
After wandering around Rehobeth and seeing all the cool shops and sights, we found the Dogfish Head brewery restaurant.
I'm in no means a beer drinker. I'll have one every once in a while when with Jason and that's the only option, i much prefer wine. However, I was very intrigued at Dogfish when I saw that they had
peanut butter vodka!
I've never seen this flavor of vodka before, I've had whipped creme vodka and many other flavors..but never peanut butter! First... I had no idea what to mix it with..so I asked the bartender. He said most people get it mixed with the grape vodka for a peanut butter & jelly martini. Sounded perfect in my book!!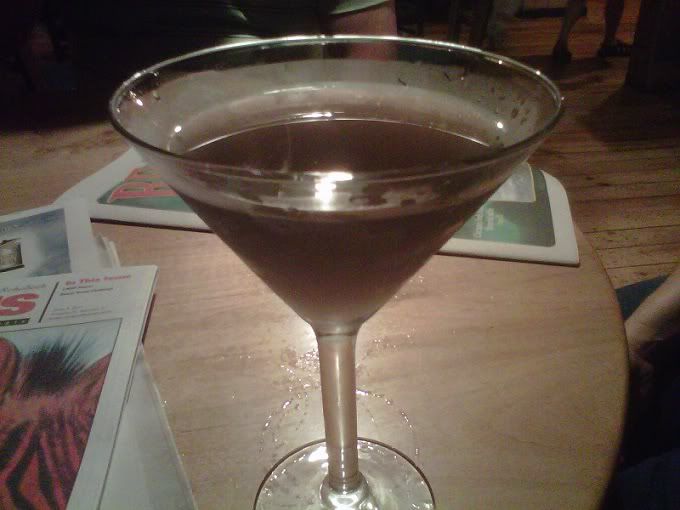 Peanut Butter & Jelly Martini.
Holy WOW! This was awesome! I figured many food bloggers would appreciate this..now if only they'd make an almond butter vodka! ;)
Rehobeth is definitely one of the COOLEST beach towns!
I'd definitely love to go back and try annie bananie's -- it's an all vegan "ice cream" place using frozen bananas as the ice cream! so cool!