so it's been a month..and between my computer not working, my camera breaking and then getting a new one but losing the battery..it's been a tough one to blog ;)
i've definitely been having some awessssome vegan eats though, so no worries on that one.
a couple of weekends ago the roomie and i went down to baltimore for a concert. oh, but not just any concert.. we saw
Hanson
with
HelloGoodbye
.
Quite a show, I must say. My inner 12-year old hanson fan was just bursting out of me and I was quite pumped for them!
While we were in Baltimore, we looked up a vegan place (which btw...emilys gone pescitarian, soo AWESOME for her! :) )
we found there was a "soul food" type place in the city..which we love the Nile Cafe in philly which is kind of vegan soul food, so this place sounded good. It's called
The Yabba Pot
and i was definitely amazed by how delicious their food was! You know this girl loves her veg soul food ;)
The Yabba Pot
was a very hole in the wall place but the inside of it was decorated beauuutifully!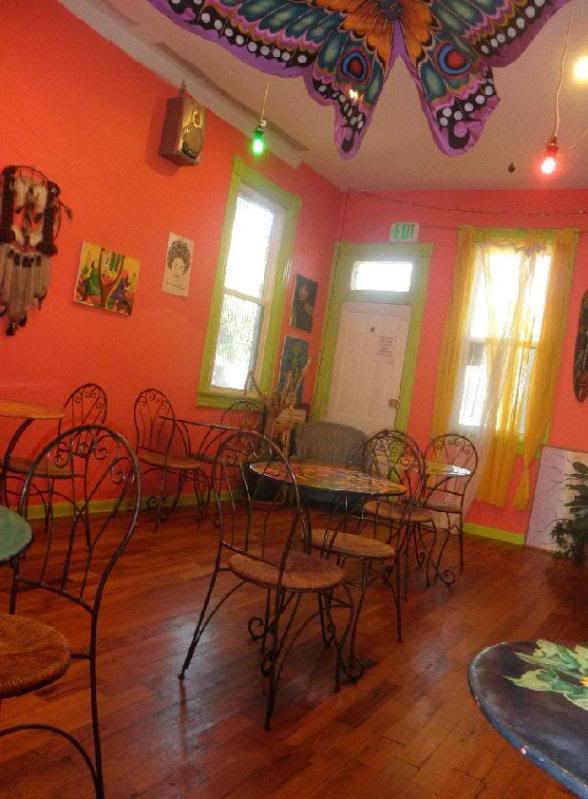 I loved the decor for the seating area, the tables and chairs were all so unique and cute. and the huge gorgeous butterfly on the ceiling was definitely something to look at :)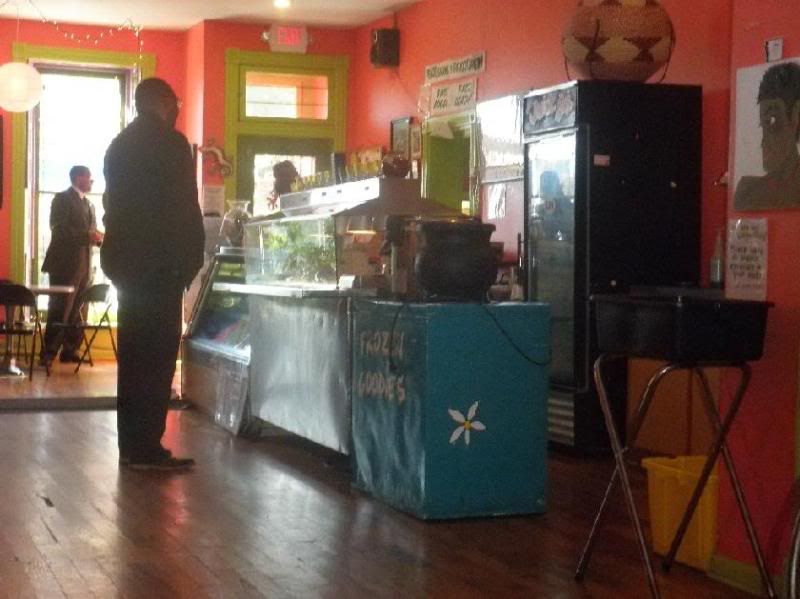 Where you ordered your food, they offered some wraps and sandwiches, but once emily and I saw the hot food buffet and saw that you could get 6 different things for a sampler, we were sold. We do love our food all together..and we wanted to try everything, so this was perrrfect for us. They also have a lot of juices that you could get, which we did not, but i've heard they are quite good and refreshing!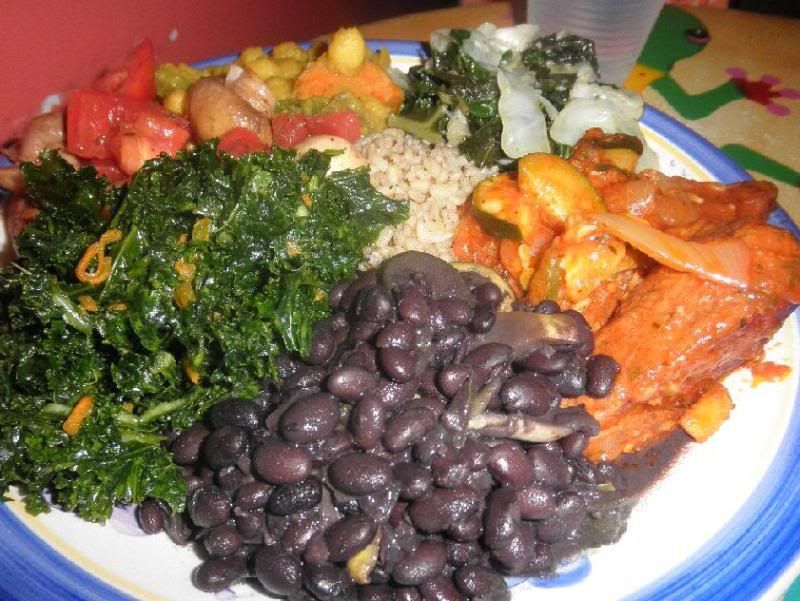 Our sampler plate. We chose to get one with the 6 different things on it to split, wanting to save room to try their desserts! Over brown rice, we got a raw kale salad, a black bean saucey dish, a chickpea curry, a collard greens and cabbage dish, seasoned mushrooms and tomatoes, and the most AMAZING tasteing "chicken" i've ever had. honestly, i tried to cut it..and thought I hit a bone so I was a bit freaked out at first, only to find it was on a toothpick (silly me) but the chicken was SOO delicious, i'd definitely get an order of that again.
Everything was awesome, and it was a perfect amount to split between the two of us, and still want some dessert.
Unfortunately though, all they had on the dessert front was a pumpkin pie..which neither of us are too fond of (i know, i know, everyone loves pumpkin..except for this chica) but we did venture to the awesome Whole Foods in baltimore and split a peice of raw strawberry shortcake. No picture available, but trust me..it was deeelish. :)
Also! I finally got to try the
PB&J Larabar
Bloggers were not wrong..this bar is AWESOME. I'm not a huge fan of larabars, some flavors I like, and some I don't..but this one is definitely a keeper!
And for the hanson concert?
Let's just say it was prettttttty awesome!
Me and Zach Hanson..;) you know you have mmmbop on your itunes, don't even pretend..haha.
Also when I was home on sunday my mother made me a deliish dinner that I must share. It's not often..ever..that I get dinners from my mom soo this was quite exciting since usually mine are quick meals the roomie and I make up in about 10 minutes. :)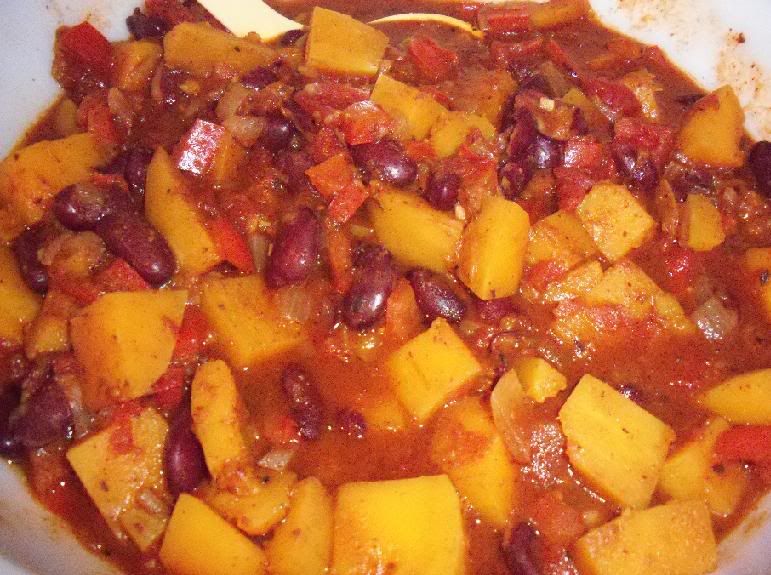 Butternut Squash Chili! And mannn this was tasty. the squash and the beans were quite delicious in it :) thanks mom!
As for the recipe, because I definitely recommend making this soon! especially with butternut squash in fullll bloom right about now..
Butternut Squash Chili:
2 T olive oil
1 medium butternut squash, peeled and cut into 1/2″ cubes
1 medium onion, chopped
4 cloves garlic, minced
1 red bell pepper, chopped
1 Tblsp mild chili powder
1 1/4 tsp ground cumin
2 tsp oregano
1/8 tsp chipotle chili powder or cayenne pepper to taste (for spice)
1 15-oz. can diced tomatoes
1/2 cup water
1 15-oz. can kidney beans
salt and pepper to taste
Peel and chop squash and set aside. In a large soup pot, heat oil over medium-high heat. Sautee onion and bell pepper until soft – about 5 minutes. Add garlic and sautee 2 minutes more.
Add seasonings and stir well to coat. Add tomatoes (and their juice), water, squash, salt and pepper to taste, Cover and reduce to a simmer. Cook 20 minutes.
Add beans and adjust seasonings, if necessary. Cover and cook until squash is tender, but not disintegrating – about 30-40 minutes.
Have a good week! Soooon I'll be posting about the how AWESOME austin texas is for vegans..oh it was wonderful!