So I came home on thursday after two out of four finals. I still have two more on monday, so once those are over, so is my sophomore year officially! It's so crazy how quickly it's going by.
I'm glad and sad that the year is over. It was by far more enjoyable than my freshman year. I had all intentions of transferring after my freshman year and I thought I would do it after my sophomore year. But now I definitely do not want to at all! I suppose being in the apartment as opposed to the dorms definitely helped out a bit. I'm not the kind of person that can easily share a tiny room with two other girls and a bathroom with 85 other girls. I like to have my own space and time to myself as well! Which was perfect in the apartment! Next year it will just be me and my one roomie who i've lived with since freshman year..we're looking for a house to rent in Manayunk! I'm so excited to live down there. So many good vegan eats! And tons of stuff to do as well..should be an awesome year! :)
Aside from being done, yesterday was my dad's birthday. And every year we always make him a german chocolate cake..which is delicious..but not vegan. :( So I found a recipe for the frosting and made it. I cheated a bit with the cake though, it's not made from scratch.. I just used the vegan duncan hines box mix and replaced the eggs with flax seed mix. The cake was a bit crumbly though..but tasted delicious anyway.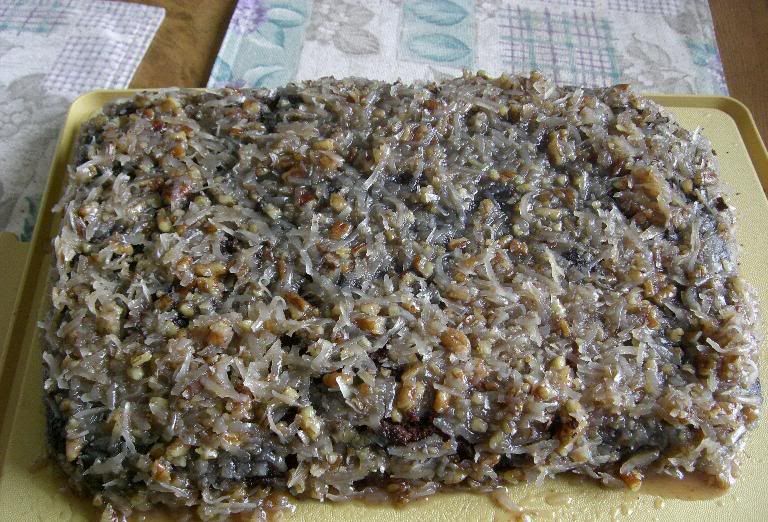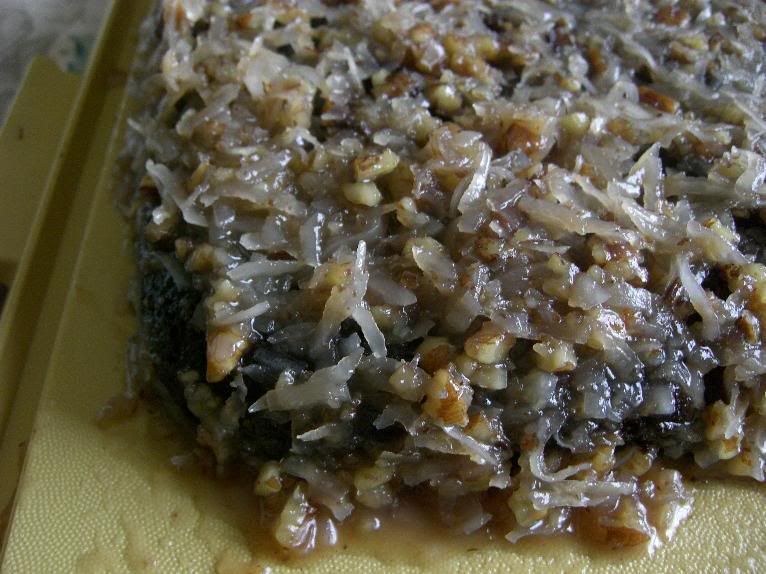 He enjoyed it as well so I was glad. For the frosting:
Boil together 1/2 cup vegan margarine, 3/4 cup sugar, 1 1/2 cup shredded coconut, 1 cup crushed pecans, 1/2 cup soy milk(i used almond breeze), and 1 teaspoon of vanilla. Stir constantly for 12 minutes. Remove from heat and put onto cake while still warm but not soo hot.
I also made cinnamon buns. Which took me forever to make, with the rising of the yeast and everything. But was WELL worth it. These things were SOOOOO delicious. No joke. I think they were amazing. and the icing was just perfect on top.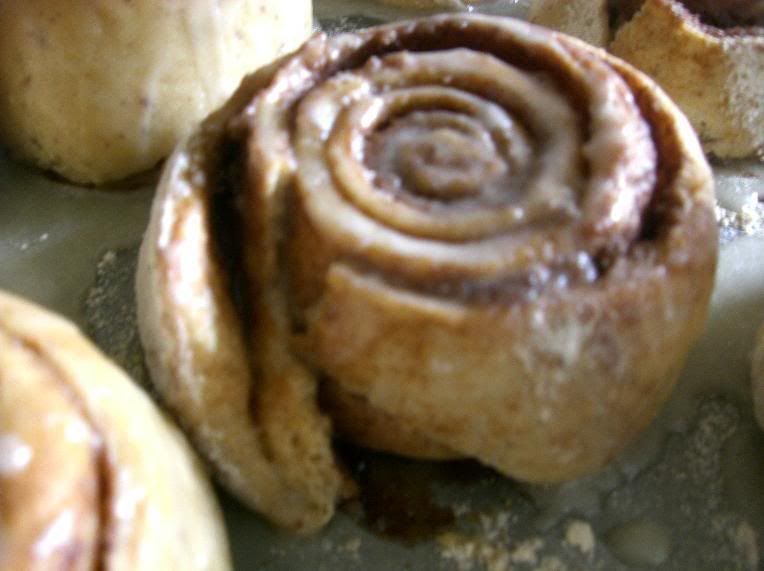 The recipe was a bit complicated, well for me anyways, but still it was worth it.
Mix 2 1/2 teaspoons of active yeast, 1/2 cup sugar, 1 cup warmed soy milk in a bowl and let sit until foamy. Add 2 egg replacers, 1/3 cup melted margarine, 4 1/2 cup flour, and 1 teaspoon of salt. Mix well and knead for 5-10 minutes. Dough should be firm and smooth, not stick (I had to add more flour to get it not sticky..at first it was a sticky mess!) Set aside in covered bowl and let double in size. After dough has doubled (not going to lie..i did not notice mine get bigger the first time) put dough onto flour work surface and cover for another 10 minutes. (this was when i noticed it did get a bit bigger). In small bowl, mix 1 cup packed brown sugar and 2 1/2 tablespoons of cinnamon. Roll down into large rectangle and spread dough with 1/3 cup softened margarine and sprinkle evenly with cinnamon mix. Roll up dough(this was fun!) and cut into 8 sections with a sharp knife. Place rolls on a cookie sheet and cover for another 20 minutes. Preheat oven to 400 degrees. Bake for 15 minutes until golden brown. While baking, beat together 1/4 cup margarine, 2 cups confectioner sugar, 1-2 tsp of vanilla and enough soy milk to get consistancy of frosting desired. Pour onto warm rolls before serving.
So now i'm off to find a job, and hopefully one that i'll actually enjoy this summer.. last summer i was stuck being at work at 7 a.m. most of the time! not cool..