The day after our wedding, Jason & I flew out to Montego Bay, Jamaica for our week long honeymoon!
I remember waking up that morning SO early but SO excited and ready to be on relaxation mode for a week. Plus we were still in that JUST married wedding high :)
The flight was short, about 3 hours or so, which made it easy to get through. I'm really not a fan of long flights/travel times. Our resort was
Secrets St. James
and it was absolutely perfect for us! We chose to be in the preferred club and I'm not sure exactly how much of a difference it made because it all looked so great! It was an all inclusive resort, which I think is the best way to go when you truly just want to relax and not worry about anything!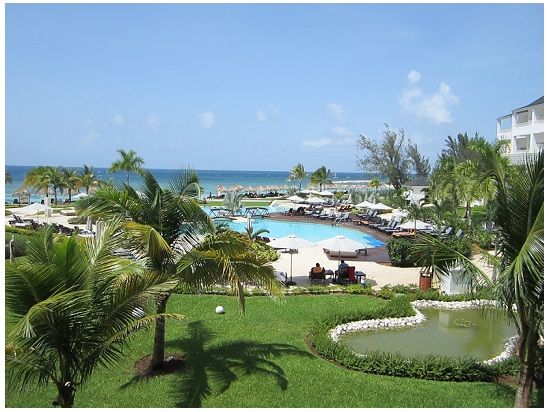 This was the view outside of our porch, might I add a porch with a soaking tub on it :)
The resort was very accomodating to me as a vegan as well.
For breakfasts, I brought a carton of almond breeze with us so if they had cereal i could eat that. Fortunately, they also had soy milk available so I had enough for coffees as well. They had tons of fruit, and my stomach cannot tolerate most melon-y fruits (pineapple, cantaloupe, honey dew, watermelon) so I didnt get a chance to enjoy those but their apples & bananas were great.
After breakfast our day usually went straight to the beach!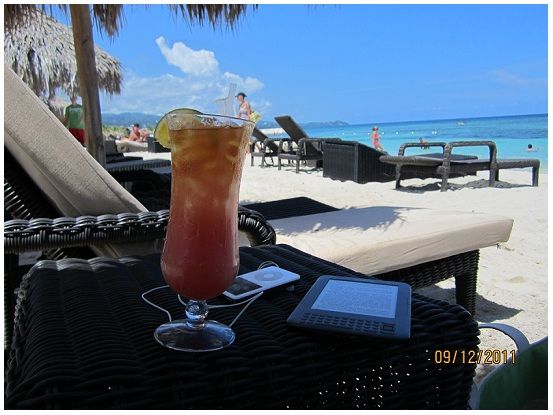 This was perfection and how we spent most of our days.. ipod, kindle, fruity island drink (the rum punches were SO good), and the beautiful beach! I read the help most of the time I was there, was a great beach read!..although I did tear up at the end :)
For lunches, they had options of cafes being open that were at the pools or the international buffet was also always open for lunch. The buffet was easiest for us since I could find all the vegan things instead of just ordering something and hopeing it was vegan, and Jason could find whatever he wanted as well.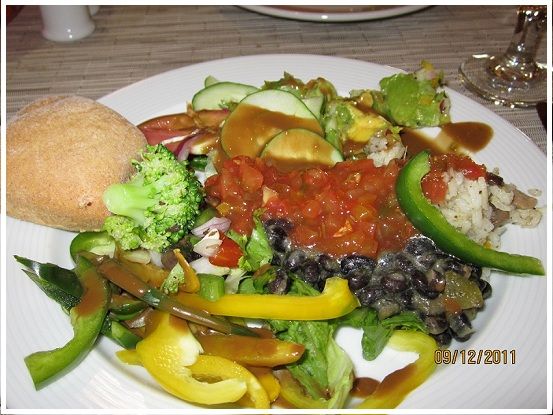 This is what my usual lunch looked like..filled the plate mixed greens, then tons of veggies and toppings! Their black beans & rice were so good and they checked to make sure they were all vegan for me. They also always had salsa everywhere so I was in heaven.
After lunch we'd usually wander around the resort, or go back to the pool or beach. We did do zip lining one day and also snorkeling which was exciting and scary. Apparently I'm very afraid of jelly fish..enough said haha.
For dinner, the resort had six different sit down restaurants to choose from. Each night 4 of them were open, so sometimes a different one was open on certain days than the others, it made it nice to have options.
Our first night we ate at the asian restaurant, called Himitsu. This quickly became our favorite and we ate there 3 out of the 7 nights!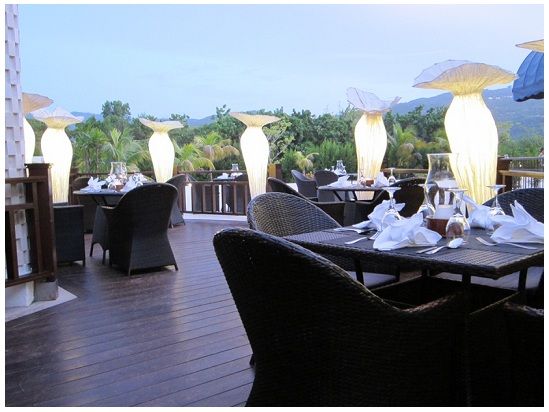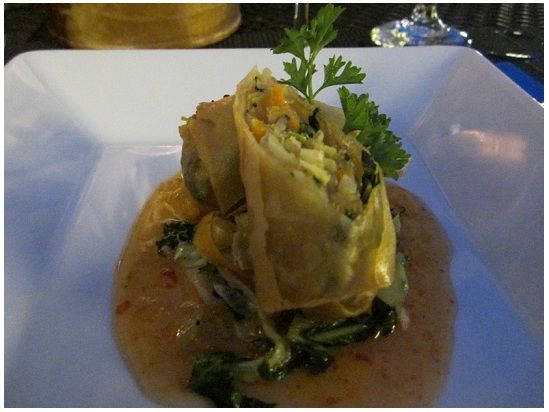 Our appetizer, they had vegan spring rolls! They were so tasty. Also, our waitor was SO entertaining..his name was Alex and he kept us comfortable and made our visit really enjoyable. We even became facebook friends! :)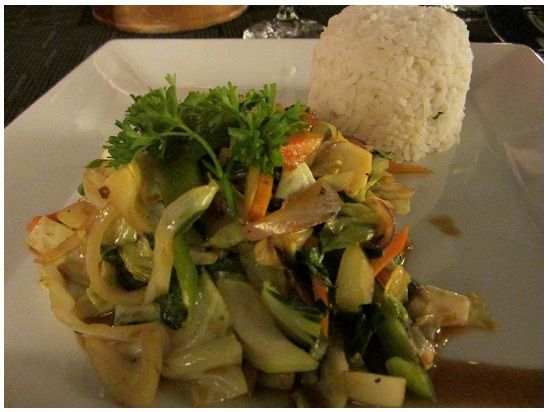 this was my entree the first night I was there. I was unsure of exactly how vegan everything was but this dish was perfect! It was basically a tofu vegetable stir fry but the sauce on it was very light and flavorful, a perfect first night meal.
The last night of our honeymoon we ate again at Himitsu, and I decided to test them and see what else they could make me.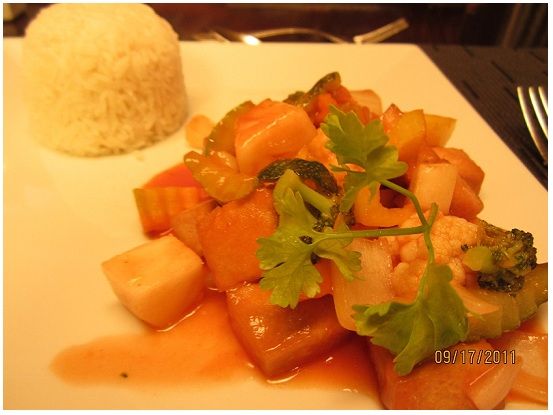 They made me the sweet and sour chicken but with tofu instead with a ton of veggies. It was so delicious and I was glad they were able to make something special for me.
Another night we tried out the italian restaurant, called Portofino.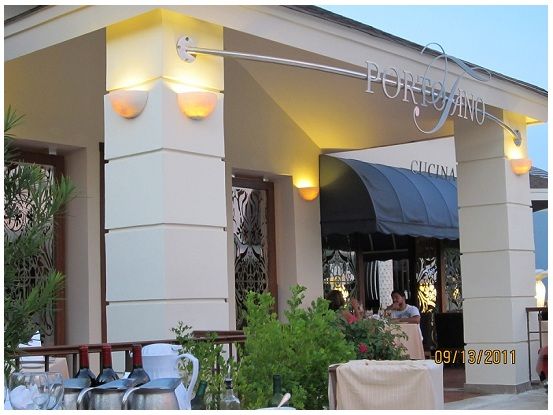 Italian food isn't one of my favorite, but this was a good option and Jason really likes italian. We started with a mixed green salad and bruschetta.
As simple as the bruschetta looks, the topping was very flavorful and you could tell it was really fresh!
As for my entree, it wasn't anything fabulous but it worked and Jason really enjoyed his course there so it's all good. They basically gave me a big ol' plate of whole wheat pasta with marinara and a rare vegetable here and there.
They also had a jamaican restaurant, called Blue Mountain, but we did not eat there. It was mostly a seafood place and I thought it might've been hard to find a vegan option.
We did try the mexican restaurant though, called El Patio.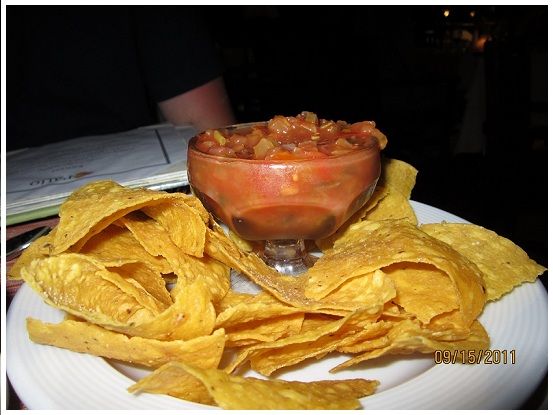 Of course, there was chips and salsa. The resort always had chips and salsa on every buffet bar and menu..it was awesome :)
I was a bit dissapointed with the vegan option for the mexican restaurant though.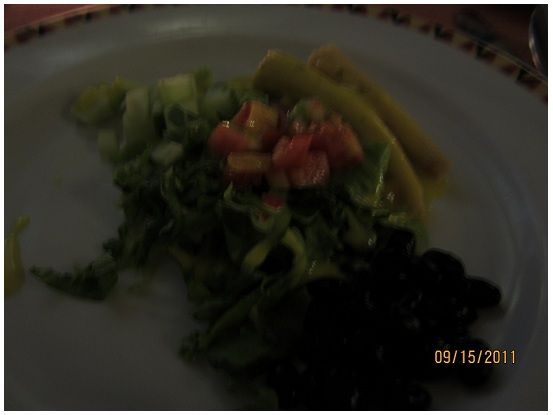 It was basically a plate of greens, tomatoes, black beans and corn with a sauce glaze. I thought that they could have done better from looking at the menu but it was still a decent option!
We ate at the French restaurant one evening as well, I don't have pictures from it though but it was basically a big plate of grilled vegetables with a side salad.
So even though some restaurants were better than others, they were ALL willing to go out of their way and make some sort of vegan option for me. This was very appreciated and made us so happy to have stayed with this resort!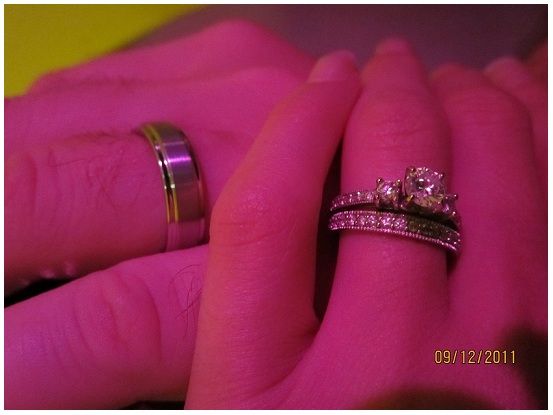 We had so much fun and it was complete bliss everyday. It felt like we were always looking at a postcard, it was so beautiful.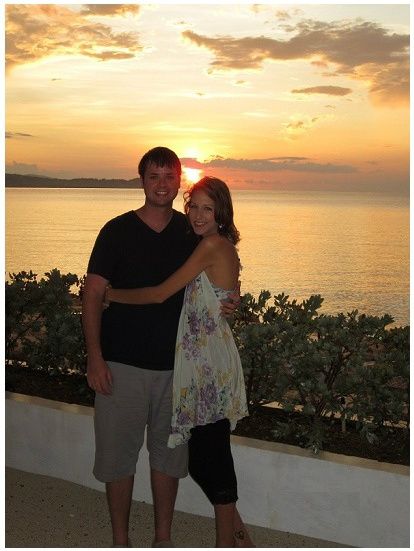 for our next all inclusive island resort trip, we would definitely stay again with Secrets! They have locations all over the place too! :)