So one of the nights that I was home my brother and I as a duo made dinner for the two of us.
I will say though, even though he does make meat dishes, he does have quite a good mindset for cooking! He seems to always think of interesting types of meals and such..
Onto that, he decided to make homemade spaghetti from scratch, which seemed like an interesting idea that I hadn't really thought to do.. I mean spaghetti is just so simple to pull from the box and boil in a pot!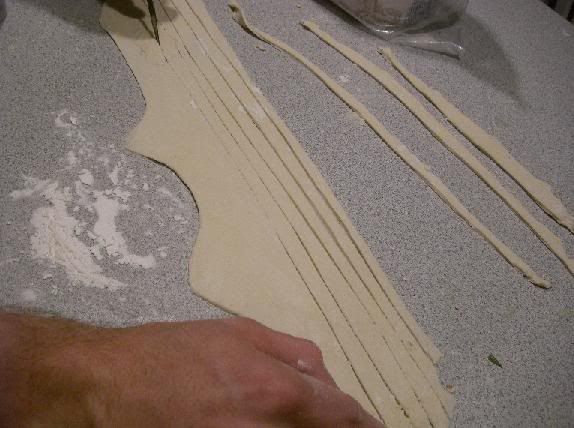 He had used only about a half of a cup of flour, 1/4 cup of water, and about a tablespoon of salt. Then formed a dough with it and rolled it out, and cut it into spaghetti-like strips. Make sure to roll them out quite well though..they did seem a bit thick!
The sauce that we made was just a can of crushed tomatoes, mixed into it was sauteed green peppers and onions with garlic and a bunch of italian seasonings such as basil, oregano, parsley, etc.
It tasted quite delicious and really fresh tasting as opposed to a sauce from the jar! It was so simple as well :)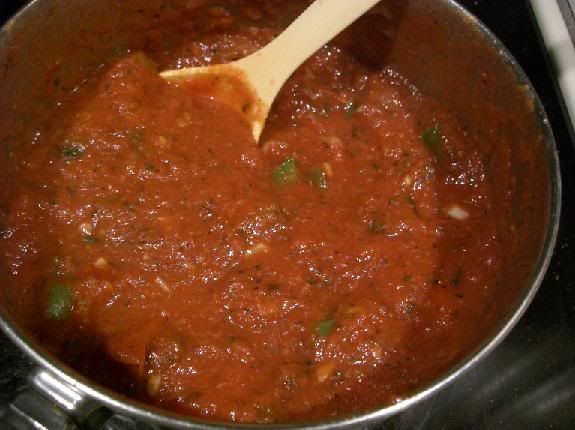 I had some pinenuts in the cabinet from when I made the macaroni casserole from previously in the week...as well as my brother had gotten fresh basil, so I found a simple recipe for pesto and blended that up..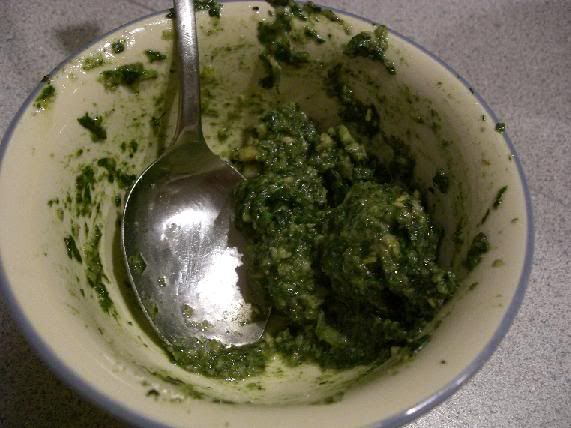 I belive I just used olive oil, pine nuts, basil, and garlic. It was a bit garlic-y..maybe use less of that..but it was really good!
all together now!!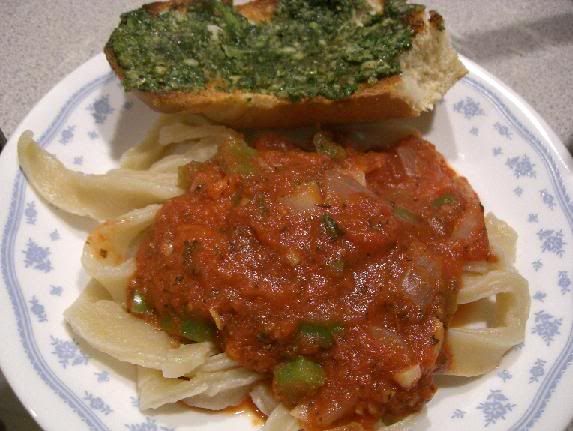 The pesto was put on a toasted piece of french bread, alongside the homemade spaghetti with the sauce. Quite delicious!
Oh, I had attempted this past week to make a new recipe that I found for "extra fudgy" vegan brownies...
fudgy they were!
I had mixed in some peanut butter into the recipe to make it extra decadent.. however the brownies were TOO fudgy and couldn't even be picked up :(
I will say though..digging into the pan with a spoon could have been a good option..but I didn't think that seemed respectable enough when trying to let other people try them... ;)
hopefully going back to my "safe" brownie recipe this week will make them much better.