As the warmer weather keeps coming, the thought of soups & warm comfort foods are being pushed way out of mind.
However, one of my favorite soups is absolutely perfect for summer weather!
Gazpacho, of course.
I've made it once before a couple years ago and wasn't completely satisfied with the results. I like lots of green pepper flavor and good seasonings to balance it all out. Plus it's so great to make a meal without even turning on any appliances other than a blender..or magic bullet in my case. Which reminds me of how excited i'll be to get a REAL blender and food processor on the registry :)
I love my magic bullet, but trying to make a large amount of anything in it is quite tough..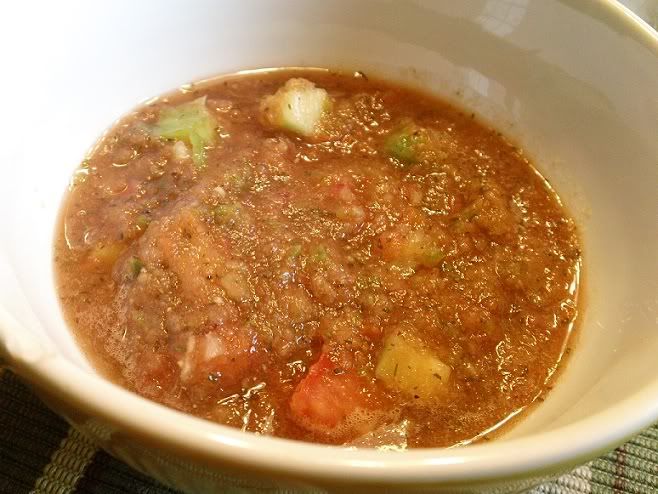 I gathered a few ideas from blogs and forums for how to create my perfect gazpacho.
This recipe is loosely based on about 10 different recipes ;)
Gazpacho:
2 cups of tomatoes, peeled, seeded and chopped.
1 cup of cucumber, peeled seeded and chopped.
1 cup green pepper, seeded and chopped
1/2 cup onion, chopped.
2 cloves garlic
1 cup tomato juice
1/4 cup red wine vinegar
2 teaspoon dried parsley
2 teaspoons dried basil
1 teaspoon cumin
1 teaspoon dill seasoning
Place half of the veggies and all the garlic and seasonings in a blender with tomato juice and vinegar and puree. Add the rest of the chopped veggies and just pulse a few times to finely chop, but still have chunks in your soup!
Easy, no?
If you are stuck using a small blender, or magic bullet like I was, it was easy to puree the first half and then add in chunks of veggies at a time. Taking some of the mixture out into the bowl you will be using to serve it in helps make room as well.
Definitely a great summer meal on a hot day :)