So I finally found some time to bake today now that I'm home and I'm really glad because I've missed it :)
I recently got Happy Herbivore's fabulous new e-cook book...
Backyard Vegan
..and i'm in love! it has soo many delicious sounding recipes that i'm really excited to make. Earlier today I made the
PB&J Cookies
using strawberry preserves.
the result?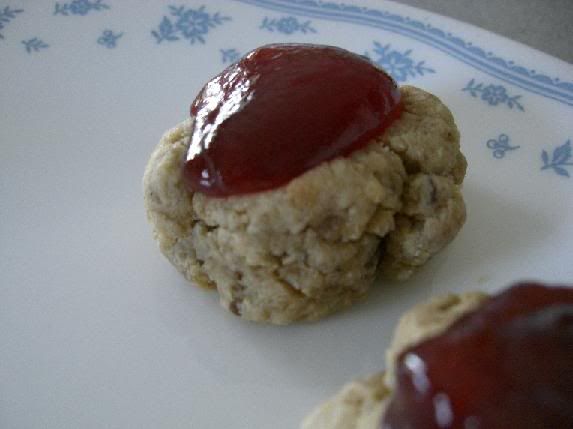 delicious-ness!
The preserves taste really good in it, and the cookies are just peanut-buttery enough but not overly sweet with the preserves also. Perfect. They don't really spread though, at all while I baked them, so if you make them definitely don't be scared to make the jelly-centers even bigger to fit the preserves in there better. The root beer float cupcakes sound like my next creation from there... they sound so clever ;) and who doesnt love a root beer float..in cup cake form??
Also!
A couple weeks ago I made scrumptious pizza while I was still in philly.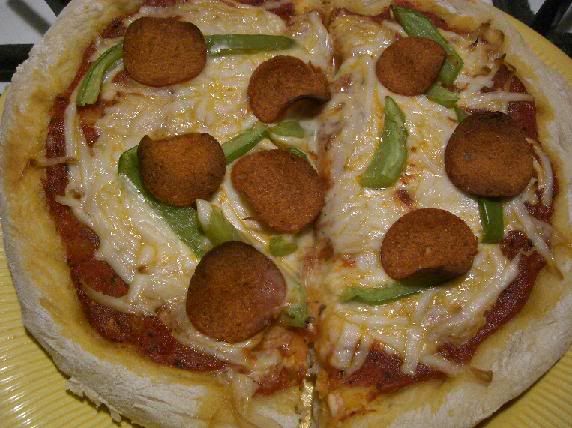 The dough was a really simple recipe that I had found through other blogs..
Vegan Pizza Dough:
1 package of instant dry active yeast
1 cup warm water
1/2 tablespoon sugar
3 cups of flour
1 tablespoon of olive oil
1 1/2 teaspoon of salt
Add the water, yeast, sugar, and 1/2 cup of flour into a mixing bowl. Stir well and let sit for 20 minutes until it gets bubbly. Add the olive oil, salt, and 2 cups of flour and mix well with a wooden spoon until together enough to knead on a floured surface. Knead for about 10 minutes, while adding more flour at a time to create a soft, elastic, slightly sticky dough consistency. Form the dough into a ball and place in a lightly oiled bowl, while adding some oil to the top to prevent drying out. Cover with a kitchen towel and let sit for 2 hours, or until the dough doubles in size (mine took about an hour and a half.) Punch dough down and divide into 2 small balls, and place in large zip lock bags (or wrap in saran wrap if you realize you dont have zip lock bags..like i did...boo) and refrigerate overnight. Let the dough get to room temperature before ready to use, and roll out to the size you want when ready. :)
So the dough I thought was pretty good..although we might've overcooked it a bit, but other than that I thought it was a really good recipe to use!
The sauce that I had used was just a creation from heating up a can of diced tomatoes with seasoning, extra basil and oregano, chopped garlic, and about 2 T of tomato paste, and then putting it all into a blender to minimize the chunks.
The pepperonis were the Yves brand..which I had never had before, but I was quite pleased with how they turned out.
The cheese was Vegan Gourmet mozzerella, which actually shredded quite easily with a regular cheese grater, so I was quite pleased with how that turned out..not to mention it really DOES melt! soo that was great.
So yeah basically, the pizza was awesome, and I had really missed pizza with melty-cheese ;)
Today I stopped by the health food store for a couple of things and saw a new random product and decided to try it out :)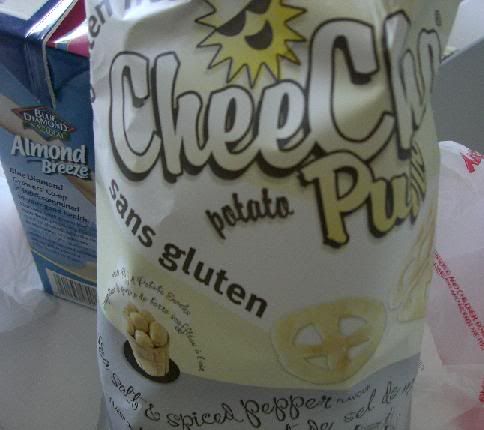 Chee-Cha Puffs
in Sea Salt & Spiced Pepper flavor.
I'm a huge fan, they're really air-y..but the seasonings and spices for them are so good. and with only 90 calories for 2 cups! how exciting, i know. ;)
They're also gluten-free, so if gluten is a problem for you then i'm sure you'll like these as well.
Well off to MORE packing.. I leave in 2 days for London and I have lots to pack still...maybe i'm just trying to fit too much? no way haha :)