A bit ago Jason & I visited DC again for a weekend. We love having our weekends away every now and then and DC is always a great place to visit! We lucked out with the weather as well and it wasn't too bad!
We arrived on Friday night and went out with my brother since he lives down there. We of course, had to go to RFD which is Jason's favorite place and has a HUGE menu of millions of different beers. It was okay, and loud, but I know Jason likes it. :)
On Saturday we walked all over! I love wandering around different cities and seeing everything they have to offer. We went to the museums and saw the Andy Warhol exhibit which was really awesome.
We also walked over to the
Eastern Market
which is in the Capitol Hill area of DC. i had never been over there before but there were so many awesome vendors!
Including a PICKLE stand!!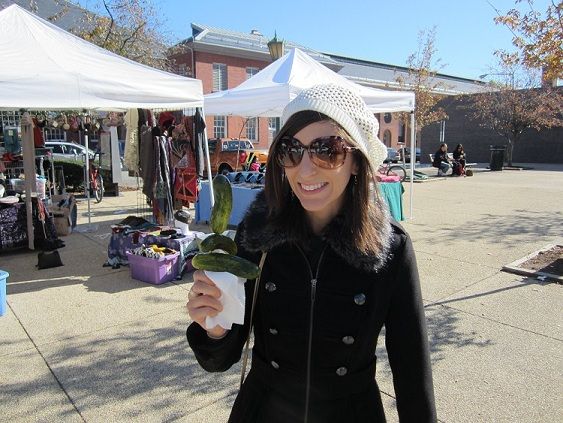 They offered tons of different pickles on a stick that you could get for only $2. We definitely had to try them and they were SO good!
After walking around all day we rested for a bit in the hotel and then ventured out for dinner. I had never had ethiopian food before, and heard that DC had a ton of awesome ethiopian restaurants to check out so I figured it'd be a great place to try it for the first time.
We ended up making a reservation for
Etete
. They were located on 9th St and not a far walk really from our hotel. Nothing in DC is really thattt far away.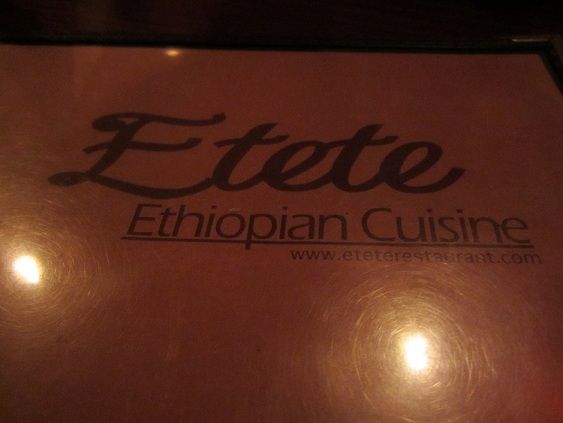 We started out with the Sambusa which was a roll filled with lentils, green peppers, jalapenos, and onions. They were delicious!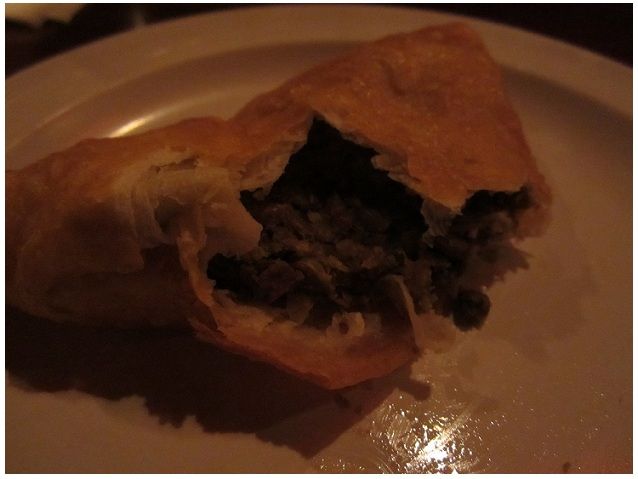 I wasn't sure what to really order, so I asked for the vegetarian plate and she ended up putting both of our orders together on the injera.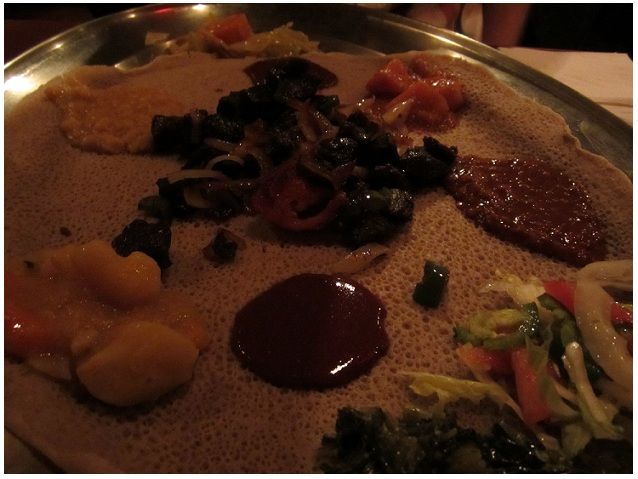 Sorry for the low lighting! It was very dim in there which I thought made a great atmosphere. I was the girl though, that asked for a fork, even though I know you're supposed to kind of eat it all with the injera in your hands. Ahh well.. I tried! Everything on it was absolutely delicious though!
It had collard greens, cabbage & carrot, split peas, red lentils, and some amazing sauces that tied it all together.
Definitely not the last time I'll be going to an ethiopian restaurant!
On Sunday we met up with my brother again for brunch! I had heard about
Sticky Fingers
a lot and I knew I had to try it out for myself. They are located at 1370 Park Rd NW.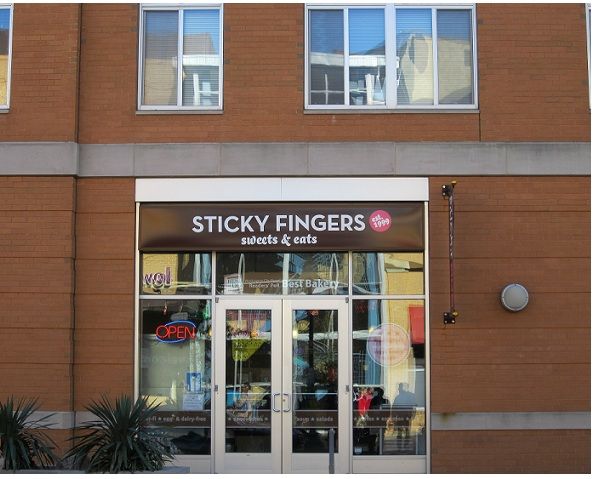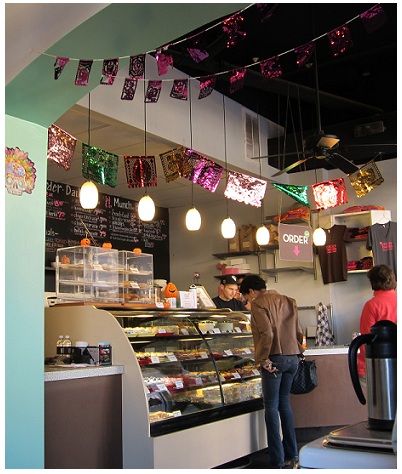 It was absolutely adorable on the inside and even though small, we were able to find a spot outside to eat our brunch.
I ordered the tuna melt sandwich. Tuna is one of the things I really enjoyed pre-vegan days, so it was great to have a substitute!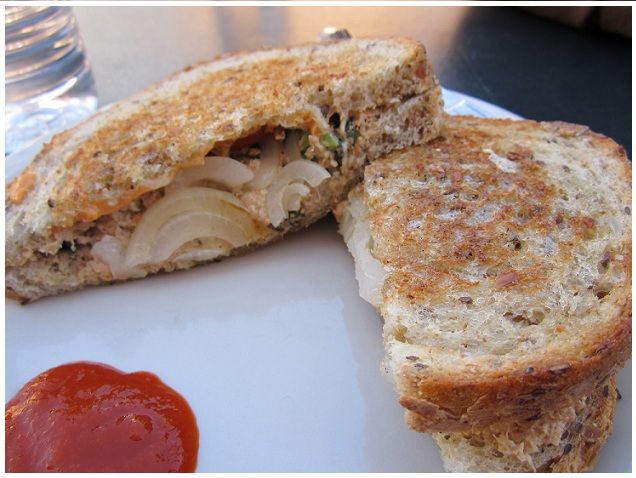 Jason & Brian both got the same thing - the breakfast burrito. It was a whole grain tortilla, tofu scramble, black beans, tomato, spinach, and daiya cheese!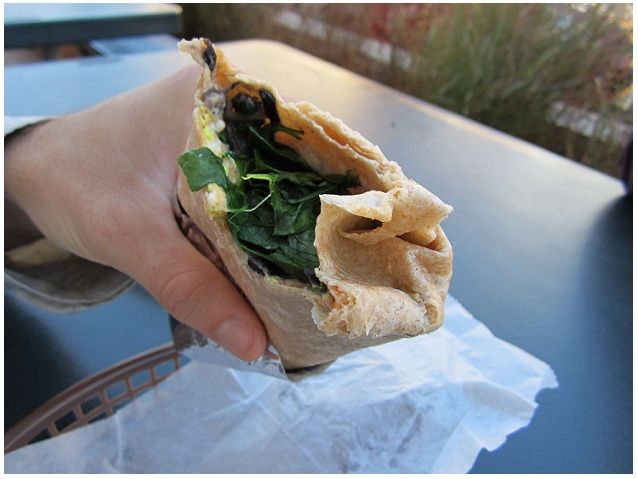 yeah, not the juciest of pictures for the burrito, but under all that spinach there was definitely tofu scramble!
We couldn't leave sticky fingers without trying their beautiful desserts!
My brother tried the famous cinnamon roll. It was as big as our heads. At least.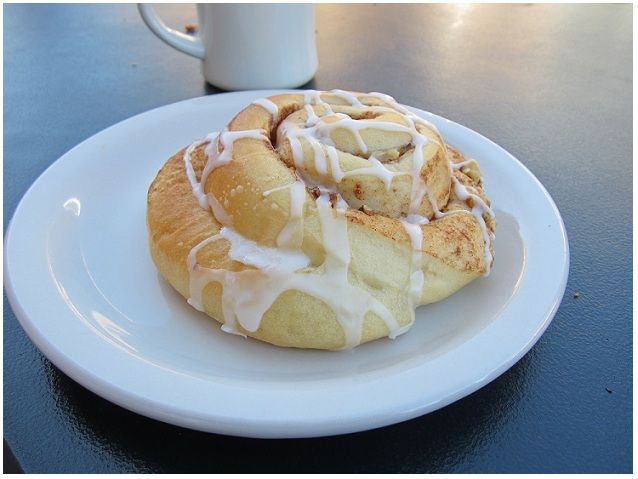 But oh so good. They had a great deal for the cinnamon roll & a cup of coffee together. I would love to live near by and go there for breakfast and eat that - every day. Hah...
Jason & I split the cupcakes..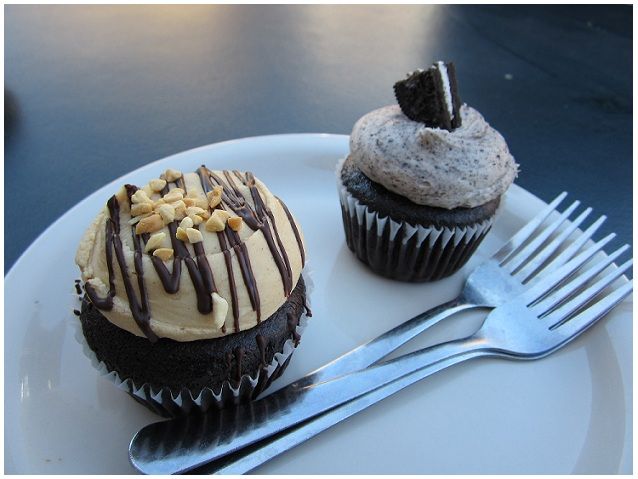 We chose cookies n' cake cupcake and a peanut butter fudge cupcake, of course. Those are our favorite flavors for anything, I think.
Of course, they did not dissapoint and not a crumb of anything was left!
It was great to catch up with my brother and we both really enjoy going to DC. hopefully one day we can get down there for the cherry blossom fest!
enjoy your weekends & hope the superbowl is fun for everybody whether you care about the football, the food, the commercials, or seeing Madonna perform! :)