So I'm back from philadelphia for the mean time and I had a really great time up there! We went to the show on Tuesday night, which had Rookie of the Year, The Graduate, PlayRadioPlay!(my favorite),My American Heart, and Secondhand Serenade..if you've heard of any of those..high five! So that was fun.
While we were there we spent the day on south street and such on tuesday. For lunch, we stopped at Gianna's Grille, which I've only eaten from once and all I had was a canolli (but it was an absolute wonderful vegan canolli!) soo I really wanted to eat lunch there. I was torn between the sandwiches or a piece of pizza..and finally went for pizza. It was pretty good, but I wouldnt say that it was picture worthy. Cody got a meat-filled cheeseburger..bleh, but I like that they have vegan and non-vegan foods..so anyone can eat there and hopefully try vegan stuff! For dessert, we split a piece of the chocolate peanut butter crunch cake. oh my. this was AWESOME!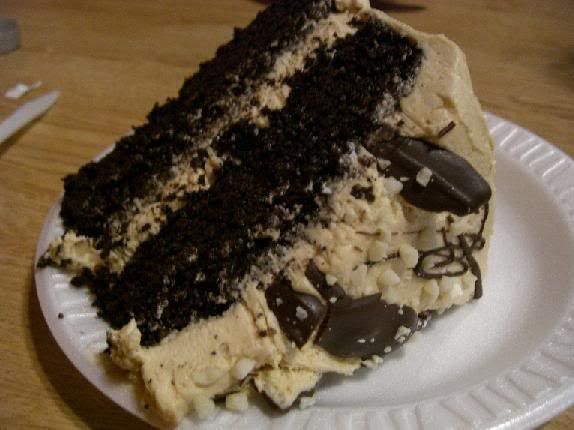 The cake was so moist and perfect, and the icing was soo peanut buttery and delicious. I loved it. :) Next time I go though..I'll choose a sandwich over the pizza. and definitely get another dessert. ;)
Oh yes, also while I was there, I got to finally see my new apartment! Its sooo adorable, i'm in love with it. It's directly on Main Street in Manayunk, so the location is PERFECT. And it has a cute little balcony and everything. I'm so excited! I'll be back in Philly in 2 weeks from today...but unfortunately we don't move into the new place until the beginning of September..but it's worth the wait!