So it's been over a week and that's a while for me to not blog about anything.
I haven't really been making anything lately though.
The other day for the boy I made the tried and true cornmeal pancakes (minus the blueberries) from Veganomicon for breakfast..and he really liked them. They seemed a lot easier to flip and make without the blueberries in them this time, so that was a bit easier for me.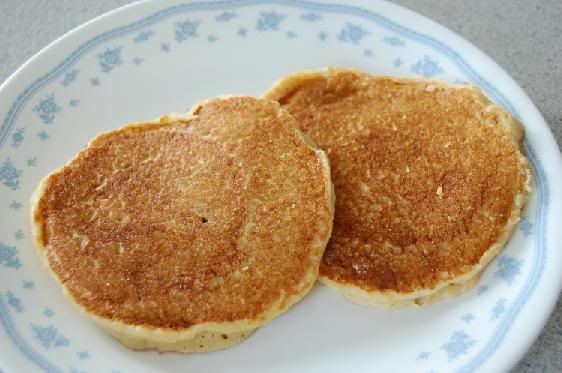 Oh yes, and the other day I finally got a bike I really really love! It's a baby blue color, and is a "beach cruiser" and it's so adorable. I can't wait to ride it around everywhere. ;)
Today I made some oatmeal cookies that I found. I was originally going to make the ones from Veganomicon, but I didn't have any brown rice syrup, nor do I know of a place around here that carries it. Soo I found a recipe on Vegweb.com for a lowfat low sugar recipe, and honestly..you can't even tell the difference! these cookies are awesome!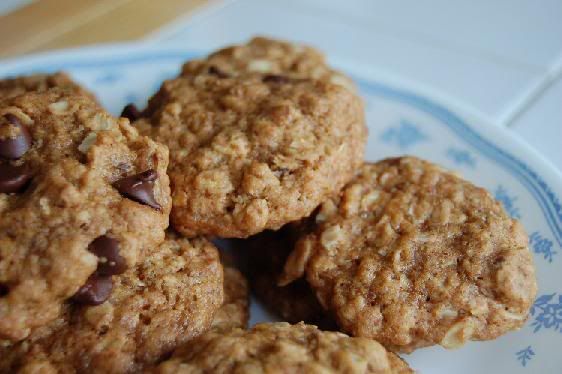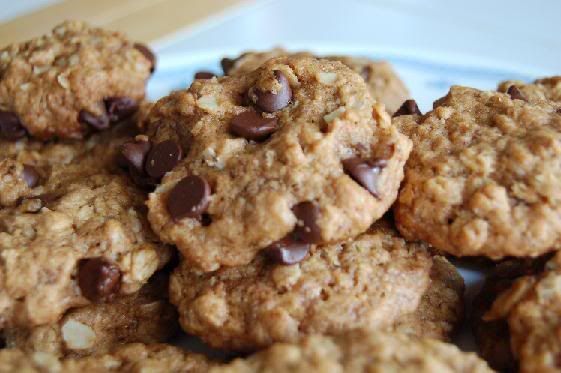 I made half and half of chocolate chip and just cinnamon. For some reason, I'm not a huge oatmeal raisin fan..soo those were not included at all.
Oatmeal Cookies (low fat, low sugar):
1 cup flour
1/2 tsp baking powder
1/4 tsp baking soda
1 tsp salt (i used a little less than a tsp..)
1 1/2 c oats
1/2 c sugar
1 tsp cinnamon (i used 2 tsps in the half without chocolate chips)
1 egg replacer (i used flax seeds)
1/2 c mild oil
1 T molasses
1 T agave nectar
3 T water
1 tsp vanilla (oops i forgot to add this...guess its not that necessary!)
1/4-1/2 c semi sweet chocolate chips
Preheat oven to 350 degrees. Mix all the dry ingredients (flour-cinnamon) in a large bowl. In another small-med bowl, mix all the wet ingredients (egg replacer-vanilla). Add the wet to the dry ingredients and mix until combined. Add the chocolate chips. Roll into little balls and place on greased cookie sheet. Flatten out with a fork so they cook nicely. Bake for 13-14 minutes. Should make about 24 cookies...
although mine came out to be 21, but hey whos counting. ;)