So i'm leaving tomorrow for new york to visit family and such until sunday.. so that should be fun..not to mention the nice 5 days off from work. woot.
i'm excited to perhaps find some vegan restaurant or a good grocery store with vegan stuff..we'll be on long island so i'm sure there'll be something around there!
Last week for dinner one night I made the sweet and sour meatballs I found in a vegan starter kit book we snagged from Warped Tour. They were the first recipe in the magazine that I saw that I wanted to make, and I'm really glad I did! They came out really good..the sauce was delicious and I lovve the gimmelean so it was a great combo.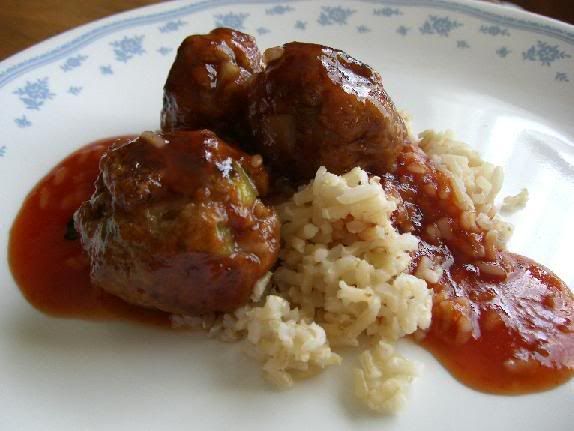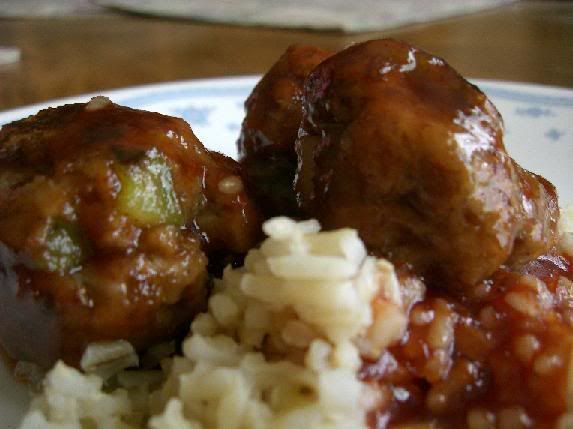 Vegan Sweet-and-Sour "Meatballs"
1 lb. ground beef substitute (I used Lightlife Gimme Lean in the sausage one..tasted awesome!)
1/2 green pepper, finely chopped
1 small onion, finely chopped
1-2 cloves garlic, crushed
2 slices white bread (i used wheat..whatever!)
2 egg replacers (i used flax)
salt and pepper to taste
oil, for frying
6 oz. chili sauce
5 oz. red currant jelly (this was a bit tough to find, but luckily i did!)
Combine all ingredients except the oil, chili sauce, and jelly in a bowl and stir until well mixed. Heat the oil in a skillet, using enough to coat bottom of the pan. Form "beef" mixture into 1-inch balls and fry in the oil until browned. Meanwhile, place the chili sauce and jelly in a saucepan over medium heat. Heat and stir until smooth. When the mock meatballs are finished cooking, add them to the sauce and stir to coat well. Simmer over low heat for 5 to 10 minutes.
I served them with brown rice and used the extra sauce over it. Was quite scrumptious!
So tonight I'm going to see Dark Knight..i've heard a lot of good things about it so i'm pretty excited. 2 and a half hours long though.. wow! haha it should be really good though!
Oh, and also thanks SO much from
Shelby
for this fab award!
That's really awesome and honestly I give every single blog that I comment on it, because they're all so great and keep me inspired! :) So woohoo!