When life (or your mom) hands you a big bag of blueberries..
you make blueberry muffins!
In reference to the blueberries that my mother and I picked a few weekends ago while I was home, I wasn't sure how I could use them all up without wasting the delicious berries if they went bad!
Sure I could freeze some, but fresh, picked yourself blueberries deserve to be eaten sans freezer!
Jason requested blueberry muffins for quick breakfasts throughout the week..what a fab idea!
I went over a few muffin recipes, before finally going to my favorite baking cookbook.
The Joy of Vegan Baking.
this book has never failed me!
i've made quite a lot of the recipes from it, and they have all been stellar results.
These muffins were no exception!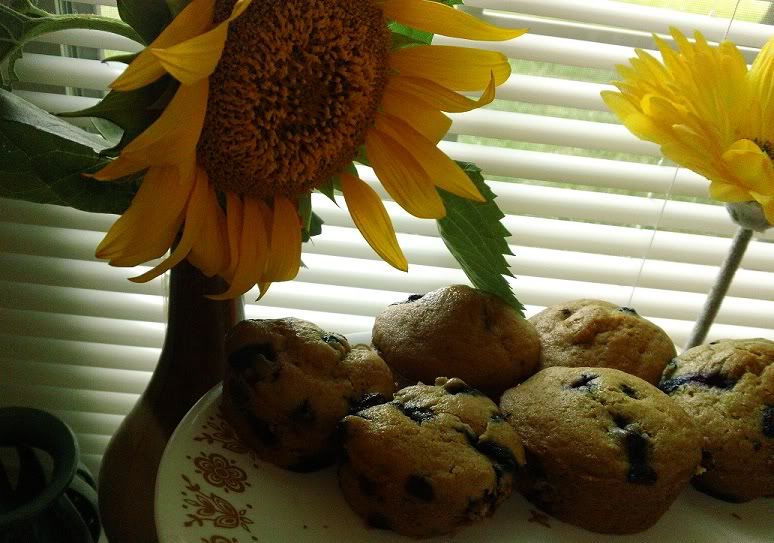 Can you tell that sunflowers are my favorite yet? ;)
Blueberry Lemon Muffins:
2 cups flour (I used whole wheat white flour)
1 1/2 teaspoons baking soda
1/2 teaspoon salt
zest of 2 lemons
3/4 cup sugar
1 cup milk (i used unsweetened almond breeze)
1/3 cup canola oil (i used vegetable, and only 1/4 cup)
1 teaspoons lemon extract (i didnt have this..)
1 tablespoon of white vinegar (i used apple cider)
1 1/2 cups fresh blueberries
Preheat the oven to 375 degrees. Lightly grease a muffin tin.
In a medium bowl, mix flour, baking soda, salt and lemon zest.
In a large bowl, mix sugar, milk, oil, extract, and vinegar. mix well.
Add the dry ingredients to the wet and stir until just mixed. Don't overstir!
Gently fold in blueberries with a rubber spatula.
Fill muffin tins 2/3rd fulls.
Bake until a toothpick comes out clean, about 22 minutes.
Let cool before devouring ;)
They were great and lasted a while, even after keeping them in the fridge after a few days.
Joy of vegan baking never lets me down :)