So it's 2011...
one more year until 12-21-2012, but we won't think about that, right? ;)
Also, the year that I'm getting married!! Almost 8 months away!
Should be a good year, to say the least!
I'm not exactly one to make resolutions, but I do want this year to be filled with health and happiness, that's not too much to ask I hope.
I've started off the year right with cooking though!
One thing I would like to work towards is cooking more indepth recipes..usually when I'm feeling lazy a stir-fry works or a heated boca burger, but I really want to make more recipes that take time in the kitchen. I love being in there and cooking and making up a recipe that both my fiance and I enjoy.
Plus, for the month of January, Jason has gone vegetarian!!
Even more reason for me to make delicious vegan food for him so maybe I can sway him into making it a year-long resolution ;)
Just kidding, I love him no matter what.. but I do like that he at least always tries and usually likes the vegan foods that I cook or that we eat at vegan restaurants!
We spent our Christmas' this year apart at our own families, but we both made it back despite the snow to our apartment on Sunday for our own Christmas.
I had made the vegan crabcake recipe from myvegancookbook.com a few months back, and though it took forever to make, Jason really enjoyed it.
We chose this to be our Christmas dinner. Since it was snowing out when I left from Maryland, I had plenty of time to get back to Pennsylvania and go out to the store to get the ingredients for the cakes!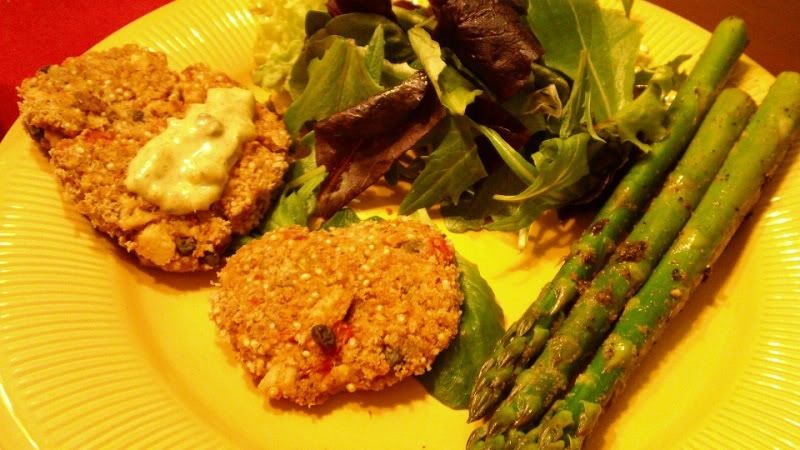 They came out as good as the first time! We ate them with sauteed asparagus in white cooking wine and garlic, with a side of mixed greens. Also, we used the vegan sauce on the website for the crabcakes (so good! and who knew that Kraft Creamy Italian dressing was vegan!).
Here's the link to the recipe..I highly recommend making these for a perfect vegan crab cake!
http://www.myvegancookbook.com/recipes/recipe.php?id=67
My new years was also really good, but our dinner was supposed to be the Ethiopian Seitan & Peppers from Vegan with a Vengeance. The seitan took MUCH longer than I had anticipated, and since we were supposed to go out around 8:00, they did not happen that night.
Instead, we had this recipe tonight. I had made the seitan from VWAV on Friday and refrigerated it in the broth until tonight. I also halved the recipe since it was just the two of us, but it still made enough for 4 servings, so we saved 2 pieces of seitan for another recipe for this week.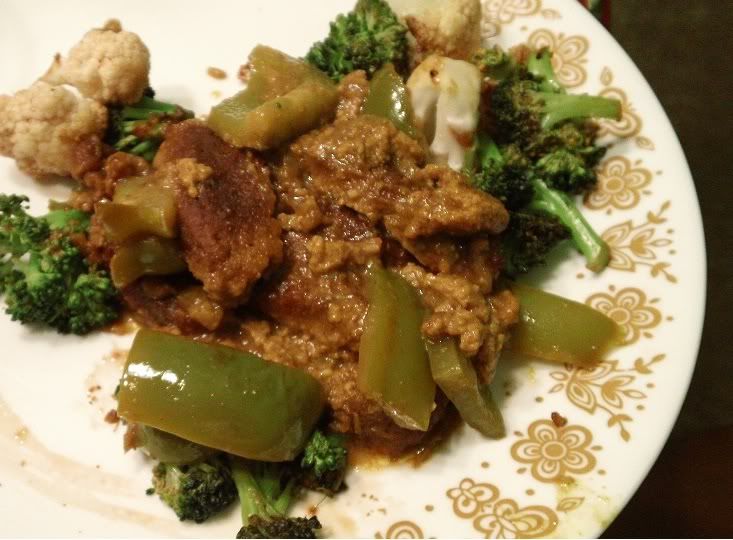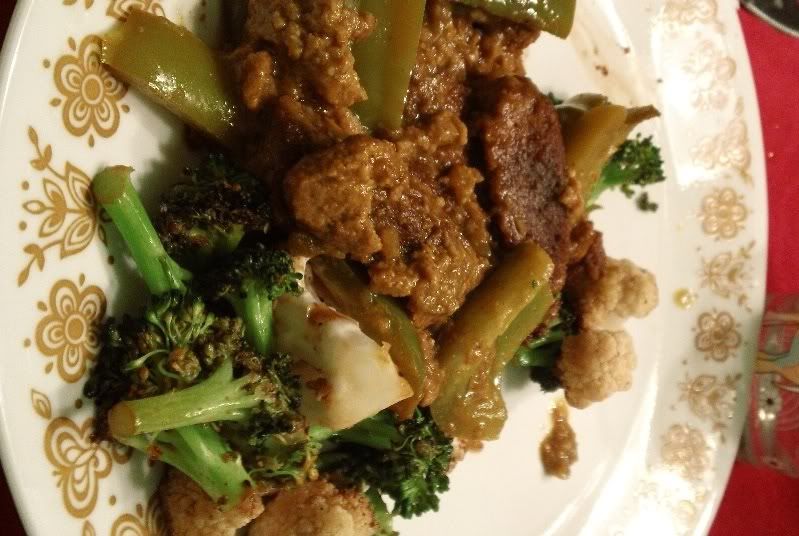 Here's the seitan recipe from VWAV:
Makes 6 cups (we halfed the whole thing for us, and still had half the recipe left over!)
2 cups vital wheat gluten
1/4 cup nutritional yeast
2 tablespoons all-purpose flour
1 cup cold water or veg broth (i used water, was still fine!)
1/2 cup soy sauce
1 T tomato paste
2 cloves garlic, pressed
1 tsp grated lemon zest (i left this out..oops, hey it still tasted great!)
for broth:
12 cups water
1/2 c soy sauce
in a large bowl, mix vital wheat gluten, nutritional yeast, and flour. in a seperate bowl, mix the wet ingredients through lemon zest if using.
pour wet into dry and combine with a firm spatula. knead the dough for about 5 minutes until spongy and elastic. let the dough rest for a few minutes and in the meantime stir together the broth ingredients in a large saucepoit. roll the dough into a log shape about 10 inches long and cut into 6 pieces of equal size. place into broth. partially cover the pot and leave a little space for steam to escape and bring the broth to a boil.
when the broth has come to a boil, set the heat to low and gently simmer for an hour, turning the pices every now and again. (this was hard for me, the seitan seemed very mushy, but i was able to turn them without breaking them too much!)
turn off the heat and let the broth and seitan cool for at least 30 minutes.
after, i put the seitan pieces and some of the broth into a sealable tupperware until we were ready to use it. if you're going to use it right after, then continue with your next recipe.
Ethiopian Seitan & Peppers:
For puree:
I used diced chile peppers in a can from target, the recipe called for 6 serrano chiles, seed and chopped..but the can worked fine!
2 cloves garlic, crushed
1 teaspoon ground cumin
1/4 tsp cardamom (left this out..)
1/4 tsp tumeric
1/4 tsp cloves (used allspice instead)
1/4 tsp cinnamon
1/2 c red wine (i used sherry cooking wine)
3 T olive oil
seitan, cut into strips
2 green bell peppers, seeded and cut into 1-inch strips
Preheat oven to 400 degrees.
Place all puree ingredients in a blender and puree until relatively smooth. (I used my magic bullet)
Place the seitan strips and peppers in a 9x13 inch baking dish, smother with the puree. Cover with foil and cook for 20 minutes. Remove foil, flip the seitan and peppers, and cook for 20 more minutes.
We ate this with a simple sauteed brocolli and califlower dish with garlic and soysauce..but the book recommends rice and veggies. Take your pick!
We both agreed this recipe was great and a definite make-again.
I would love to try an ethiopian restaurant in philly and see the vegan options that they have!
Hope everyone else had a great new years as well! :)