About a month or so ago, Jason & I went to New York City for the weekend. We've been there together a ton of times since we've been together, and each time we always have a blast and see tons of stuff! :)
This time we tried a few new places, vegan-wise, so that was really exciting for me anyways!
We bustled through the traffic on friday night and had a reservation that evening at Blossom for dinner. We've been there a few times before, and it's Jason's favorite, so of course we had to go while we were there. I did not take any pictures, due to the poor dim lighting of the restaurant and the fact that I've been there a bunch of times before. We split the Cape Cod Cakes for appetizer, basically vegan crab cakes, and they were SO good! Jason got the Port Wine Seitan which he's had before, and is really awesome, and I ordered the Pistachio and Pepper Dusted Tofu, which was a new one for me! I really enjoyed it, the pistachio crust and sauce was really good, but of course, Jason's seitan was better ;)
The next day we wandered around the city, went to central park and did a bunch of sight seeing and such. I love just walking around new york :)
For lunch we went to The Candle Cafe. We've been to Candle 79 before for dinner, which is a lot like Blossom in terms of upscale vegan gourmet food, but the cafe sounded like a good lunch idea!
I was a bit thrown off when I saw the menu, and saw that it was almost identical to the menu of Candle 79, including the prices! For a crowded and cramped "cafe", you'd expect it to at least be cheaper! However, when I see the menu for dinner I am less opt to order a sandwich or salad for dinner, so this was nice to finally try the lunchy part of the menu.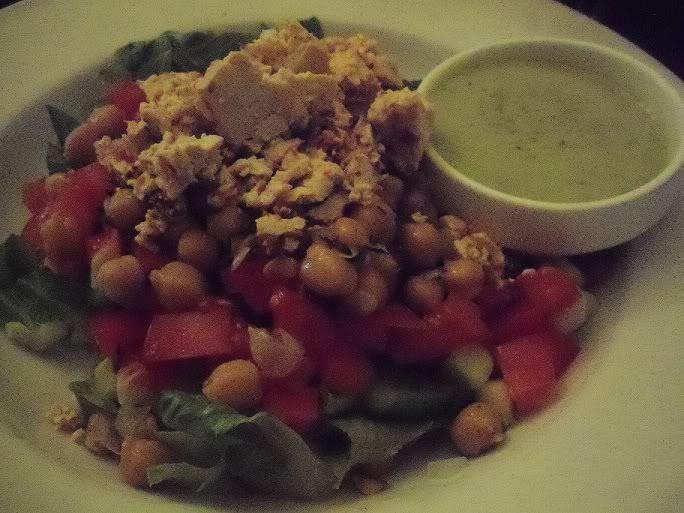 I ordered the greek salad. Which included a tofu feta cheese, tomatoes, cucumbers, chickpeas, and a delicious greek vinagrette dressing! I was really glad to have tried this, I loved it! :)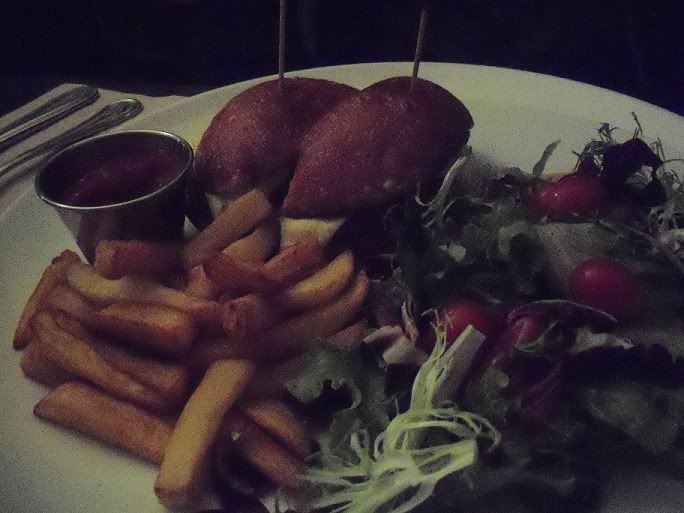 Jason ordered the Tuscan Seitan Parmesan Sandwich. Sorry for the bad pictures! The lighting wasn't that bad, but for some reason they just wouldn't come out clear. Anyway, he really enjoyed his sandwich :) I had a bite of it and I really liked it as well. It came with delish fries and a side of mixed greens!
For dinner that night I wanted to try a new place. Someone I knew had recommended Pukk as "the best" vegan place in nyc. Taking this recommendation into consideration, I thought we should try the best!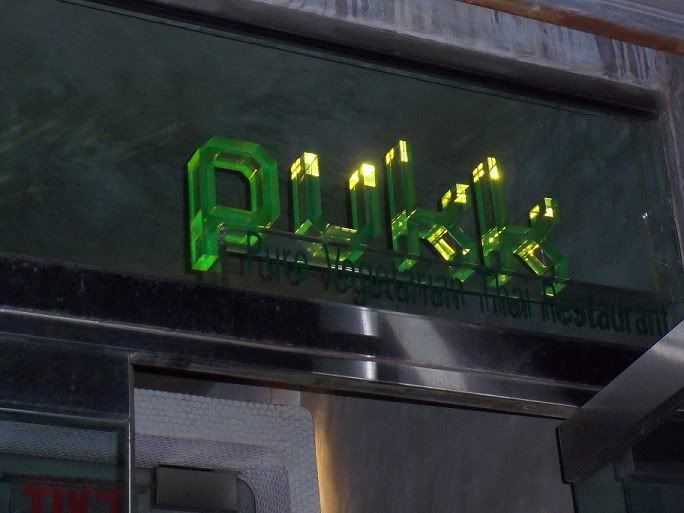 The inside is really small and modern looking, I liked the feel for it a lot. You basically sit on top of the people next to you, but I didn't mind the small-ness!
The menu was super small..literally. The book was so tiny and hand-held!
They had a lot to choose from on the menu though. It's an all vegetarian thai place, and since I love thai food, I was hopeing it would be really good.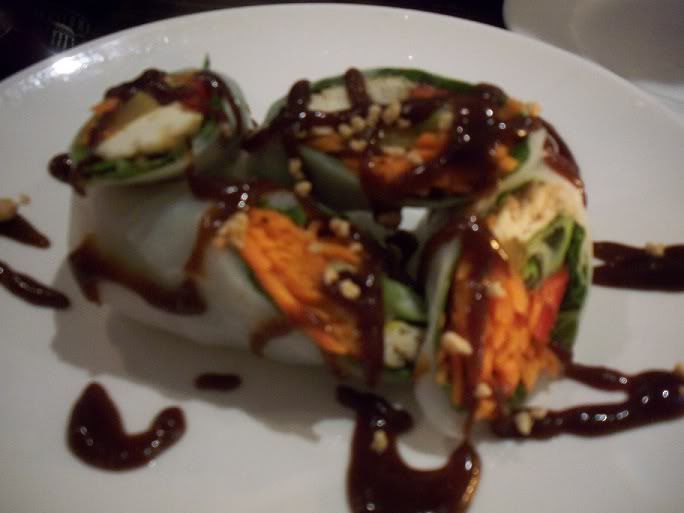 I loved our appetizer! We started out with Vegetable Roll, which was mixed greens, tofu, and pickle daikon with smoked soy sauce. I loved that it wasn't fried too, I'm fonder of spring rolls that are steamed instead of fried :)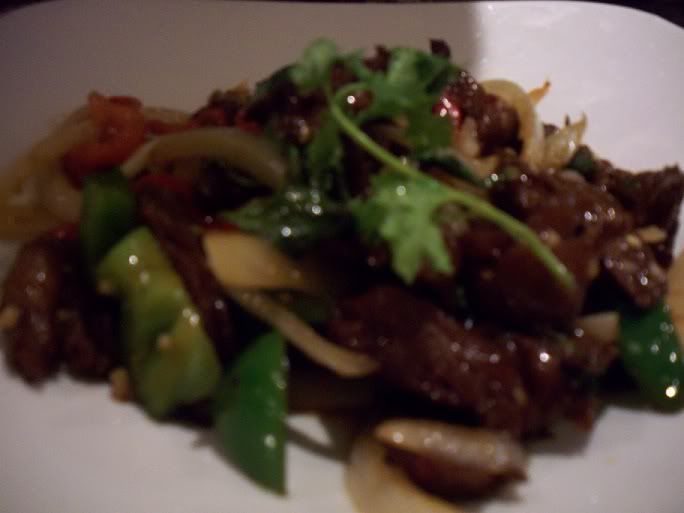 Jason's dish (and of course, the better one!). He ordered the Duck Basil which was with onion, bell peppers, and "spicy sauce". I really like mock duck a lot, almost everywhere that I've tried it I always love the consistency of it. Pukks was really really good.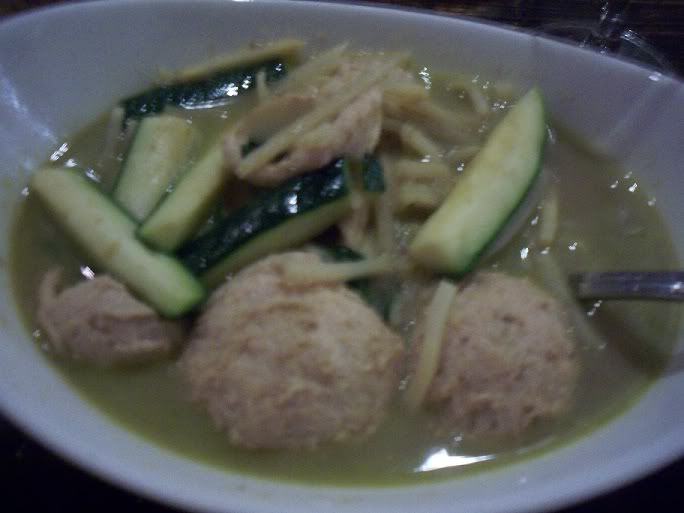 My first dish. The Green Chicken Curry, which had bamboo zucchini and basil. Looks kind of like matzo ball soup, in my mind. Anyway, I took a bite out of this and really did not enjoy it. I don't know why I order Currys when I'm out, I enjoy them much more when I made them myself (I really do not like coconut milk but sometimes they make them without, but this one they definitely used coconut milk). Anyway, to make a long story short, they took the dish away and I quickly chose something else as my main.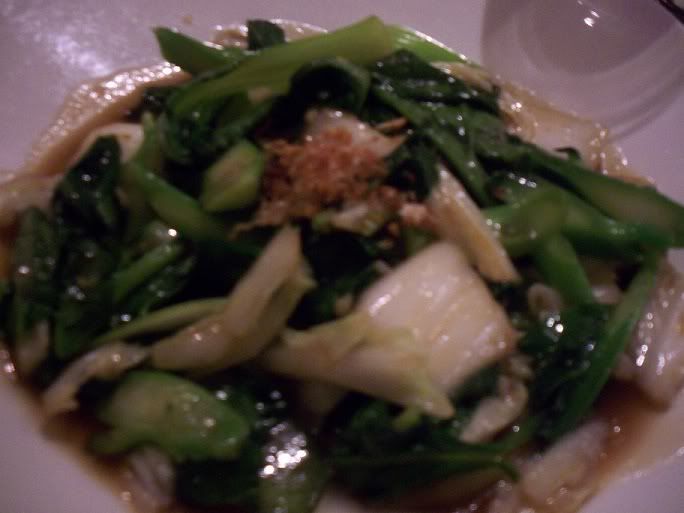 I chose the Green Delight. This was basically just a veggie stir fry, with broccoli, spinach, and napa in a garlic sauce. I enjoyed it though, much more than the curry, so I was happy they were easy going with changing my meal.
I will say, I do not agree with the statement of Pukk being the best vegan place in nyc. (and because of this, i lost a facebook friend..true story) since I have a lot of thai places near me in pennsylvania which although they serve meat, they have an extensive vegetarian menu and are much better than Pukk! Maybe another time I would have had a better experience though..
Anyway! I saved the best part of the trip for last :)
While at a bar one of the nights, I googled on my phone where Stogo was. I had been to Lula's Sweet Apocathery before, and LOVED the ice cream there, but I heard that Stogo was just as good, if not better from some opinions. I knew I had to try it!
Just so happend the bar we were at was only a few blocks from Stogo!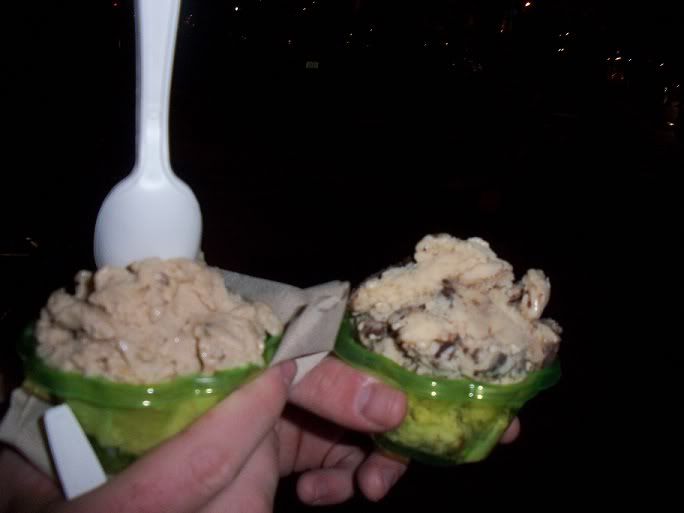 Jason and I's ice creams!!
I ordered the Apple Pie A La Mode. Jason ordered the Chocolate Peanut Butter.
Why did I order the apple ice cream? I do not know, because about 2 bites in I asked Jason if he would want to trade, and luckily he said yes :) His was much better haha.
Not to mention there was skipping down the streets of NY and screaming "i got stogo!" ....but we won't go there ;)
Anyway! New york was awesome, and the new places we tried, I'm glad we got to try them! Hopefully next time we can try some more as well :)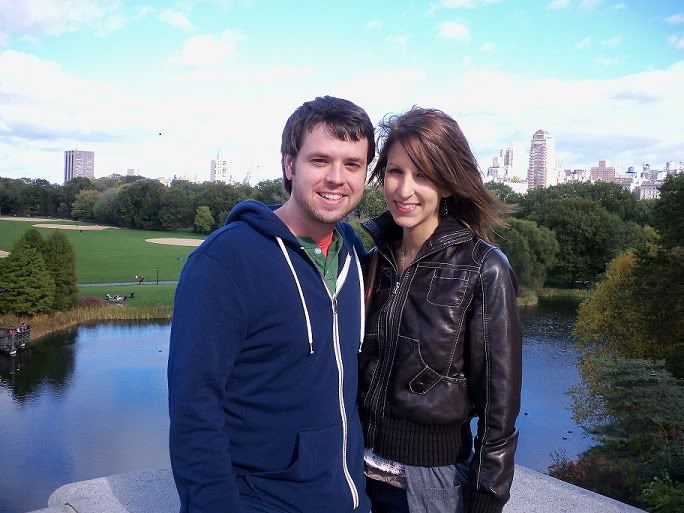 Us in central park :)