As a christmas gift from my friend I got the new skinny bitch cookbook.
The first book, Skinny Bitch in the Kitch was given to me by my aunt 3 years ago for Christmas..and what was the push to lead me to finally take the plunge into veganism that January.
As I became interested in different vegan cookbooks and recipes, I realized how much I did not really like the recipes from skinny bitch. They seemed very simple, (recipe for vegan cheeseburger - 1 vegan burger patty, 1 slice vegan cheese, 1 vegan bun..not too complex and not really cooking..)
However, the book by Kim Barnouin, one of the skinny bitches, that recently came out is very different, and I absolutely love it!
The pictures in the book are wonderful and the recipes are even better :)
So far I've made three of the recipes, but I have many of them bookmarked and will be making them soon, I'm sure.
My first recipe out of the book was the Tempeh Tomato and Tarragon Stew on page 208.
The recipe made 4 servings, and since it was just Jason & I, I knew there would be plenty leftover.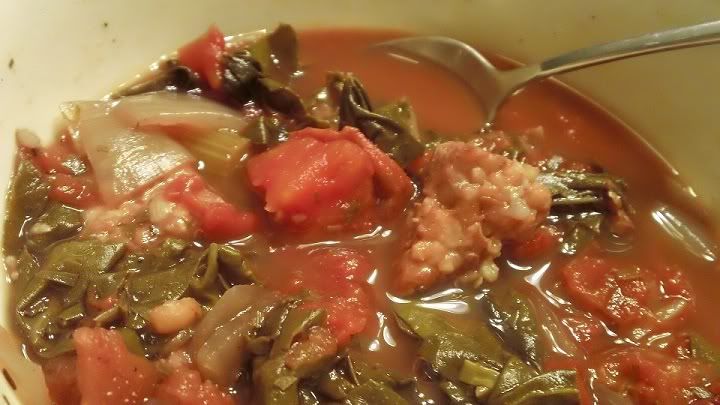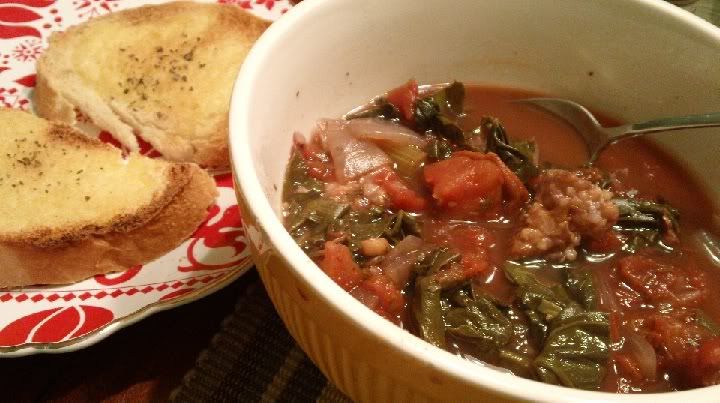 This stew (mine was more soup-like than stew-like, maybe thats why we had so much leftover!) was really easy to make and I had never cooked with swiss chard before, so I was excited to try it out!
Funny though, as i took the swiss chard out to cut, I actually had no idea what to do, and had to google it. First time for everything!
Jason made his verrry delicious garlic bread to go along with this, which was a fresh baquette from the store with smart balance, garlic, and dried basil. He does make some delish garlic bread! :)
Tempeh Tomato and Tarragon Stew:
2 T oil (you can use spray for the cooking if you'd like)
2 cups 1-inch tempeh cubes (I kept the recipe the same otherwise, but only used 1 cup of tempeh..which was one package, seemed like 2 would be a ton!)
salt and pepper to taste
1 small yellow onion, diced
1 carrot, peeled and diced
1 celery stalk, diced
3 T minced tarragon
1 T minced thyme
1 bunch swiss chard, thinly sliced
2 1/2 c diced tomatoes
1 15 oz can garbanzo beans, drained and rinsed
2 cups red wine
4 cups vegetable broth
Heat a large saucepan over medium high heat with cooking oil/spray. Add the tempeh and saute for 5 minutes until golden brown. Season with salt and pepper and remove from saucepan and set aside. Add onion, carrot, and celery to saucepan and saute for 3-4 minutes. Add tarragon and thyme, and saute for 1 more minute. Stir in the swiss chard and cook for 6 minutes. Return the tempeh to the saucepan and stir in the tomatoes and garbanzo beans. Add the wine and simmer for 8 minutes until liquid has reduced to half (mine never really reduced too much..hmmm...)Pour in the broth and bring to a boil over high heat. Reduce the heat to low and cover. Simmer for 20 more minutes and serve hot.
As much as I really enjoyed this soup the first night, I did not enjoy it as much later in the week for lunch reheated. I'm not the biggest fan of the flavor of red wine, so I think after sitting in the fridge for a few days, the flavor really took over. If you like red wine, you'll really enjoy it though :)
Another recipe I made was the Spicy Vegetable Curry on page 222. Another thing I really like about this book is that there are a ton of ethnic dishes! I love ethnic foods..indian, thai, chinese, etc so I was really excited to make a lot of them!
This curry came along really quickly, so it was a great week night meal when I didn't feel like cooking a long recipe. I didn't get to take any pictures of this, but I highly recommend it, it was great!
The recipe calls for mushrooms, eggplant, and okra. I really really don't like mushrooms, eggplant isn't one of my faves either, and I could not find okra. Thus, we used veggies we liked - broccoli, bell peppers, and any other random veggies we had on hand. It's a really versatile recipe which makes it even better.
One recipe that caught my eye first while skimming through the book was the Asian Macaroni & Cheese. It seemed like such a different approach to the usual mac & cheese, so I was really excited to make it. Plus I have yet to make my own vegan version of the dish, although I have had the packaged vegan mac & cheese's which have been pretty good.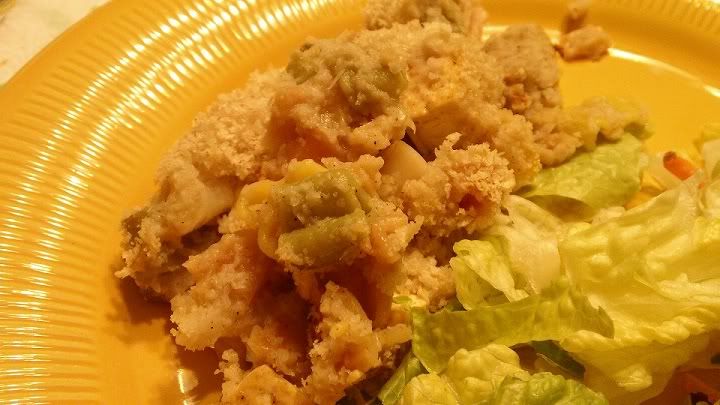 Sorry for the bad lighting, my apartment really isn't the greatest place to take food pictures.
Asian Macaroni & Cheese:
2 cups cauliflower, cut into small pieces and stems removed (i just used a bag of frozen cauliflower florets..yeah, lazy way out I know)
1 cup light coconut milk
1 cup water
2 garlic cloves, chopped
1/4 tsp nutmeg
1 tsp white miso paste
1/4 tsp soy sauce
1/2 tsp dijon mustard
1/2 tsp salt
pinch of pepper
1 tsp potato starch
2 T oil
1/2 c firm tofu, drained and cut into cubes
2 1/2 cups cooked macaroni (i used heart-shaped macaroni, in the v-day mood!)
1/2 cup panko breadcrumbs
1/4 tsp garlic powder
Preheat the oven to 375 degrees.
In a medium saucepan, cook 1 cup of the cauliflower with the coconut milk and 1 cup water over medium high heat until soft. Add garlic, nutmeg, miso, soy sauce, mustard, salt, and pepper. Cook about 3 minutes and add potato starch to thicken. Pour the mix into a blender or food processor and blend until smooth and creamy.
In another saute pan, heat oil and saute the rest of the cauliflower and tofu over medium high heat until lightly browned, about 3 minutes. Add salt and pepper to taste. In a lasagna-style pan, add the macaroni, cauliflower, and tofu mixture. Mix in the cauliflower and coconut milk sauce. Sprinkle the breadcrumbs on top, and add the garlic powder over breadcrumbs. Bake 15-20 minutes until golden brown.
I halved the entire recipe, and it still made a ton. I also used an 8x8 pan instead of a lasagna style pan since I made less. Also..white miso paste..I had been looking for it everywhere for a while, and finally found it in a natural food store near me. The darn jar was $13! After coming home and adding the 1/2 tsp to the recipe, I really do not think it was needed at all! So expect a lot of recipes soon to be incorporating the miso, the jar is huge!
Anyway, this dish was fabulous!
And days later, it was still just as good.
I really cannot wait to make more from this cookbook, just so many awesome refreshing recipes in it!
Next post I'll be doing a DC trip review, we went there this past weekend for valentine's day and tried a few awesome vegan friendly places! Plus I met Lindsay Nixon aka Happy Herbivore, and that in itself was awesome!
Take care!
<3