So I'm home for spring break in maryland..
and even though its not exactly a spring break destination... with the rain and cold weather.. it's still nice to be home and relax. :)
Before I left though I made a recipe I think I found on vegweb a while ago, it seemed quite simple and quick to make so I thought my friends at work would really like it.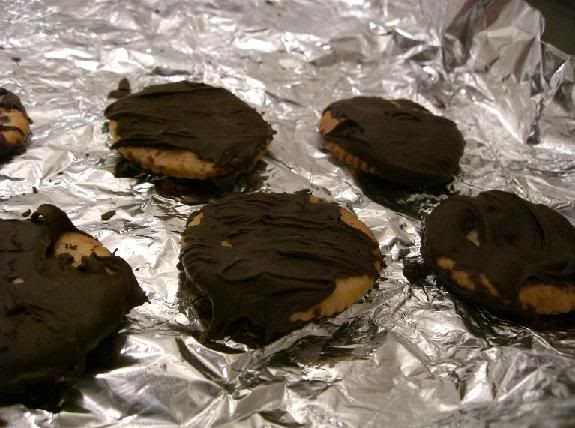 All it was, was to melt a bag of semi-sweet chocolate chips (shoprite brands is vegan! yay) and mix it with a tsp of peppermint extract..
and then dip Ritz crackers in the mixture, put in the fridge to harden them up..
and they're quite tasty! kind of like a thin-mint..kind of sweet and salty..
but very simple and delicious.
I brought my cat Ziggy home for spring break with me, and I was a bit nervous about having to keep him in my room for an entire week since I have a dog at home and I didn't know how they'd react to eachother. After having Ziggy keep me up all night the first night, we decided to see if they would be able to roam around the house together.
Luckily, it hasn't been too bad.
Ziggy likes to pretend he's tough, but when hes on the same ground level as my dog, he runs away scared.. but they're fine and they don't actually fight, so luckily that's been taken care of :)
Yesterday I made dinner and dessert for my family, and I decided on the
Mariachi Macaroni
from myvegancookbook.com (which I just recently stumbled upon and LOVE!)
The casserole was awesome! Since I don't have nutritional yeast..and most macaroni dishes usually call for it..I was excited to see that this one didn't. And yet, the sauce still tasted absolutely amazing and creamy and wonderful. :)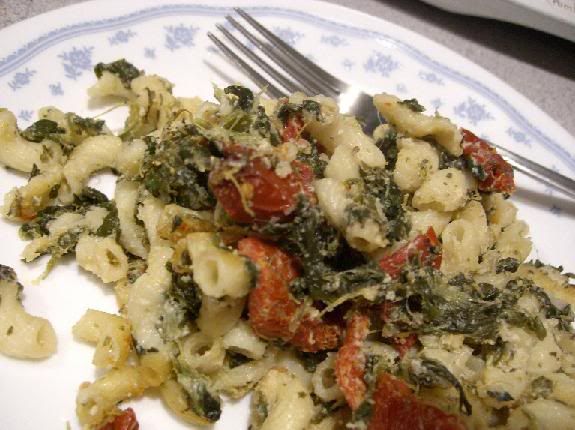 Maybe not too photogenic..but definitely delicious!
For dessert I wanted to make something delicious, but not too filling since I knew the macaroni would be a bit heavy. Theres another dessert that I definitely have my eye on to make sometime this week while i'm home though!
But I made
Peanut Butter Coffeecake
, which some could call it banana peanut butter coffee cake as well, since i could definitely taste the banana...which made it even better. :)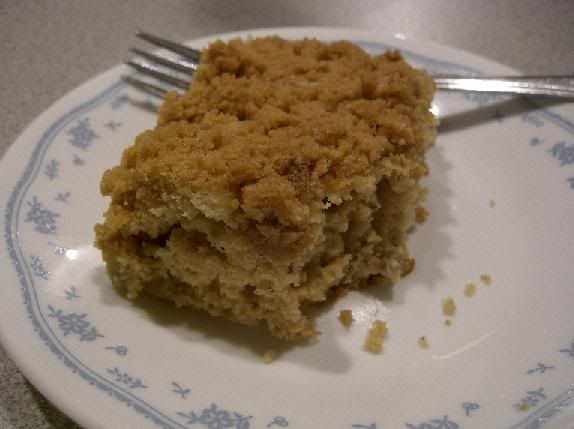 I believe it is originally from crazyveganmom.blogspot.com. :)
For the topping:
1/2 c light brown sugar
1/2 c flour
1/4 c peanut butter
3 tablespoons of margarine
For the cake:
2 1/4 c flour
1 c brown sugar
2 tsp baking powder
1/2 tsp baking soda
1/4 tsp salt
1 c soy milk (i used almond breeze..yum!)
1/2 c peanut butter
1 ripe banana, mashed
1/4 c margarine
Preheat the oven to 375 degrees and grease a 9x13 baking dish.
To make the topping, mix the flour and sugar together. Then with a fork, mix in the peanut butter and margarine to make a crumbly texture and set aside.
For the cake, mix the flour, sugar, baking powder and soda, and salt. Then add the milk, banana, peanut butter, and margarine. Beat this until smooth, approximately 3 minutes. Pour mixture into the baking dish and top with the crumble topping. Bake for 30 minutes until a toothpick comes out clean.
If I were to make it again, I might add more banana..just because I LOVE the combo of banana and peanut butter and having the banana even more pungent would be delish. or maybe chocolate chips as well ;) but thats just me.
I'm sure I'll be baking up some more deliciousness while being home, and I hope if anyone else is on spring break, that yours is much sunnier and warmer for you! :)