So I'm back in Philly at school, and going back to class and work yesterday was just unreal! It really didn't even feel like I had nearly a week and a half away from here at all!
Oh well.. on the bright side, only 38 days (including weekends!!) left until the last day of class.. but hey, who's counting? ;)
this just means the closer to being in london i will be..so i'm pretty pumped.
While I was home though I did get a chance to make a few more things! so that was super.
My parents had left on vacation for a majority of the time that I was home, leaving my two siblings and I to fend for ourselves while they baked in the beautiful Dominican Republic sun... i'm not bitter, i promise :)
So I cooked a tad bit..
One night I found a really simple recipe for homemade falafel, and decided it was something to try. The only time i've made falafel before was using a box mix from Fantastic Foods where you just added oil, i believe. Which were awesome though, so I'm definitely not complaining.. but I felt better about making it from complete scratch this time.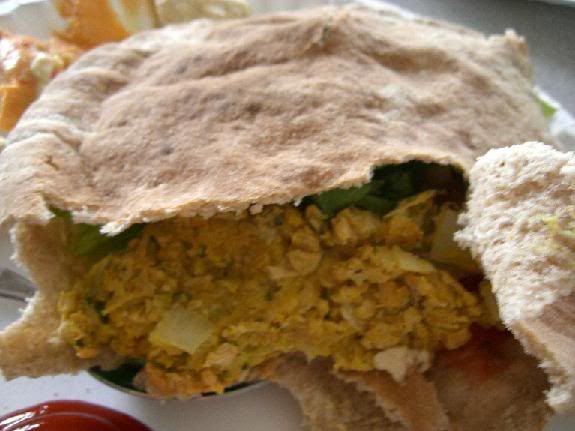 The recipe made quite a bit, and I managed to fit three of them in a pretty big sized pita filled with lettuce, tomato, and hummus :) delicious!
Falafel:
1 can of chickpeas
1 small onion, finely minced (okay so mine wasn't exactly
minced
persuay..still came out good!! haha)
2-3 cloves garlic, minced
3 T chopped parsley
3/4 tsp lemon juice
1 tsp olive oil
1 tsp coriander
1/4 tsp tumeric
dash of red pepper
2 T flour
Preheat oven to 375 degrees. Drain and rinse the chickpeas, and then put them in a bowl and mash with a fork. Add remaining ingredients and mix well. Form into ping-pong sized balls and put onto an ungreased baking sheet, and flatten down a bit with a fork. Bake for about 10-15 minutes, flipping halfway through and they'll be done when they're golden brown. You could also try frying these up, but I figured baking was better ;)
For dessert the night before this, on the last night my whole family was home, I decided to make a Hot Fudge Cake. I stumbled upon this recipe while searching for a hot fudge recipe..craving a hot fudge sundae one night..haha but this cake just seemed too good! And made me think of those non-vegan but delicious looking lava cakes that i serve to people everynight at applebee's...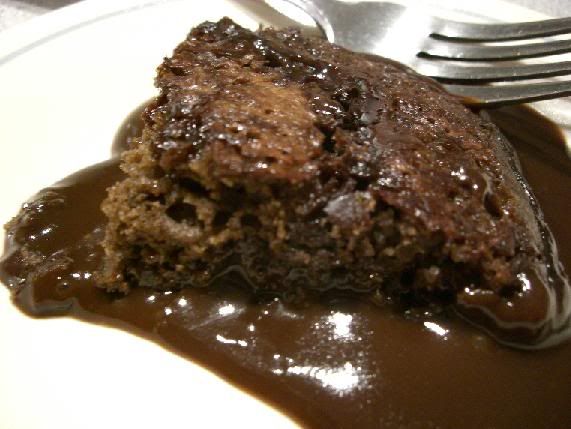 Hot Fudge Cake:
1 1/2 c flour
2 1/2 tsp baking powder
3/4 tsp salt
1 1/8 c sugar
9 T cocoa powder, divided
3/4 c soy milk
3 T vegetable oil
1 1/2 tsp vanilla
1 1/2 c brown sugar, packed
2 1/2 c hot water
Preheat oven to 350 degrees. In a medium bowl, mix flour, baking powder, salt, sugar and 3 T of cocoa. Stir in soy milk, oil, and vanilla and mix until smooth. Spread in ungreased 9x13 glass baking pan. In a small bowl, mix brown sugar and 6 T of cocoa. Sprinkle over the batter, and pour the hot water over it all, but do not mix. Bake for 45-50 minutes and serve warm!
I originally found this recipe from jewishvegan.blogspot.com, but it says its truly from Taste Of Home, but just with soy milk as opposed to regular.
I did in fact half this recipe though, and I made it in a 8x8 pan..which kind of made it look like brownies, but this was definitely delicious.
And the fudge sauce stayed delicious and gooey for days after as well :)
Back to the grind of work though now, but hopefully now that spring break is OVER spring weather will finally start to appear! one can only hope ;)