How is it already thursday???
i feel like this week has just blown by me and I ended up with today. ;)
crazy-ness! 2 weeks till spring break though..which equals a week and a half of NO school work and no waitress work! i'm pretty stoked.
So since I didn't have anything last week to bring into work..I made sure I bought ingredients to bake up something scrumptious this week..
"chocolate chip cookies" is of course, a frequent request.. but theres only so many batches of cookie a girl can bake in only a short time span!
However, I will admit, I'm a huge fan of chocolate chip cookies.But wanted something a bit different..
Which perspired the idea of chocolate chip cookie
bars
which actually do taste quite a bit different! in a good way though, of course.
I basically took the same ol' "tried and true" recipe from
Joy of Vegan Baking
(i really need to make new recipes from this!!)
and spread it out into a 13 x 9 pan.
The cooking time was a bit off..and I honestly wasn't sure when to take them out or when I did, if they were even close to being done or not.
I'd say the total time they were in was probably close to 25- maybe 30 minutes?
I checked on them a few times..decided they were still too "mushy" and would put them back..
However! They came deliciously wonderful. :)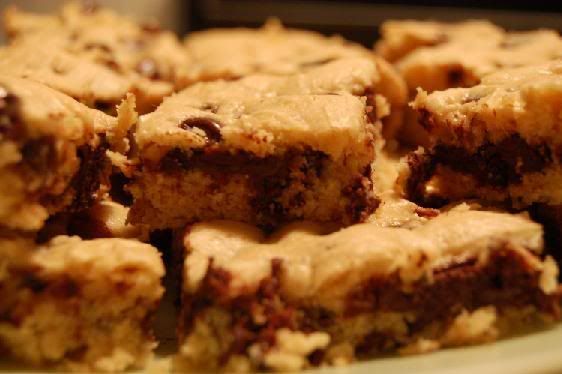 I made a batch of chocolate chip blondies over the summer..which was not what I wanted from this recipe..and not what I got..so it worked out well. The blondies I made were much more of a chocolate chip cake, but these were more like chocolate chip "brownies" consistency?
Oh! And I did not take any pictures..
BUT this past sunday.. I was lucky enough to go to the
New Harmony Buffet
!!
New Harmony is an all vegan chinese restaurant in the city, which basically has EVERY thing that a regular chinese restaurant menu would have..except everything is vegan! uh perfect!
But usually they have a $12 buffet once a month..and its usually on a monday, which I always work so I've never been able to go. But they switched it up and it was this past Sunday.. and oh my gosh i've been missing so much!! haha
The only thing that was a BIT off...was they had a fried shrimp on the buffet..
which look WAY too much like the real deal.. shape..white with pink like real shrimp..
it was quite strange, i mean of course it wasn't real..but i think it just looked too much like it, the roomie and i were a bit thrown off! haha
this is another MUST go to restaurant in philly. :)