This past week so far has been kind of busy for me, but over the weekend I got to try a new all vegetarian restaurant in the city that i've heard a lot of reviews on!
We went to
Mi Lah Vegetarian
, which if you're familiar with Philadelphia vegan restaurants, you may know about Horizons, which is an up-scale all vegan restaurant, and people have been comparing the two. I actually went to Horizons last Valentine's day, and it was amazing. I might have liked Mi Lah better though..?
Onto the food.. the roomie and I decided to drive down there, which I do not suggest doing ever. Parking was miserable to find, and not to mention..all the parking meters in the city have gone up! So that was a downfall..and we were extremely hungry so driving around searching for parking was not a good start...
However, once we got there, we were so excited that the parking problem was just a vague memory.
We had a reservation, since we went on Valentine's day, but for lunch I don't think you really need it. Our menu was limited, since we went for lunch instead of dinner, but the options they had for lunch were enough to choose from.
To start, we both had the soup of the day -
tomato bisque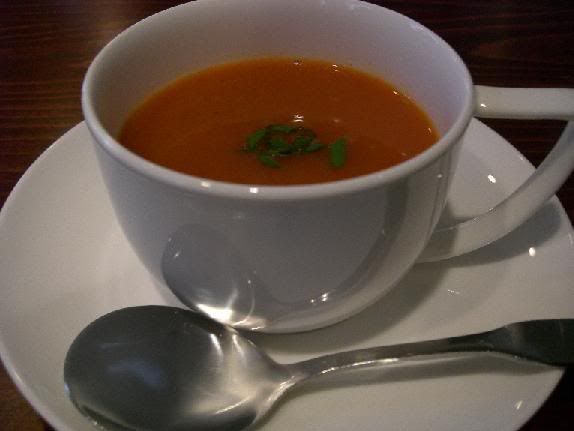 The cup was pretty small, but it was quite delicious! However, I saw someone get a bowl of soup, and it looked huge..so I'd probably just stick with the cup. The tangy and sweetness of the tomatoes were perfect while we waited for our entrees to come out.
For my entree, I got the
Vietnamese Hoagie
which was "marinated tofu, pickled green papaya, chile veganaise, carrot, cucumber, and cilantro."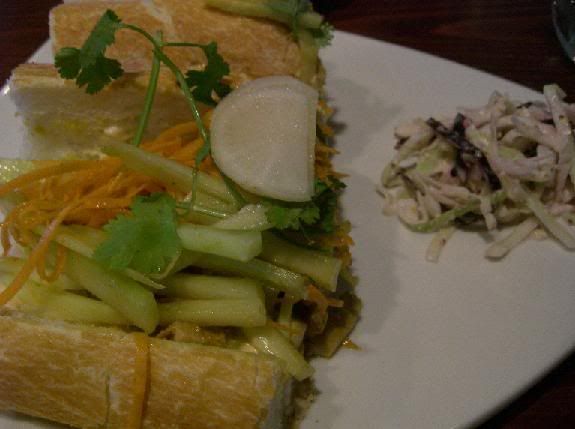 I could definitely see myself getting this again. It was so delicious, and the seasoned veganaise was perfect, as well as the seasoned tofu. There was a bit of oil/perhaps just veganaise or tofu "sauce" dripping out it, which made me realize it would be an awful date food.. the sauce dripping, the tofu falling out, the turning the head to the side to take a bite...not too attractive. However! It was so delicious, and I was with my roomie..thus it was perfect. :)
Emily's entree -
Grilled Flatbread Pizza
which was "white bean and tomato puree, kale, and fried shallots"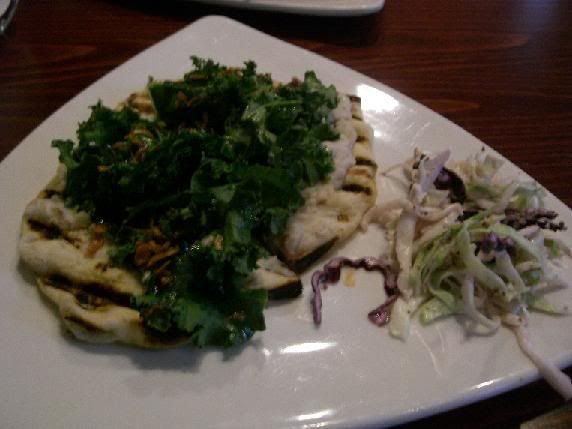 We swapped bites mid-way, and I tried hers..it was really good. The flatbread was perfectly "grilled" and the whitebean puree was delicious with a hint of garlic. I definitely would try it myself another time, as well as the other flat bread pizzas sounded really good too!
We asked for a dessert menu, and we were torn between two..so since it was V-day, we went a little crazy and got both ;)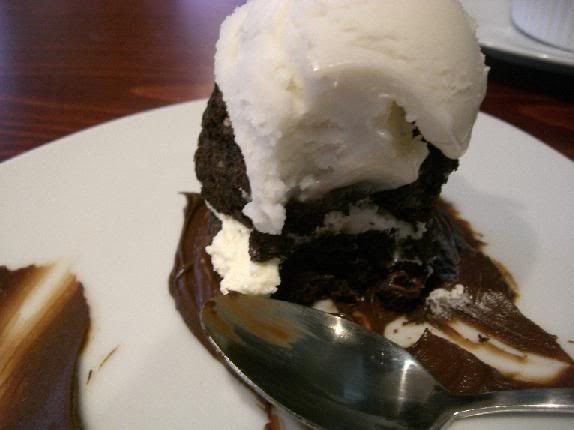 This would be the
Oreo Cake
...it was two brownie consistency cakes with cream in between them..reminded me a lot of a Whoopie pie, with a scoop of Vanilla soy cream (I believe I read somewhere they used Temptation) and delicioussss chocolate ganache all over it. Heaven.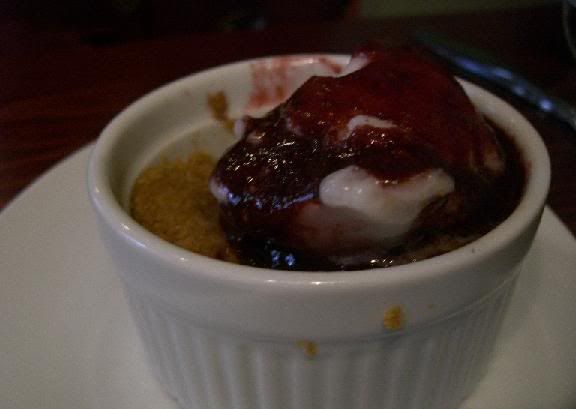 Peanut Butter Custard
. It was warmed thick decadent peanut butter custard with a scoop of vanilla soy cream and strawberry preserves on top. This was absolutely amazing and I would eat it every day if i could. With a mix of the strawberry and peanut butter, it tasted like a PBJ. scrumptious!
Basically, this place was amazing. The lunch prices weren't bad either, I noticed on the dinner menu online that it is a little higher, but they have a lot more options for entrees for dinner, so i'll definitely be going back..hopefully soon!
Also...best part.. on Sundays from 11 until 4, they feature a
Vegan Brunch
, for $20 a person, you get a cup of coffee or tea, a plate of fresh fruit, homemade muffins and scones, a pitcher of either Bloody Marys or Mimosas (uh mimosas please!)
Plus an option of the many bunch entrees they have, including pumpkin pancakes, tofu benedict, seitan and waffles, etc.
I need to request off of work a Sunday Morning and make it my mission to get there..this sounds amazing. !!
basically, if you're in philly, you must make sure you squeeze in a stop at Mi Lah.. and let me know so i can come too ;)