so I've been eatings lots of really delicious food lately, however, not too many of it has come from me making it.
tonight however, my sorority has its thanksgiving dinner, so I'm going to make mashed potatoes for it. My roommate is making green bean casserole using a vegan cream of mushroom soup, so theres two things I can eat. haha it'll be fun though.
I'm using Happy Herbivore's recipe for the mashed potatoes, and I'm also going to be making them for thanksgiving next week..so I'm sure they'll be really delicious. :)
I went to the philadelphia library today to pick up a book for my class that I needed and I typed in vegan just for funsies to see if they had any good cookbooks there..and they didn't have many, but they did have Eat Drink and Be Vegan by Dreena Burton..so I'm really excited to try some things out from it! I've been wanting it for a while.
Also, in the walk to the library I saw a sign for a nutritional/dietary food store in Germantown. (yes, germantown the place that also that vegetarian restaurant was that seemed so sketchy!) haha but I went in and the guy that worked there was super friendly and they had a lot of different vegan groceries and vitamins! It was really nice.. although a bit pricey since it was such a small health food shop. I did however pick up this packed of Hain pure food vegetarian brown gravy mix. It says to just add water, so i'm a little skeptical haha but I figure I can make a bit for tonight and see how it tastes. I've never heard of it before..
how bad could it be right? ;)
So this morning I really wanted something warm for breakfast to start my day, and our kitchen is quite limited right now since we're leaving for thanksgiving break in few days. So I concocted an oatmeal breakfast :)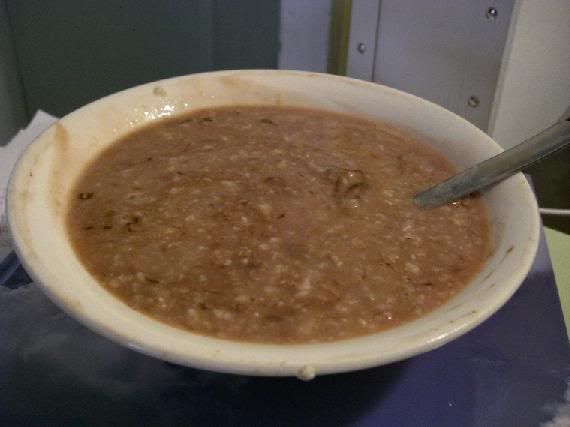 I used 1/2 cup of oats, 1 cup of water, about a teaspoon of cocoa powder, a good amount of raspberry preserves, and a little bit of chocolate chips. Soo delicious! Tasted like chocolate covered raspberries..yum :) i love oatmeal.
okay well off to re-write a paper.. only a week and 1/2 left of classes!