So I'm back in philly from home for thanksgiving break, I would've updated sooner with what I made, but I left my camera cord and such in my apartment. I had quite a lovely thanksgiving, and I hope everyone else did too. :)
Oh, And I used that Hain's vegetarian gravy packet, and it actually tasted awesome! It went really quickly at the dphie thanksgiving dinner and I doubt anyone knew it was vegetarian! I wish I had bought more for my thanksgiving at home..
Since I had seen Happy Herbivore's e-cookbook for the pudge free holidays, I was so excited to make a lot from there for thanksgiving! First up was I made the cornbread from it.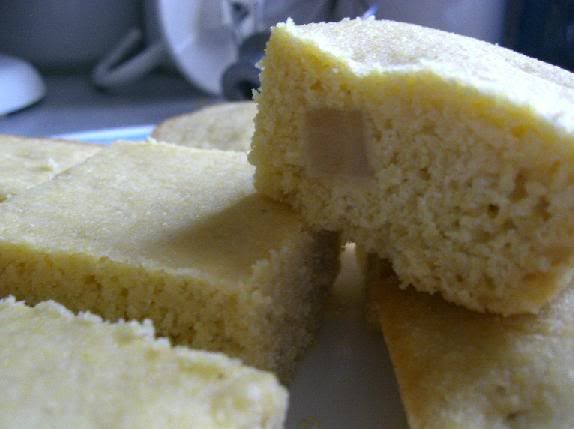 I absolutely love cornbread, so I was really excited to try this. It called for unsweetened applesauce, in which that became a problem when seeing that the applesauce in the house was Homestyle sweenetened..even with chunks and brown sugar! Well, I made due and used it anyway. I did not reduce the sugar in the recipe, which I should have.. since these tasted very sweet for cornbread, even more so of a dessert -ish type of food. However, I love sweet foods, soo I absolutely loved it this way! The apple chunks in it from the applesauce made them even more delicious!
For my main dish, while my family ate away at the turkey, I made the Maple-Glazed Vegetables from her ecookbook.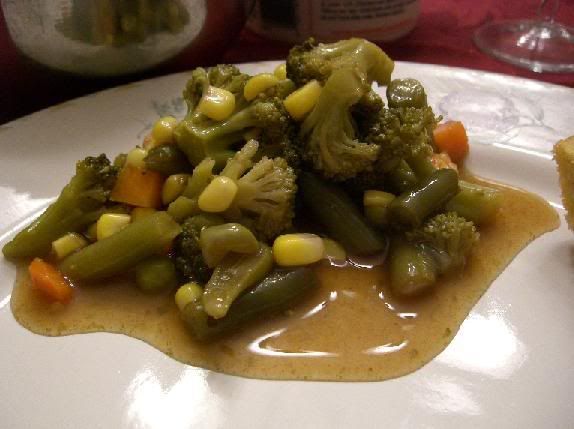 I did enjoy this a lot. I think it may have been better if I used perhaps a different asortment of vegetables or added tofu or tempeh to it. But otherwise, the sauce was really good and I'd definitely use that again.
I was really excited to make dessert. I honestly don't think i had ever eaten pumpkin pie before, but I felt as though it was something thats supposed to be at thanksgiving (not sure why since I don't remember my mother ever having it there..) buttttt I made the Chocolate Pumpkin Pie, in hopes that the chocolate would make it more delicious.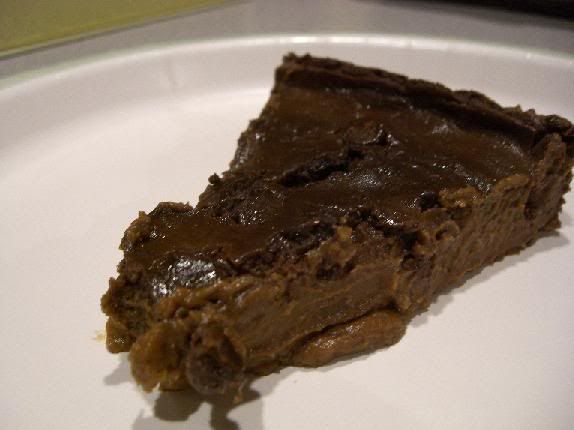 But sadly, I think i've come to conclusion that I just don't like pumpkin pie. at all. I think I really just want to like it, more so than I actually do. Oh well..other people ate it so I guess that's good.
Also for dessert I made an apple cobbler type thing.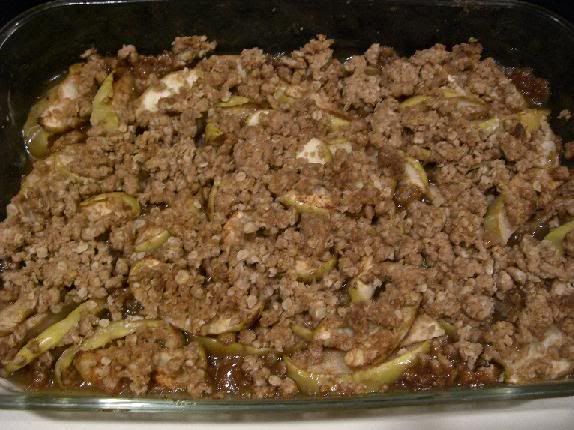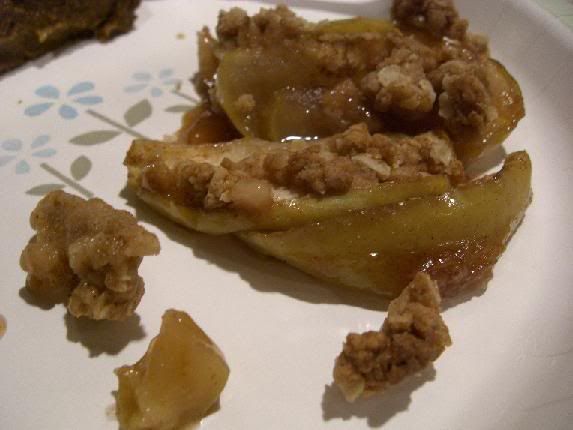 I used a recipe from ppk and it came out really good!
Apple Crisp:
4 lbs of granny smith apples, cored and thinly sliced
1 T cornstarch
1/2 c water
1/2 c light brown sugar
1/2 c sugar
1 tsp cinnamon
1/2 tsp nut meg
1/4 tsp allspice
1 c quick cooking oats
1 c flour
1 c light brown sugar
1/2 tsp baking powder
1/2 tsp cinnamon
1/4 tsp salt
1/3 c oil
3 tablespoons of soy milk
1 tsp vanilla
Preheat oven to 350 degrees. Dissolve cornstarch in water. Place apples in 9x13 baking pan. Add first two sugars, cinnamon, nutmeg, and allspice and mix well with apples. Pour cornstarch mixture over all. For topping, mix oats, flour, sugar, baking powder, cinnamon, and salt in a medium bowl. Add oil, milk, and vanilla and mix well. Crumble over apples and bake for 45 minutes.
This recipe was really super simple, and made a whole pan full, so I'll definitely be using it again. paired up with my chocolate peanut butter soy ice cream..it was awesome! :)
well off to unpack my suitcase and huge bag of clothes that are all over my bed..not a fan of unpacking!