So I have the next three days off from work and I'm pretty happy about that. I really don't mind working though..i mean yes it's quite tiring and a bit unfair thus far.. but i actually like waitressing. :)
What shall i do with my spare time? The boy is away until sunday..so i've been a bit lonely about that one. i mish him a bit...a lot..
i haven't really been making as many sweets and desserts since i like to make them for him to try..he usually loves all the desserts i make and i like that he can help me eat them, otherwise i'd probably eat them all myself.. har. :)
the mint chocolate cake that i made for the woman at my mom's work came out great! she said everyone loved it..so i was really happy about that. She brought some home too..and i loved it..so definitely a keeper. She even took a picture of it for me to post. :)
The other night for dinner I finalllllly made the chickpea cutlets from Veganomicon. All I hear is how fabulous they are, so I finally got around to making them. And they really are as good as everyone says they are.. I was really impressed with them. I made them with the mustard sauce also in the book, and the two went together perfectly. Although for the sauce, next time I might use just a bit less mustard..it really is extremely mustard-y..if thats a word ;)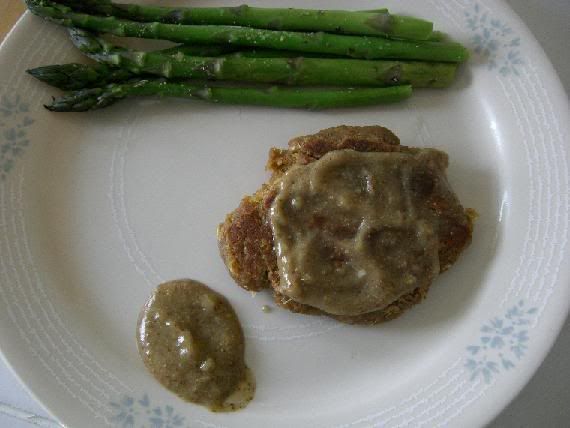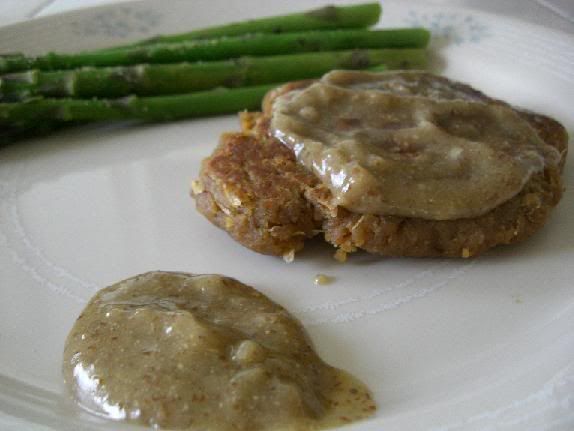 Yum, i absolutely love asparagus too. we picked it up from the farmer's market that they have downtown on saturdays in salisbury that i never even knew about until recently.. we also got a really nice tomato plant that seems to be doing great! so far theres been 4 cherry tomatoes that have turned red..but we eat them as they ripen so we haven't really used them in salads or anything yet..oh well they're pretty delish.
off to enjoy my days off and sleeping in hopefully!