So the apple peanut butter caramel bars from Vcon are probably one of my favorite desserts..not just to eat but to make as well. It's weird that this is a top for me, since there is no chocolate in it, and i'm quite a fan of chocolate.. i guess the rest of it is so good that i don't even miss the chocolate in my dessert! har.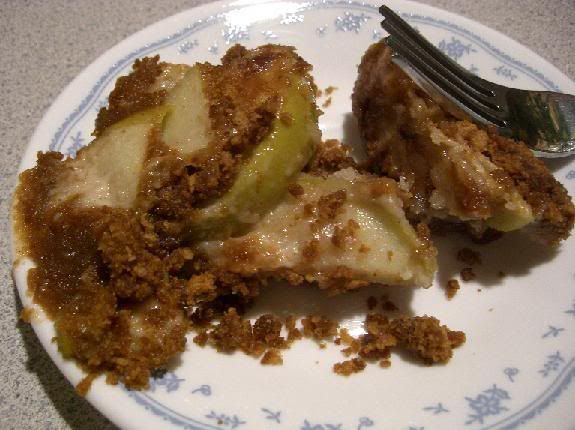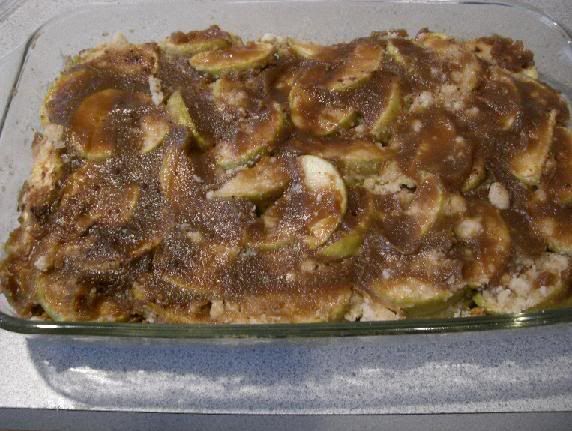 anyway, i thought that cutting up six apples for it was a bit much, but it actually layered realy well with that many. The peanut butter caramel was what really made it though, it was just sooo delicious. Although a bit difficult to make..and it did not come out like it said in the book.. saying it should slide off in ribbons off the fork.. this was not achieve at all. It was more clumpy than ribbons of caramel, but that definitely did not effect the taste.
My mother asked me to make a cake for someone she worked with since today is her birthday, so I chose the Mint Chocolate Cake recipe from vegrecipes.org
I didn't get a chance to try it yet..so i'm hopeing it came out good! The icing was quite delicious though..and i love a mix of mint and chocolate, so hopefully she does too. :)
Mint Chocolate Cake
Preheat oven to 350 degrees. Lightly oil a 9x13 baking pan. Mix 2 1/4 cup flour, 4 1/2 T of cocoa powder, 1 1/2 cups sugar in a large mixing bowl. Add 1/2 cup vegetable oil, 1 1/2 tsp of baking soda, 1 1/2 T of white vinegar, 1 1/2 tsp of vanilla extract, and 1 1/2 cups cold water, stirring quickly. Once smooth, pour batter into pan and bake for 25-30 minutes. Let cool and add frosting. Frosting: melt 1 12 oz bag of chocolate chips in a saucepan over low heat, add 1/4 cup of soy milk and 1 T of peppermint extract and stir until smooth, adding more milk if needed.
Hopefully i'll get to try it later on to post back on how it was! :)
oh and tomorrow is my first day actually on my own at work, and making tips! lets hope i bring back lots of money..har.