So I haven't really been making much lately up until yesterday. No reason really..just haven't been motivated I suppose.
Anyway, yesterday I made.. well I guess I can't really say i
made
it.. but I prepared a Tabouli Salad which was so delicious. I got it from the health food store and it's a brand called Fantastic Foods. Basically all I did was add olive oil, tomatoes and cucumbers to it. But hey, it was still delicious and quick! I've also made the falafel from that brand.. and they also came out really good. I think next I want to try the Tofu Scramble..I still have yet to even make one on my own..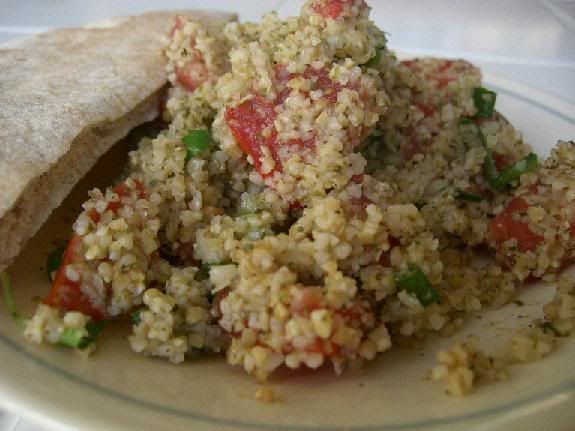 Also I really wanted to make something for dessert..and with me, you can never go wrong with a recipe that has peanut butter and chocolate in it. it's by far my fave combo. So I made the Peanut Butter Chocolate Rice Kripsy Treats... which I found on a bunch of blogs but finally made myself. The result? Sooooo delicious! Just what I was going for :)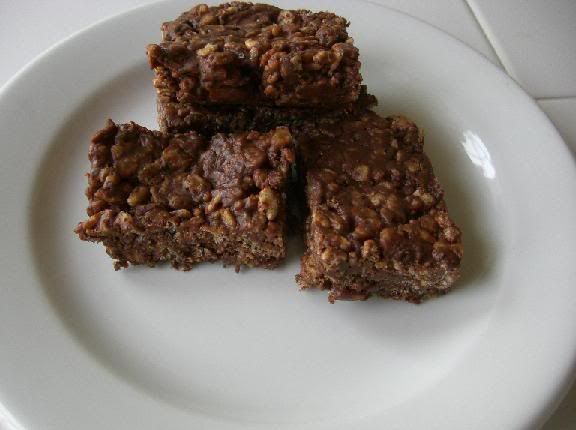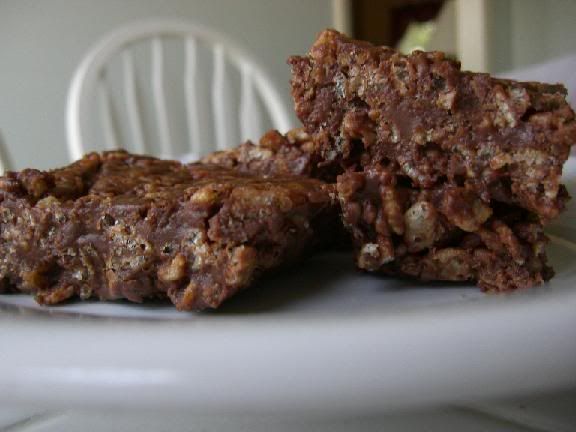 Chocolate and Peanut Butter Rice Krispie Bars:
In a small saucepan over medium heat, mix together 1 cup of sugar and 1 cup of corn syrup until hot and bubbly. Remove from heat and add 1 cup of peanut butter and mix well. In a very large bowl, add 6 cups of rice crispy cereal and 2 cups of chocolate chips(i used giradelli semisweet..my fave). Add the peanut butter mix and stir well so it's all coated. Pour into a 9x13 pan and flatten out. Let cool for an hour before cutting and serving.
So my best friend's baby shower is this saturday..and everyone is supposed to bring a dish. After making those rice krispies, I'm pretty much sold on making more and bringing those.. I think I might also make the pineapple black bean quinoa salad I made a while ago as well.. It was quick and sooo delicious so I think it'll be perfect for it. We'll see.. I'm excited to go this weekend though.. It's so much fun picking out cute baby stuff for her! :)