In our home, if it is Sunday, it is Waffle Day.
This tradition has happend pretty much ever since I received a waffle maker for Christmas last year. It's great for a lazy Sunday morning and is such an easy make for when we have guests.
For just Jason & I, we are pretty satisfied with my basic waffle recipe with chocolate chips. However, every now and then or if we have guests, I like to mix it up and make it a little fancier.
These are our St. Patty's day Mint chocolate chip waffles.
My basic waffle recipe that I work from is from
Fat Free Vegan Blog
. I love Susan's recipes and the versatality that almost all of them have. I've been using her recipes for years and she has never let me down!
When it is just Jason & I for breakfast this is the recipe I follow:
Vegan Mint Chocolate Chip Waffles (serves 2):
2/3 cup whole wheat flour
1 teaspoon baking powder
1/2 teaspoon baking powder
1/4 teaspoon of salt
3/4 cup almond milk (can subsitite soy or any other dairy free milk)
1/2 Tablespoon apple cider vinegar
1 teaspoon of mint extract
1 Tablespoon agave nectar or sweetner of choice (we used a packet of truvia)
A few drops of green food coloring (if you need it..it was St patricks day so it felt appropriate)
Handful of chocolate chips (use how much you would like..we like a lot.)
Heat up your waffle iron. Mix dry ingredients through salt together in a large bowl. In a smaller bowl, mix milk, vinegar, extract, coloring(if using), and sweetener. Add wet to dry and mix. Mix in chocolate chips until just combined. Spray waffle iron with non-stick spray and use about 1/3 c of mix per waffle. Cook until done. Serve!
I've also experimented with Carrot Cake Waffles:
These were perfect around Easter time or really any time!
Add grated carrot to original recipe, substitute the mint extract with vanilla extract, and do not add chocolate chips. This was delicious and I'm sure would be even better with a cream cheese drizzle!
I've also made a Brownie Batter Waffle: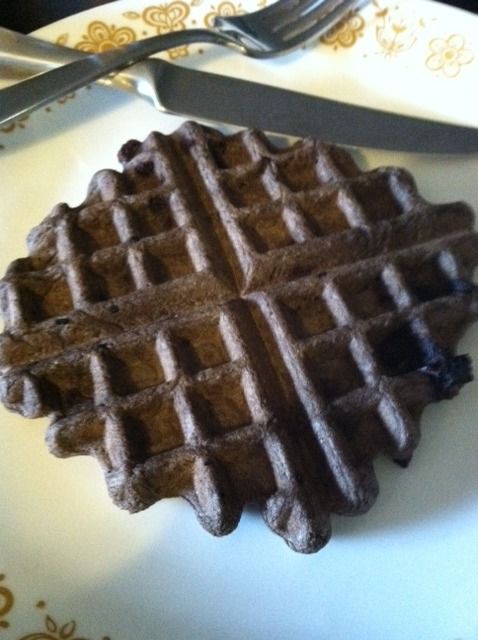 With this, you would substitute the mint extract with vanilla extract and add cocoa powder to the dry mix. These were definitely delicious and we felt like we were eating dessert for breakfast!
I've also made Almond Joy waffles using almond extract instead of vanilla and adding shredded coconut!
Waffles are so versatile and I love coming up with new creations in the morning.They make any morning seem extravagant even when you're sitting in your own living room!