Last weekend Jason & I had a late valentine's day dinner at Vedge in Philadelphia.
I had been to Horizons many times before, which was owned by the same owners of Vedge, and was very dissapointed when I heard they were shutting down.
Luckily, my dissapointment was gone after hearing about their new restaurant they were opening up!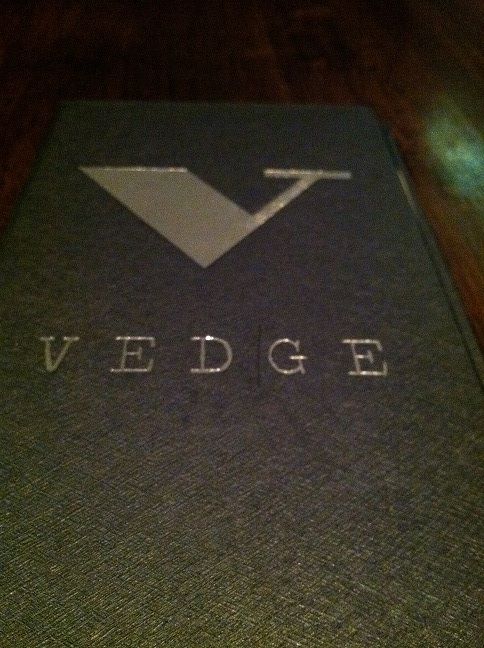 Just from going into the restaurant, it had such a warm ambiance and the decor was dimly-lit and very cozy. Already I knew I would love this place.
Since the menu runs a bit "small", our waitress told us that most people would order about 3-4 plates each. We decided on getting two things off of the dirt list to share and each getting something from the larger menu.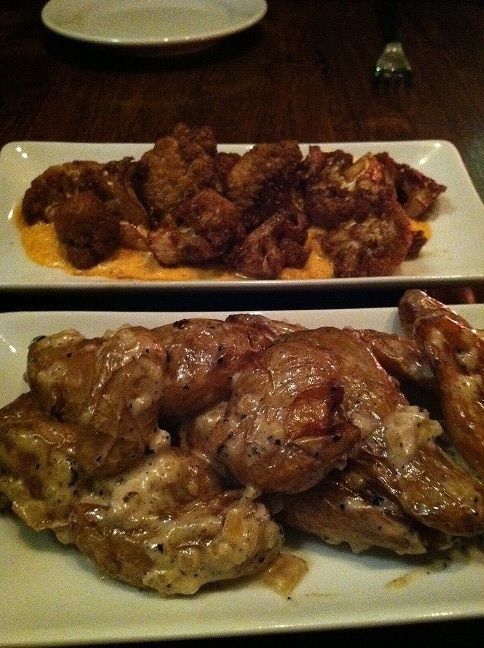 The two items from the dirt list (which is the restaurant's daily vegetables) was the Crispy Cauliflower and the Fingerling Potatoes.
The crispy cauliflower had the most AMAZING sauce under it. Seriously, I wanted to lick it off the plate, but figuring it was a romantic dinner I probably shouldn't. :)
Jason agreed, the sauce was this creamy, savoury, amazing-ness that made the cauliflower taste like the best. I even dipped some of the bread they gave us into it. That good.
The fingerling potatoes were also very very delicious. They had a creamy worcestshire sauce that really accented the potatoes. Both were great. We were already huge fans of Vedge after this.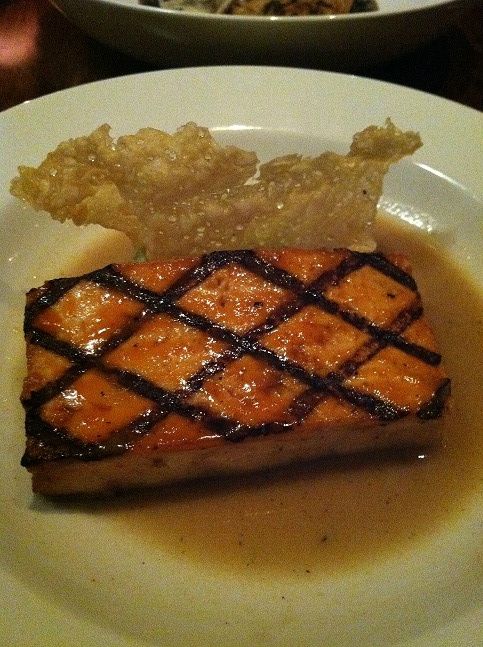 My entree was the Grilled Gochujang Tofu. Don't you just love those grill marks? The tofu was perfectly grilled and has the exact not too mushy, not too rough texture. I always loved the tofu dishes at Horizons so I was very happy to see it on their menu at Vedge. The edamame puree that it came with was delicious as well and added a bit of creamyness to bites of the tofu. The sauce around it is called smoked miso dashi and it had a great salty ness to it that was perfect with the tofu.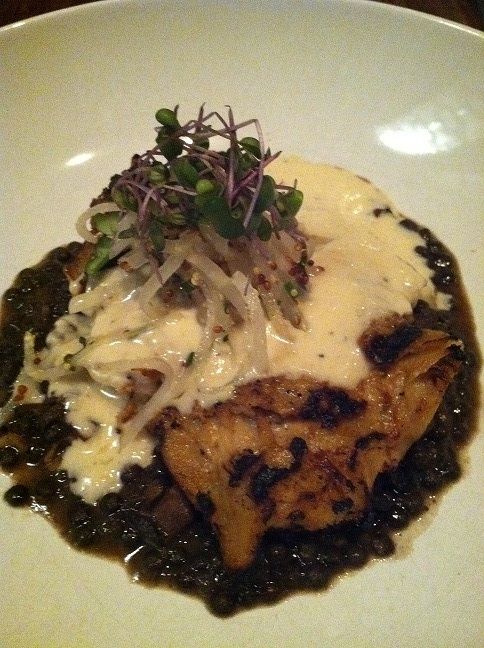 As per usual, I'm always loving my entree, until I try a bite of Jason's and wish I had his instead. Luckily, he gave me a couple of bites :) Anyway, he ordered the Grilled Seitan. It came with black lentils and mushrooms, creamy horseradish, and kohlrabi. We both are not fans of mushrooms, but this was the only seitan dish that Vedge had offered that evening so he was willing to try it. Honestly, you could barely even taste the mushrooms and he really enjoyed it.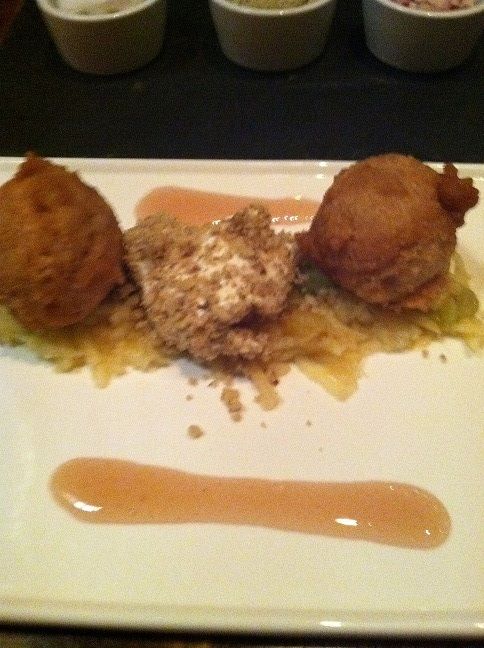 Of course, you have to have dessert at this place. We have stopped in here about 2 months ago just for an after dinner dessert and drink, but it just made me want to come back even more. Last time, we had tried the Sticky Toffee Pudding, which was phenomenal so we had some high standards for the dessert at Vedge!
We chose this time the Apple Cake Fritters. As well as the ice cream trio that are behind them but not shown.
The three flavors of ice cream we tried were Peanut Butter & Jelly, Mint Chocolate Chip, and Pistachio. All 3 - amazing. Peanut butter & Jelly being my favorite, of course.
As far as the apple cake fritters went, Jason had said he preferred the pudding dessert that we had gotten another time. I love these though, they were like mini fried apple pies, and the salad and cider caramel that it came with was a great touch. Anything with apples in it, I'm usually a fan of.
We had a fabulous evening and we will definitely be back to Vedge, hopefully sooner than later!
Vedge is located at 1221 Locust Street in Philadelphia.
Definitely recommend a reservation, it was quite busy in there! :)