After months of craziness, I finally am finding time to BLOG.
:)
and i hope i have lots of time after this as well.
Let's see, new apartment, new roommate (aka my fiance <3), new job, a whole new atmosphere! The change was something to get used to, but I think I'm getting the hang of it now and getting into routine.
My job has been going pretty well, I had CPR training today, so that was exciting and probably a good thing to know how to do! I work with mentally and some physically disabled adults, so it's a bit of a handful at times but for the most part I've really enjoyed it so far! Not what I want to do ultimately..of course..but a step in the right direction and a job to tide me over until I go back to school and get my masters! I'm looking to do something collaborating the psychology degree I have and a masters in nutrition..perhaps nutritional therapy or become a dietician? We'll see what I choose, I've got a while before going back!
My main focus right now until I go back (which I'm planning on next January) is my health and well being, and of course, Jason and I's wedding next September!
We officially set the date and signed the papers yada yada for September 10th, 2011! Theres a lot to do before then, but I know it'll be fun and I'm really excited to marry him :) :)
I've been cooking a bit here and there while living here, although it gets tough sometimes working long days. A few weeks ago though, we made a recipe from the Candle Cafe cookbook. I've only made one thing from there before, the seitan picatta with white wine and caper sauce, so I was excited to try something new from there!
We made the Tempeh Scallopini with Shallots and Mushrooms and to go along with it the Asparagus, Almond and Tomato Salad with Mustard-Dill Vinaigrette.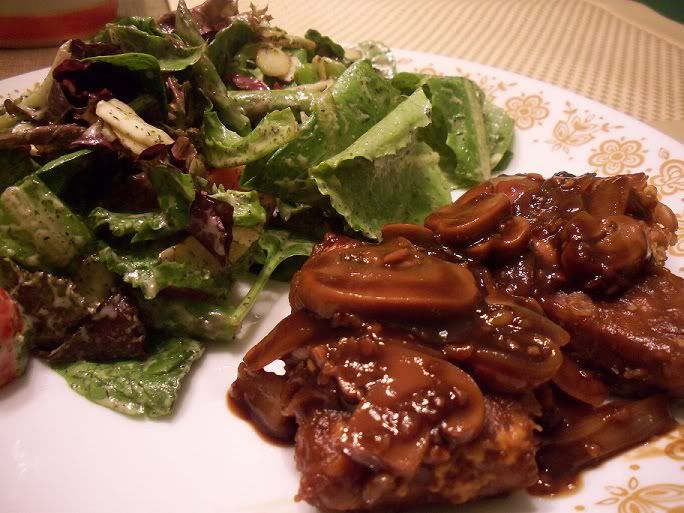 Are those..Mushrooms on top?! I have a strong feeling of hatred towards mushrooms most of the time (which is a major dissapointment, and I really WANT to like them since their in so many vegetarian options but I really just don't at all) and Jason shares the mushroom hating with me, but I figured they were to add flavor to the sauce. We ended up picking them off..I did try one though! haha
I'm usually iffy about tempeh as well, and prefer seitan in mock-meat dishes, but the sauce went really well with the tempeh and I think was very good! Also, the mustard-dill dressing was awesome! I've been thinking about making a big batch of just that to keep in the fridge!
Tempeh Scallopini with Shallots and Mushrooms (from Candle Cafe)
Serves 6, we halved it though.
Marinade:
1/4 c soy sauce
2 1/2 c water
1 garlic clove, minced
2 bay leaves
Tempeh:
2 8 oz packages of tempeh
1/4 c evoo
2 garlic cloves, thinly sliced
4 shallots, thinly sliced
1/2 pound white button mishrooms, thinly sliced (we just used the kind in a jar since we knew we would probably not be eating them)
1 c all purpose flour
juice of 2 lemons
1/4 c red cooking wine
Preheat oven to 375 degrees. In a mixing bowl, mix the marinade ingredients and stir well. Cut tempeh in half lengthwise, then cut into thirds to make 6 pieces per package. Place in a baking dish and pour marinage over it. Cover with foil and bake for 30 minutes. Remove and set aside to cool, reserving the liquid.
In a large saute pan, heat the evoo and add garlic, shallots, and mushrooms. Cook over medium heat until tender, about 5 minutes. Remove mushroom mix with a slotted spoon and set aside. Put the flour in a large shallow bowl and dredge the tempeh pieces. Add the marinade to the pan and heat through. Add the tempeh pieces to the pan and cook over medium heat until tempeh is nicely browned, about 3-4 minutes per side. Add lemon juice and red wine to pan and simmer until liquid is reduced by half. Stir in mushroom mix and heat through. Spoon the sauce over the reserved tempeh and serve!
The salad doesn't really need a recipe, it's pretty easy, but I went by it anyway :)
Asparagus, Almond, and Tomato Salad with Mustard-Dill Vinaigrette
also serves 6, we halved it too!
2-3 pounds of fresh asparagus
6 cups of fresh salad greens (we used a mesculun mix)
1 c cherry tomatoes, halved
1/4 c sliced almonds
Break off the tough ends of asparagus stalks and discard. In a large saucepan, bring enough lightly saletd water to cover the asparagus to a boil over high heat. Add the asparagus, reduce heat to a simmer, and cook for 3-5 minutes just until tender. Drain well. chill the asparagus for an hour. (we didnt wait an hour...)
Toss the greens and tomatoes together with 1/3 c of vinaigrette. toss the asparagus in a seperate bowl with 2 T of vinagrette, then place over salad greens. Sprinkle with almonds and add more dressing if you'd like.
For the dressing:
1 c safflower oil (i believe we used vegetable since that's what I had)
4 cloves garlic, sliced
1/4 c fresh dill
2 T dijon mustard
1/2 c red wine vinegar
1/4 c water
Place all ingredients in a blender or food processor and blend until smooth. :)
I'm really looking forward to trying more recipes from that cookbook, but I feel like I have so many books that have been left untouched that I need to make things from them!
In a couple of weeks we're going to NYC for the weekend and we'll be going to a few vegan places, of course :) Jason already said Blossom was a must, which I have no problem with :) We're looking to try a few new ones too though!
Hope the weather is better for everyone else! It's been so cold and rainy and dreary here, hopefully it'll get sunny again soon :)