It's going to be a tough one for me to update this on a normal basis.. we cancelled our internet (even though it has not been working in over a month so thats not really a difference) and so currently i'm updating from my school library, even though i'm not technically a student anymore haha.
Anyway!
Things have been going pretty well. I have my ups and downs, but for the most part there have been many more ups :)
First off - Jason and I are
engaged!!
We left for Disney World on the 12th of june and he proposed to me the night before.. :) :) I'm super excited to be his fiance, he means the world to me.
I really want to say what a fabulous time I had in Disney World though! Not only was it a ton of fun and great to spend all that time with Jason, but they were VERY vegan friendly! It made it super easy to get really delicious vegan meals there :)
For dinners, we had reservations each night at a difference place in one of the parks. Our first night we ate at the 50's Prime Time Cafe. Other than an awkward entrance from the host, the meal wasn't that bad. I don't have a shot of it, but it was not my favorite of the meals..basically a pasta and veggie dish. It was a cute set up though, set as a theme of a 50's kitchen.
The second night we ate at Marrakesh Restaurant in Morocco in the Epcot park.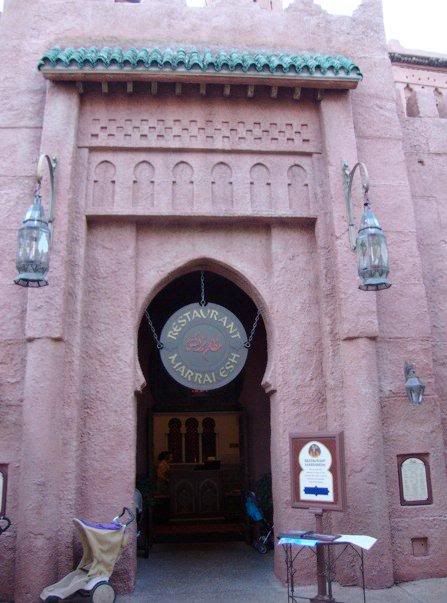 They definitely had a great option for vegans! For our appetizer, we split the Moroccan Salad combo for two, which had hummus, baba ganoush, falafel, and tabouli with crisp pita chips!
My meal was the Vegetable Couscous. The couscous was really flavourful and fluffy and the vegetables were grilled perrrfectly :)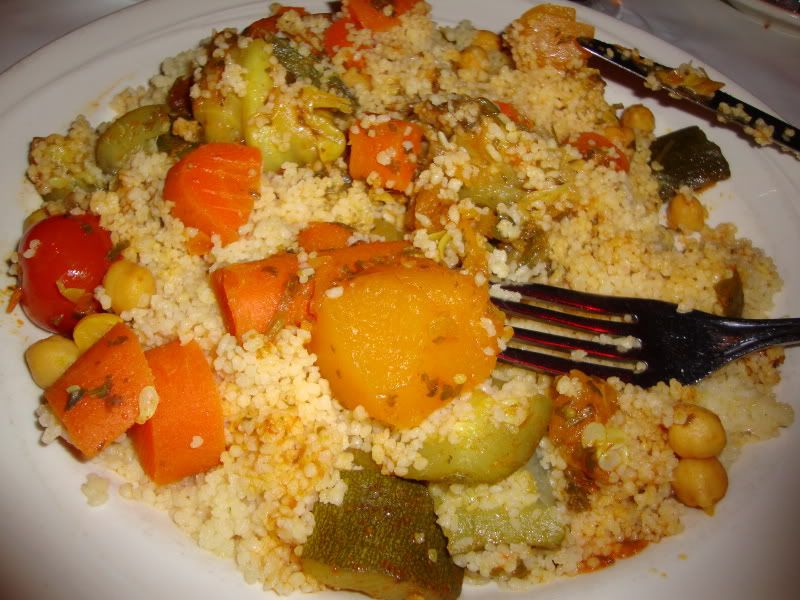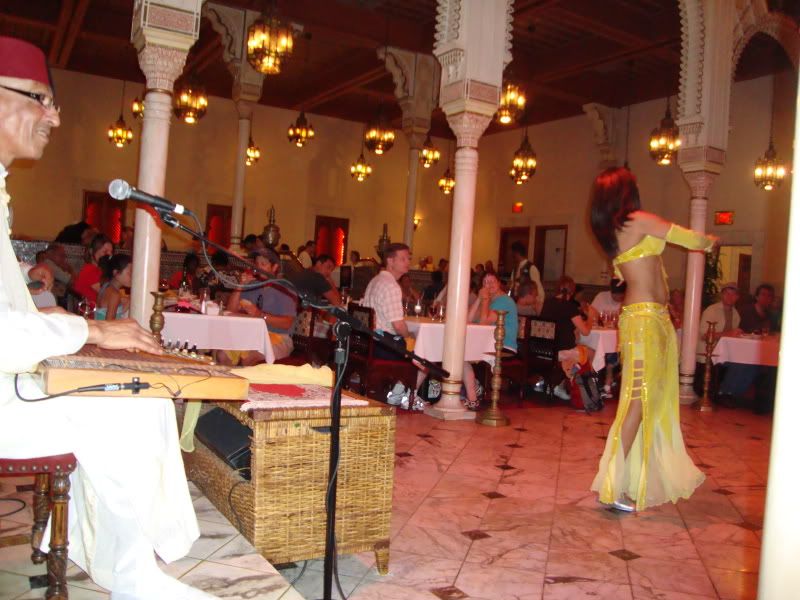 The live entertainment of music and a belly dancer definitely added points to the meal :)
This could have been one of my favorite meals while in Disney..
Another night we ate at the Sci-Fi Dine-in Theater in Hollywood Studios.
The inside was so cool and creatively decorated! You got to eat in the back of a car :) With a huge "outdoor" movie screen in front playing old sci-fi clips. It was definitely a really cool experience for dinner.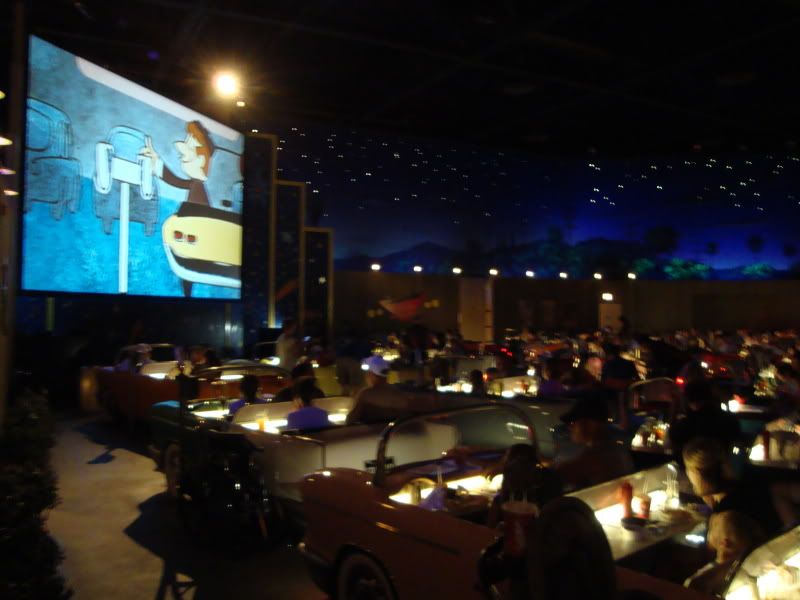 My entree there was Seared Marinated Tofu. It was grilled tofu with a mango relish sauce with veggies and rice. The sauce was a-mazing!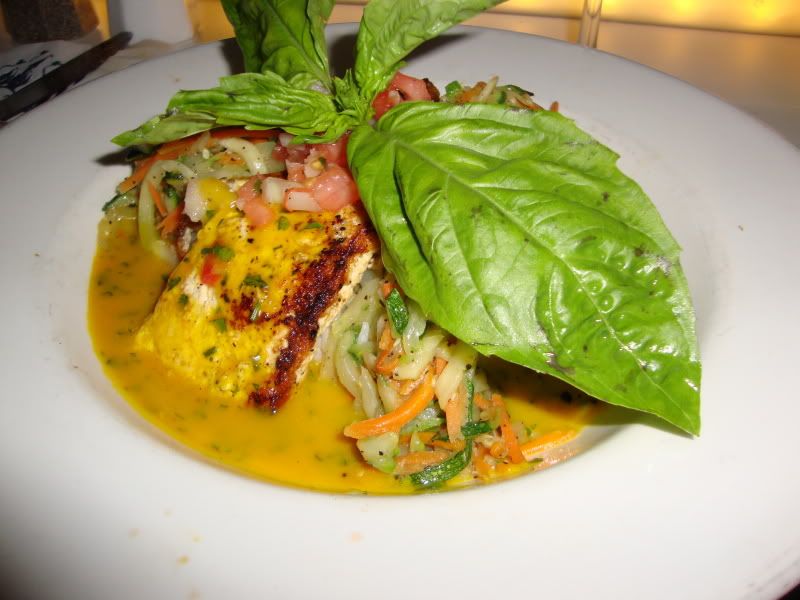 What great presentation they had there as well! This probably ties with the moroccan meal as my favorite. The tofu was grilled so well, not too mushy but not overly-crisp. :)
We also ate at China in Epcot one of the nights too. I had the vegetarian stir fry, which was tofus and veggies stirfried with rice and an asian sauce. Not the most exciting meal in Disney, but it was just great to have the option at every restaurant we went to.
Also exciting - at a lot of the ice cream stands (including the one in our hotel) you can specially ask for Rice Dream or Tofutti ice cream! I had the vanilla rice dream one night, wasn't the best, but nice that they even had it!..but next time I'd ask for tofutti instead. :)
Lunches were pretty easy to do around the parks too - most of them had a veggie burger and salad option and a few of them had a grilled veggie sandwich option as well. For breakfasts, our hotel had soy milk in the fridge with cereal as well as other quick options. I think it's pretty great that Disney was able to accomodate a vegan diet so well, and made the trip even better :)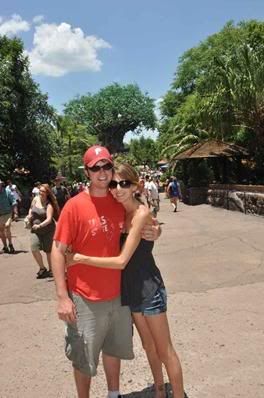 (Us in animal kingdom..which was one of my favorites, the giraffes were so cute!!)
It was a fantastic trip and the vegan options were great,...hopefully I'll be able to update sometime again soon! Hope everyone is enjoying their summers :)