So I'm home for winter break, thus the fall semester has officially been OVER! pretty sweet, and the grades weren't too bad either ;)
soo yesterday was the first day since being home that i really got a chance to make something. I wanted to make lots of delicious baked goods..since I feel like that's definitely needed for the holiday-times.
I decided on cookies and fudge!
as requested, I made the chocolate chocolate chip cookies from the ppk, which I had previously made about a year ago. In fact, I'm pretty sure it was my first vegan cookie recipe. awwww. :)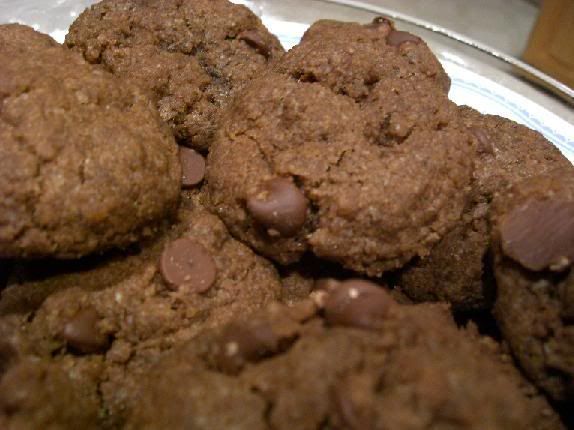 The recipe calls for using flax seed and soy milk as the egg replacement, but I had just recently gotten Ener-g egg replacer (so much quicker than getting out the blender and blending flax seed all the time!) so I switched it up a bit. I really don't think it made a bit of difference, they were still just as tasty as I remember them being the first time I made them.
I also decided upon a snickerdoodle recipe, since I don't believe I've had a home made snicker doodle, but a cinnamon sugar cookie sounds pretty good.
These came out pretty well. I was a bit nervous because they didnt seem to be done when I took them out, but the recipe said they'd look that way. Anyways though they tasted delish.
I found this recipe on a lot of blogs, so I'm not too sure where it originated from..hmm..
Vegan Snickerdoodles:
1 c margarine
1 1/2 c white sugar
1 tsp vanilla
4 T soy milk mixed with 2 T cornstarch
3 c flour
1/2 tsp salt
1 tsp baking powder
1 tsp cornstarch
2 T cinnamon
4 T sugar
Preheat oven to 300 degrees. In a large bowl, mix together the margarine and sugar until smooth. Add the vanilla and soy milk mix and beat well. In a smaller bowl, mix flour, salt, baking powder, and cornstarch together. Stir into wet ingredients and mix well. In a very small bowl, mix cinnamon and sugar. Begin rolling cookie dough into small balls and roll them in cinnamon mixture until completely coated, and place on ungreased baking sheet. Press down on each cookie to make "fork marks". Bake for 12-14 minutes, cookies will still look soft when taken out! Let them cool for 10 minutes on the pans, and then on a wire rack until cooled completely.
I attempted to make Peanut Butter Fudge from bjorkedoff.blogspot.com, but...that did not work well for me. I assume that I did not let it boil long enough perhaps? Either way..it never set right in the fridge and was still quite gooey after it was supposed to be done. That went into the trash..no pic :( i'll have to try that one again sometime..
However.. I did make chocolate fudge that came out really good!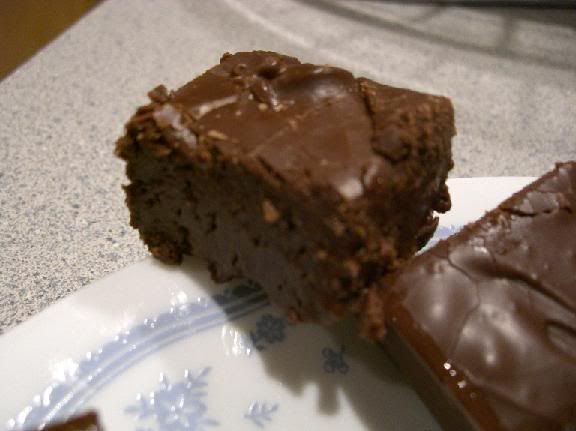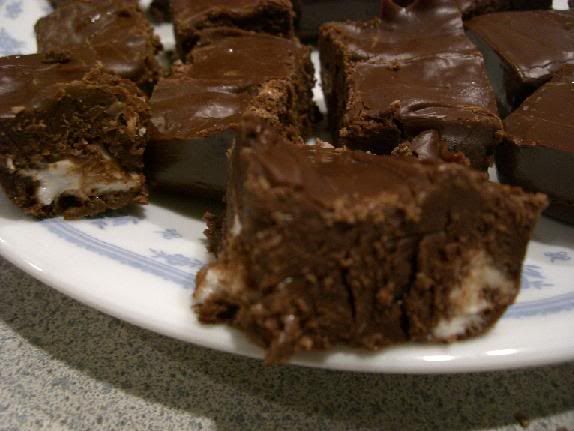 With half of them, I added my wonderful find that I got from MOM's in college park this weekend!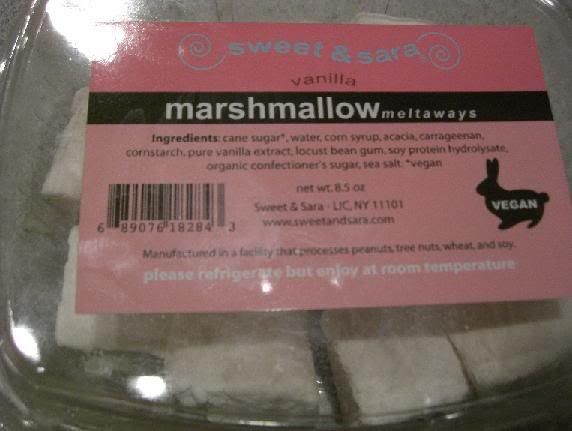 These are great! Although I do find that they have a bit of a different consistency of a regular marshmellow, of course, but they are soo delicious and i love them. haha I really wanted to get the peanut butter smores they have, but unfortunately this was all the store had. I'm excited to use them in other recipes!!
I also picked up some agar-agar flakes...so i'm excited to make something with those too! :)
I hope everyone has a relaxing and wonderful Christmas! And if you don't celebrate Christmas, I hope you have a wonderful and relaxing day regardless.. :D