So I realize I have not posted a blog since I've been back in philly..
but not because i haven't been making delicious vegan food..
because i most certainly have. :)
Let's see..since i've been back..
well emily brought back a huge box of duncan hines brownie mix, which happen to be vegan before you add the eggs.. so using a flaxseed egg replacer,we made a batch of em for a sorority pot luck. They turned out really tasty, yet really oily and hard to even pick up. Soo we made another batch about a week later just for us and we used less oil and they turned out fabulous. :)
Last weekend I made a chicken salad for me to munch on throughout the week..i used 3 grain tempeh (which i absolutely loved cooking with/eating!) veganaise, celery, some spices and viola! it was quite delicious, and i loved it in these whole wheat pitas that we had picked up.
What elsee? Oh yes! We had a cookie-swap for the sorority 2 weeks ago as well. Unfortunately, I couldn't eat anyone else's cookies, but I made a vegan black and white cookie for everyone.. wish i took a picture, because they looked and tasted fabulous! Emily made a vegan cookie too so I would have two cookies to eat. :p she made an oatmeal cherry chocolate-chip cookie...also quite lovely! So between those two, I wasn't even tempted with those other animal-cruelty cookies! haha.
Tonight I was thinking of something to make using the rest of the celery I had from my chicken salad..and decided I would make a soup!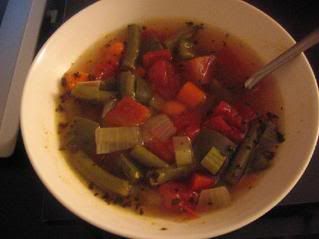 Nothing better than soup. :) I used a vegetable bouillon cube that i picked up from whole foods, the rest of the celery,carrots, green pepper, onion, diced tomatoes, green beans.. bassssically almost any veggie you can think of. haha :) its delicious and i made a ton though, so hopefully it'll last me through the week!
I go home next weekend though so maybe I can find some good vegan stuff to bring back with me when i'm there. :)