So after being bored and not having much to do during the day yesterday, I decided to make something scrumptious.
I first made these chocolate chocolate chip cookies..which turned out like such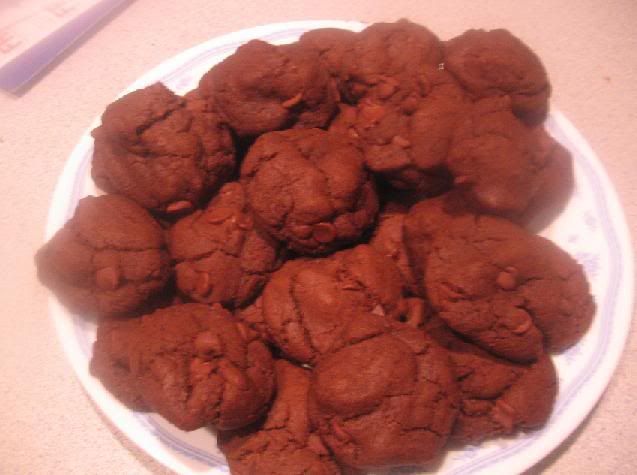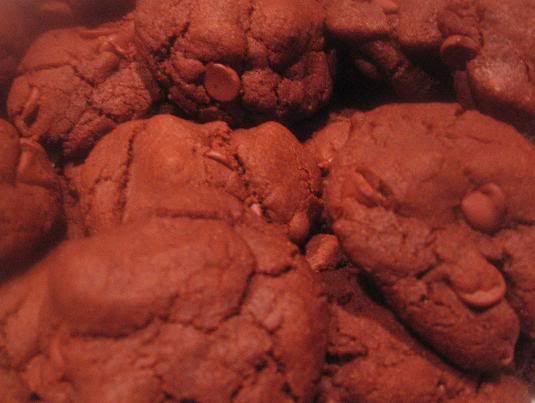 I was excited to find out that the Ghiradelli semi-sweet chocolate chips were vegan! They're so delicious and they made the cookies just perfect. Everyone enjoyed them..my boyfriend told me I have to make them for when he comes to visit! :)
As for the recipe:
Heat oven to 350 degrees F. Grind 1 tablespoon plus 1 teaspoon of flax seeds in a blender until it becomes a powder. Add 1/2 cup of soy milk and mix for another 30 seconds. In a large bowl, sift together 2 cups of flour, 3/4 cup of cocoa, 1 teaspoon of baking soda, and 1/2 teaspoon of salt. In another large bowl, cream together 3/4 cup canola oil and 2 cups of sugar. Then add in the soymilk/flax mixture and mix. Add 2 teaspoons of vanilla. Fold in the dry ingredients into the wet ingredients in batches. When it gets too tough to stir with a spatula, use your hands to make a doughy texture. Add the chocolate chips. Then place on 1 inch balls on a baking sheet and bake for 10 minutes. Viola!
That brings us to the other boredom dish I made..A chipolte taco salad..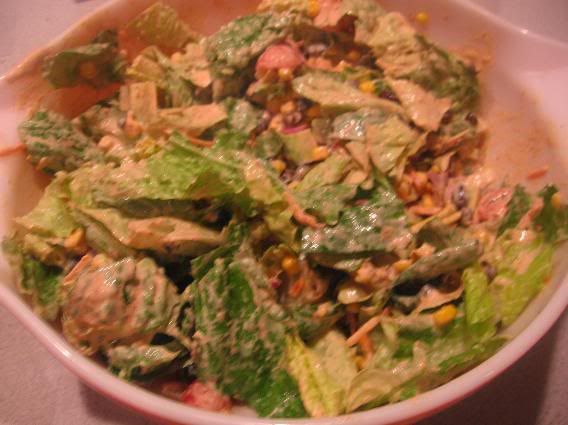 I was a little skeptical of the dressing ingredients, but it turned out pretty good. A bit spicy though, I might use a little less of something next time I make it.
The dressing was 1/3 cup chopped cilantro, 2/3 cup soy sour cream, 1 tablespoon minced chipolte in adobo sauce, 1 teaspoon ground cumin, 1 teaspoon chili powder, 4 teaspoons fresh lime juice, 1/4 teaspoon salt.
And in the salad i just put 4 cups of romaine lettuce, I grilled up some of my chkn slices (i used morningstar), 1 cup of halved cherry tomatoes, a diced up avocado, 1 can of black beans, 1 can of corn (both rinsed & drained)
The salad itself was delicious ( I'm a huge fan of salad with lots of stuff in them!) But perhaps less spice in the dressing. You be the judge.
I go back to my apartment for school the day after tomorrow, so I probably won't cook up any more concoctions until I'm back there. It's hard to cook there though because I'm always either working for dinner time or something else comes up. Hopefully i'll find more time to cook this semester though. I'm excited!