I had my 23rd birthday last thursday (August 25th) and it was a wonderful day from the night before to the end of the evening.
The night before my birthday, Jason & I met with our DJ to finalize all the music details, which was very successful and I'm really excited for the music that will accompany our wedding reception!
Also Wednesday night, I made the Tofu Saag Paneer from Skinny Bitch, although it was AWESOME (even Jason thought so!) I did not take a picture. The blended spinach with coconut milk made it look very unappetizing(think baby food), so we just ate with our eyes closed and it was delicious anyway :)
That night Jason wanted to give me my birthday presents early (even though I said I should wait!!) and they were all wonderful! The Adele CD, Just Dance 2 on Wii (SOO much fun!), the dkny golden delicious perfume and lotion, a bottle of grey goose (classssy alcohol haha), an H&M giftcard, and a car charger for my phone!! All awesome gifts. He's pretty amazing. Oh, and one more thing which i'll get to in a minute..
Thursday, my actual birthday, was spent at work doing medication training. Not the most exciting thing, but when I went upstairs to see my clients and grab a bottle of water, they all sang to me and I had a TON of birthday cards they all hand made me throughout the day sitting on my desk. They really do make you feel like Miss America..I love it. :)
When I went home for my lunch break I got a knock on the door from the florist that is doing our wedding, with a beautiful sunflower bouquet from my parents!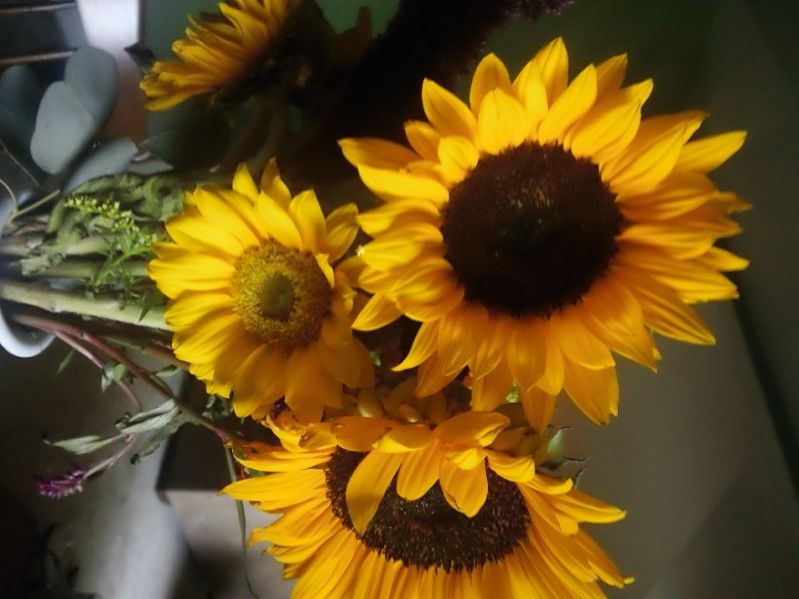 Thursday after I got home, I met Jason in Wayne to go to
White Dog Cafe
for dinner. I've been wanting to try this place for a while and they recently opened a location in Wayne. They also have one in center city, Philadelphia.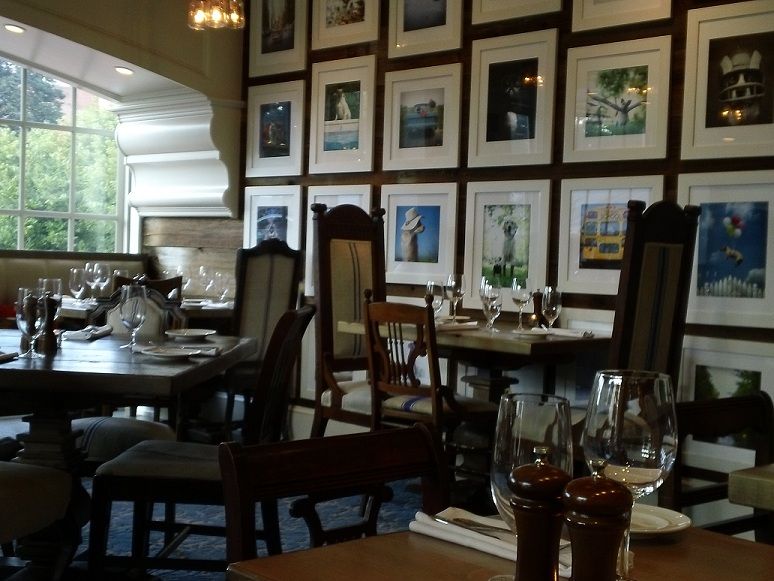 Despite having a 6:30 reservation on a thursday, it was pretty empty! It did have a few tables in the first room filled up as well as on the other wall from where we were sitting. It did get much busier around 7:30 or so.
We of course started with some delicious birthday wine - a Reisling, which is my favorite kind of wine!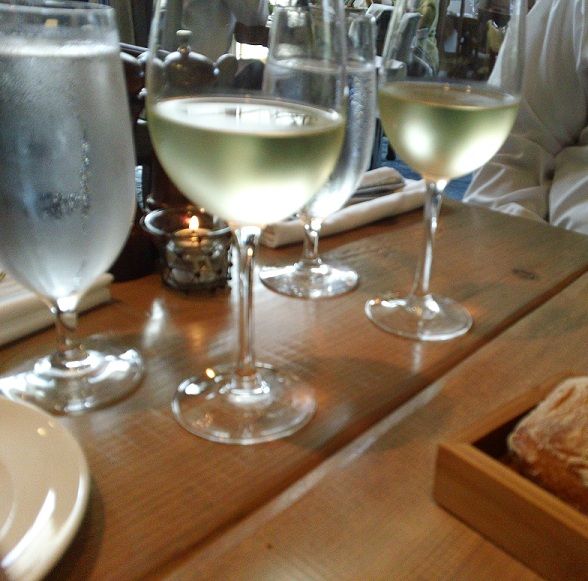 We started with the Vegetable Antipasto.
The site states it as "local seasonal vegetables, herb infused oil, saba, true leaf microgreens."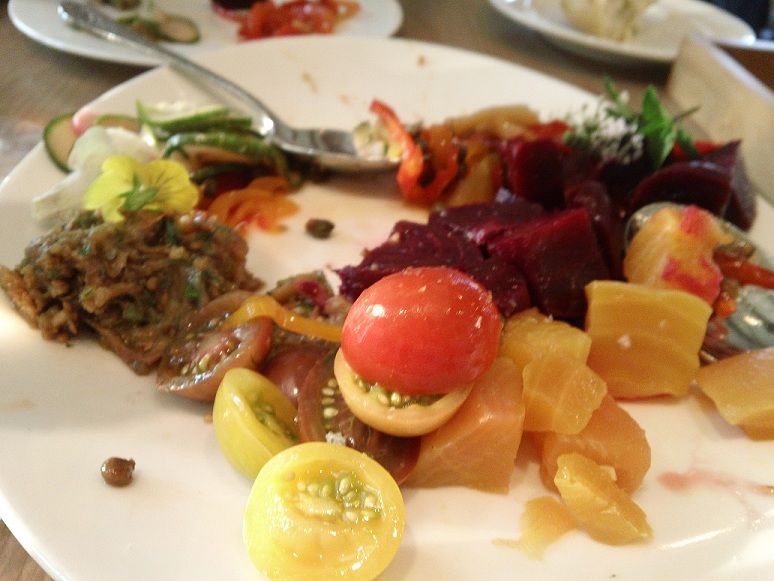 It was really delicious and had golden beets, regular beets, tomatoes, a puree of vegetables..
Compliments of the chef, we received glasses of gazpacho which was delicious and I've love to order this next time as a starter!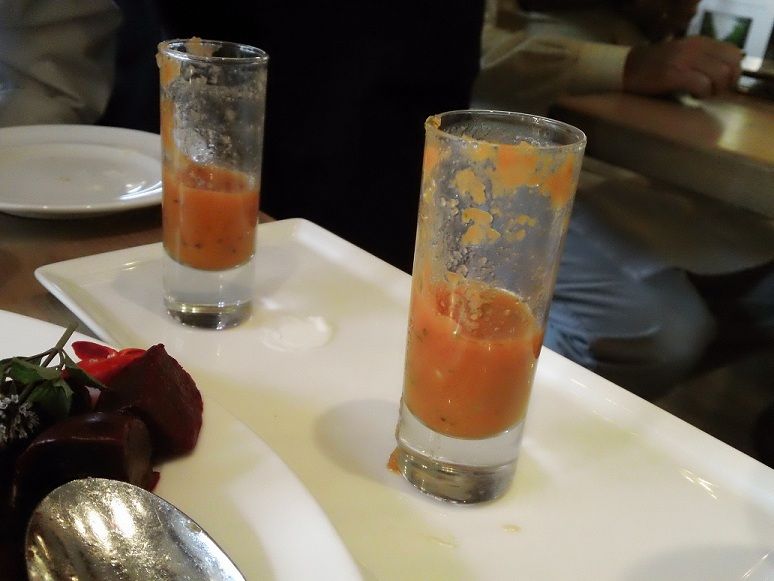 For my entree, I chose the Cashew Crusted Tofu, which the site lists as it comes with "buckwheat noodles, red chile aoili, asian vegetable slaw, and ginger soy sauce." Our server informed us that the red chile aoili was not vegan, so that was left off.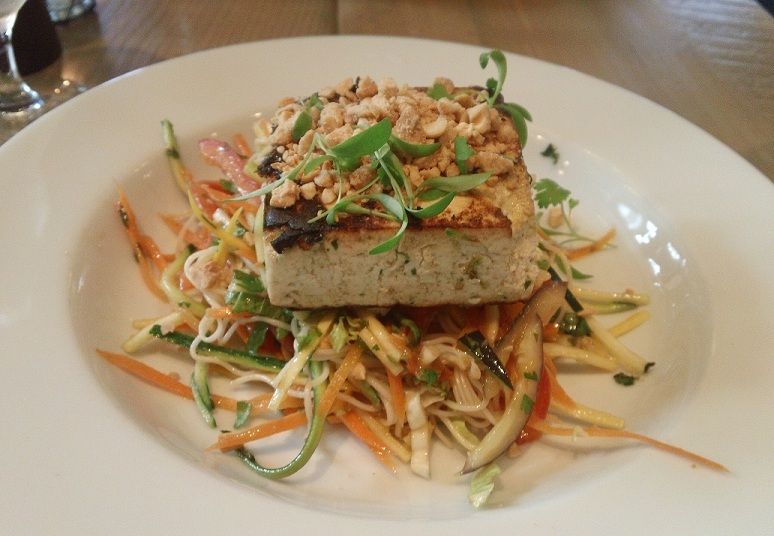 The tofu was really good and the vegetable slaw was perfectly seasoned. I thought the entire dish was wonderful, and I know that they change up their menu according to the seasons, so I'd be excited to go back and try some of their other vegan offerings in the fall!
Jason also got me a vegan birthday cake from Whole Foods!!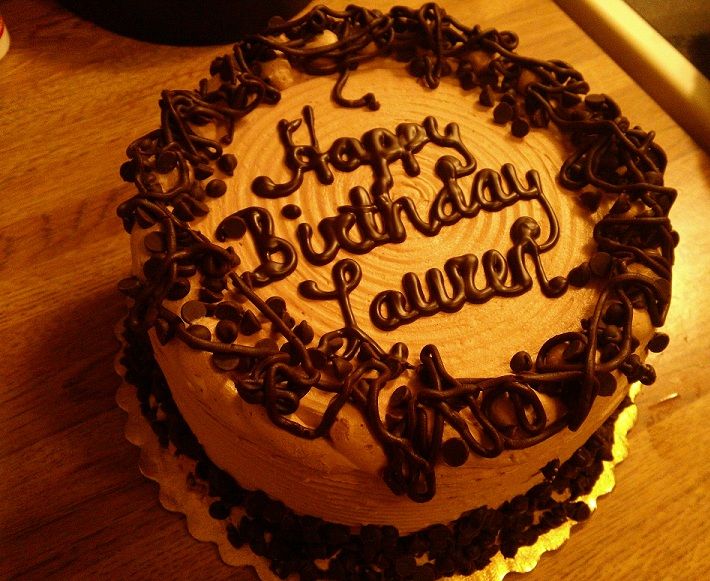 This was AMAZING!!
The chocolate mouse icing was phenomenal and the cake was moist and still very moist and decadent days after for leftovers!
My birthday was definitely a fabulous one and my last one as a single lady ;)