I definitely wanted to get a review-post up about austin before thanksgiving, because I know (hopefully) I'll have tons to share about that!
Anywayy, about a month or so ago I went to Austin, Texas with my fantabulous boyfriend and aside from the warm, beautiful weather (except for the last rainy day..) the super cute town atmosphere, and the fun/interesting street of bars and restaurants...it was aweeeeesome for vegans! quite perfect, i must say :)
Thinking of texas, one wouln't exactly imagine a vegan friendly place admist the hamburger loving cowboys it would be known for. howeverrr..it was quite the opposite, at least in Austin anyway.
Within walking distance of where we were staying, was the biggest
Whole Foods
I've definitely ever been to. Aside from the huge salad and hot food bars that are in most Whole Foods, they have a ton of different food stations to get food to go from as well - including a sushi bar, mexican food, "american" food with grilled sandwiches, and a bunch others. it was quite overwhelming, and seemed impossible to actually make a decision on what to eat!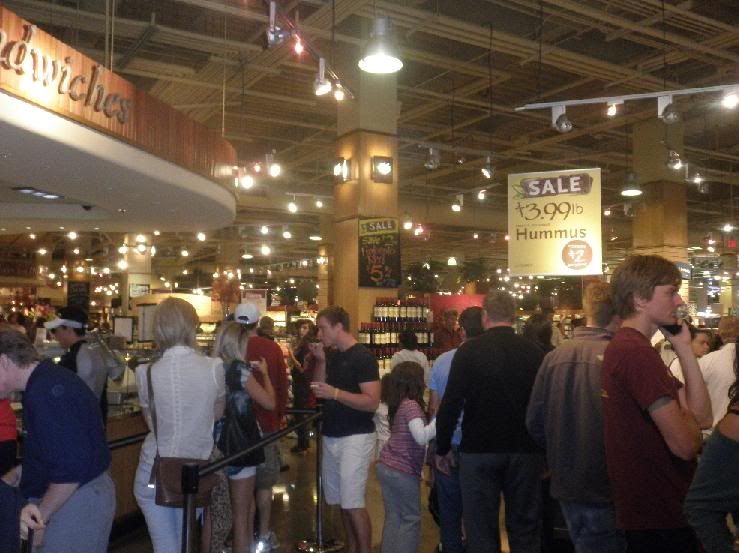 Although there were so many choices and it was hard to pick, I'm definitely not complaining..choices are always nice ;) just hard when youre only there for a short time! After wandering around the aisles, we found yet another station near the produce..the all vegan and mostly raw food! definitely found my pick...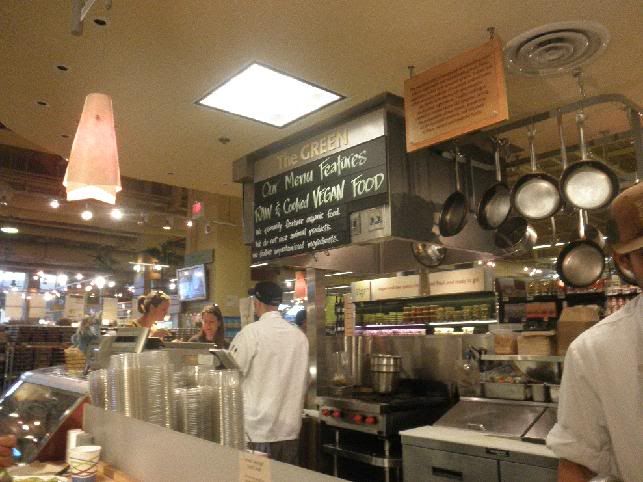 Just this station though had SO many options that all sounded great! I've never had spiralized veggie pasta before, and they had that in a bunch of different vegetables with a few sauce options, so I decided on that.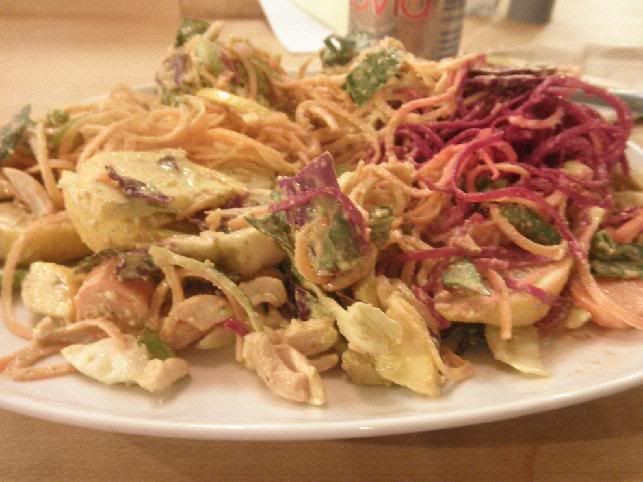 This is what inspired me to ask for a spiralizer for Christmas (wink wink, mother!). Wow..it was a mix of beets, carrots, and zucchini all spiralized to pasta-shaped with a pad thai sauce on top. They also had an alfredo and a marinara sauce as well..which I'd love to try.
I was torn between the pasta and the taco salad they had, which had cashew sour cream, seitan on top, and guacamole. Luckily, Jason got it so I got to try a bit anyway :) It was definitely really good..and the sour cream was much better than some vegan sour creams I've had before..
Honestly, I could've spent all the days we were there in just the Whole Foods...but I suppose theres more to Austin than a grocery store :)
While wandering down Guadalupe Street, we went to this cutesy little toy store which had some of the most random stuff in it. But next door I spotted a sign (I always have my vegan-radar on) that said vegan soft serve. Uh...yeah?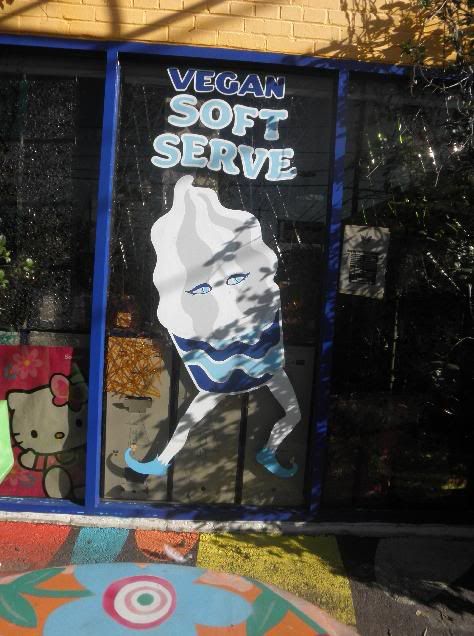 How cute is the dancing vegan softserve??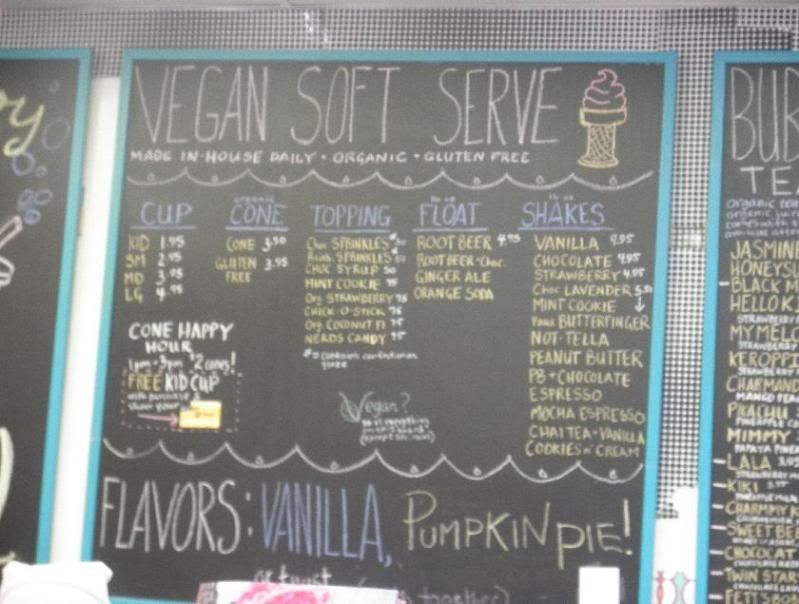 Knowing we were about to go to dinner somewhat soon after this, we decided to split something instead. I definitely had to try
something!
We shared a
Butter Finger Milkshake
which was awesome! I've heard of the vegan butterfinger pieces, but I've never tried them..they were great in the shake though, I'm sure they'd be great to bake with sometime..
Soo dessert before dinner, but that's okay ;)
Since I have quite the obsession with New Harmony in philly, the a-mazing all vegan chinese place, I was suuuper excited to hear that there was a vegan chinese place in Austin as well!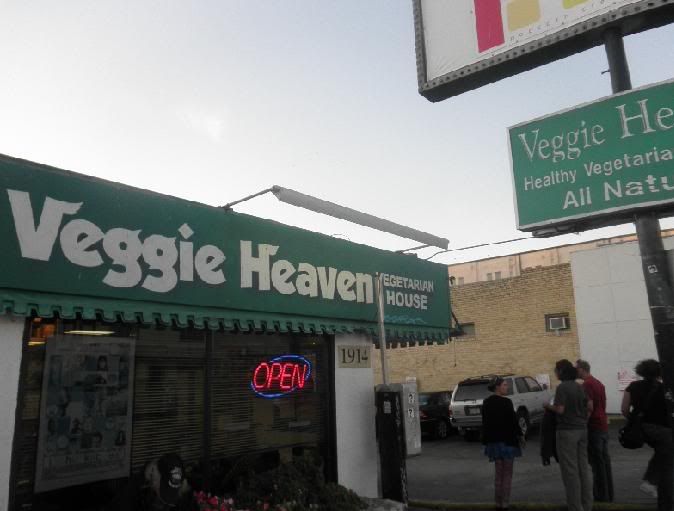 Veggie Heaven! Indeed it was. It was pretty small and crowded inside, with not much of an attentive wait-staff, but the food definitely was awesome.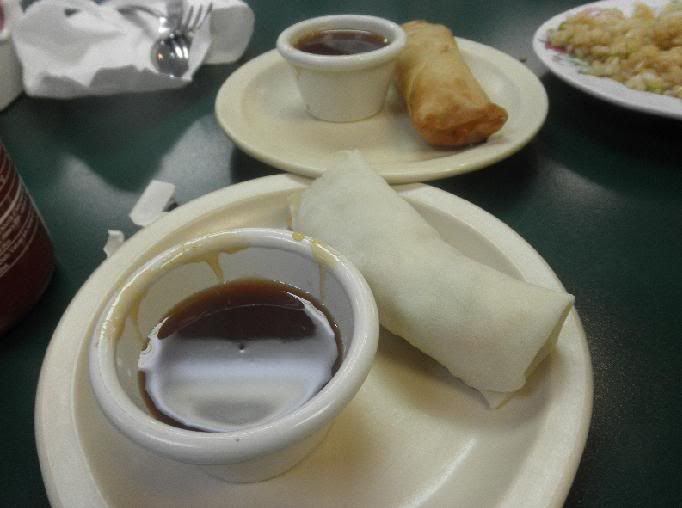 We started off with spring rolls -- his fried, mine steamed. I'm pretty sure this was the first steamed spring roll I've had, and as much as I like the crispy-ness of the fried ones, the steamed was quite good!
I had ordered the
Lucky 7
, after much debate, which was
7 fried tofu balls made of celery, carrots, chestnut, vegetable protein, and breadcrumbs are cooked with broccoli, baby bok choy, cauliflower, carrots, napa cabbage, onion and garlic in a slightly sweet and spicy red sauce
The "balls" tasted more like a type of falafel, but were reallyyy tasty, especially with the sauce.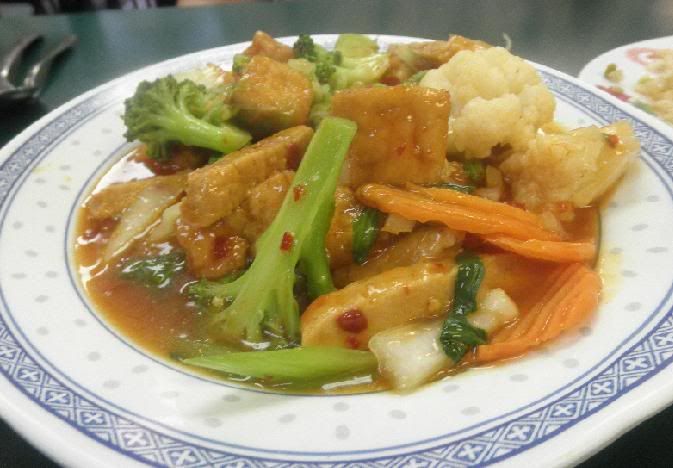 Not gonna lie, I don't really remember the specific name for what Jason got..but it was pretty much the same sauce I had with veggies, and fried strips of tofu instead of the balls that I had. They were both really good, although the sauce did have a bit of a spicy kick to it! As did many of the things we had while we were in texas haha...
Austin was definitely an awesome place..and I'd looove to go back sometime, since there was so much there that I loved, and I'm sure tons that I didn't get to see that would be great :) I guess it does kick the stereotype a tad bit, doesn't it? :)