so between not having a camera for a bit and having trouble uploading pictures from my phone...i am FINALLY posting about my birthday..which was last week. :)
i can definitely say that i had a really good birthday..
when i got back from class that day (boo for classes on your birthday!!) i had a package from mi familia!
it was an
all vegan snack basket!!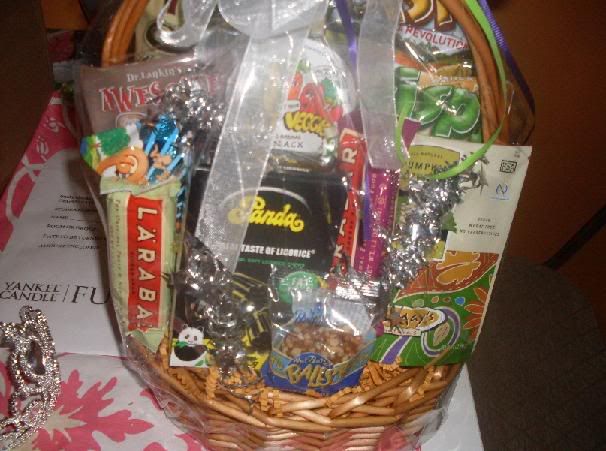 so pretty! i didnt want to mess up the wrapping and basket..but i was definitely eager to see what all this fun stuff was!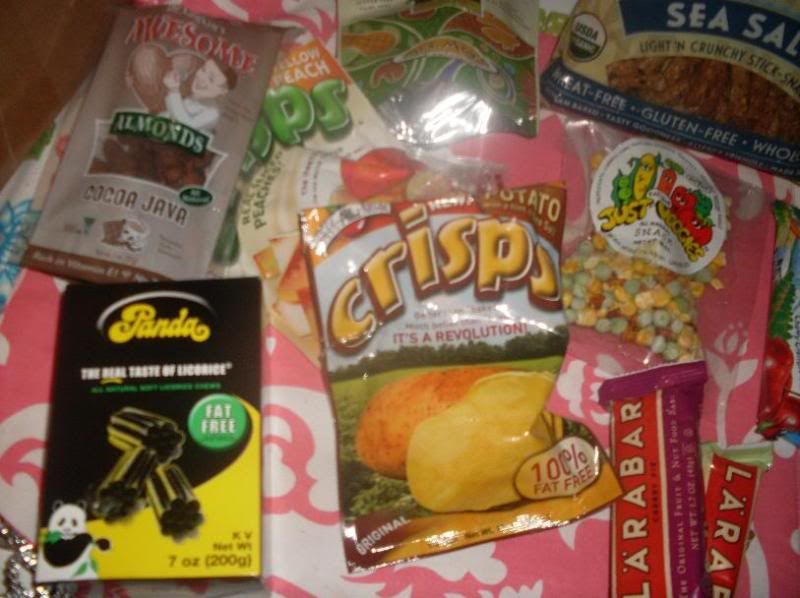 So what do we have here? Lara bars! Cherry pie & Ginger snap..i've never had the ginger one before so that should be fun to try.
Panda black licorice! I loooooooooove licorice..which not many other people do, haha but its one of my faves :)
All-natural potato crisps..
Cocoa-Java Almonds.. ooommmggg these were so amazing. i usually go for the more salty / spicy types of nuts...but these were so delicious.
Dried Pear Crisps by the same people of the potato ones.
These fun crunchy things called "Sticks & Twigs" which kind of make you think of pretzels except they dont taste like pretzels and aren't pretzels..haha they're made from quinoa, flax, and a bunch of other awesome things! they're realllly good :)
there were also a few more granola bars from brands i had never heard of..but they were all organic and natural and delicious! :)
Thanks Ma! ;)
So for dinner on my birthday we went to this restaurant in Mt. Airy called
The Black Olive.
I saw it on vegpa.org, which has a listing of all the vegetarian and vegan restaurants in pennsylvania. they have a website, but it really doesn't have much information on it at all except for its an all vegan restaurant.. i read some reviews and they all said it was great though and had vegan cake..which was what i wanted haha. i'm really glad we went though, all the food we ordered was really delicious!
as an appetizer, we shared the vegan crabcakes..
i took a picture, but it came out really bad and does them NO justice..thus i wont waste posting it..however, these were SO delicious! i don't think before being vegetarian i ever had a crabcake, so I can't exactly make a good comparison..but "the omnivores" at the table haha thought they tasted just like the real deal..
For entrees, after a LONG debate of which one to get, I finally decided on the spinach lasagna.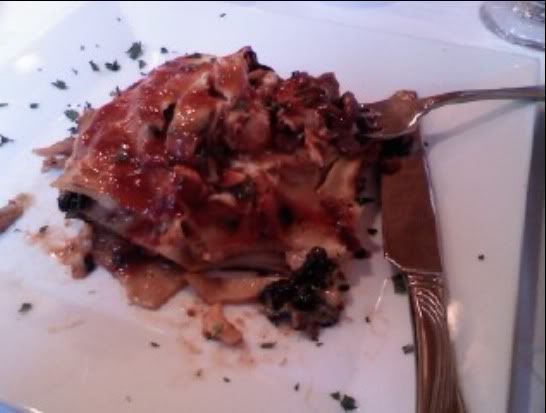 i made quite a good choice. it had a delicious layer of vegan cheese on top that melted perfectly on it..yum. i haven't had lasagna in forever so this was just perfect. it also came with a side salad that had this really good berry vinagrette with it..
the lovely roomie got the tofu wrap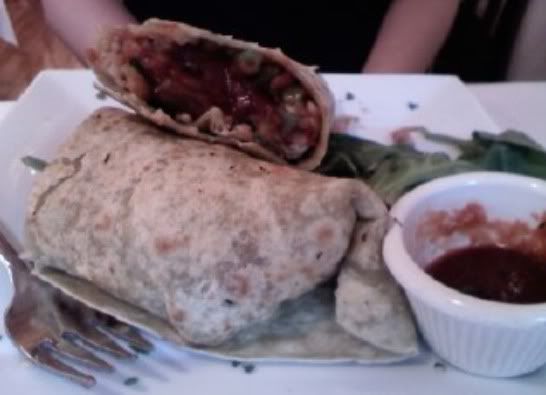 i didn't get to try this myself, but she said it was quite delicious. it had a bunch of different veggies and beans and tofu in it.. :)
the lovely boyyyy got the seitan steak!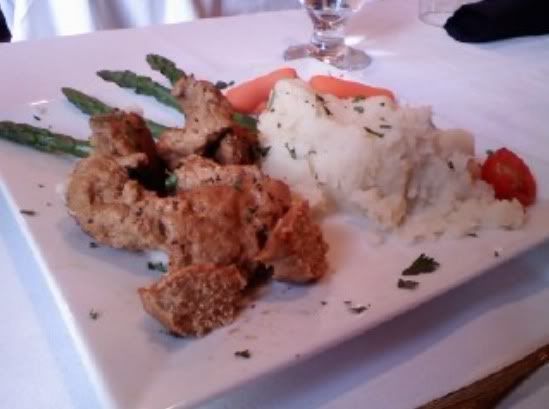 The "steak" came with mashed potatoes and asparagus as well. I tried a piece of the seitan and it was pretty good! The sauce on it was really good.. it tasted a lot like the seitan you can buy prepackaged in whole foods or tj's though..but they cooked it really well so it was quite tasty.
Annnd for my favorite part of the meal..I mean you can't have a birthday without cake, right ?? ;) Luckily Black Olive had a few choices..
I chose the German Chocolate Cake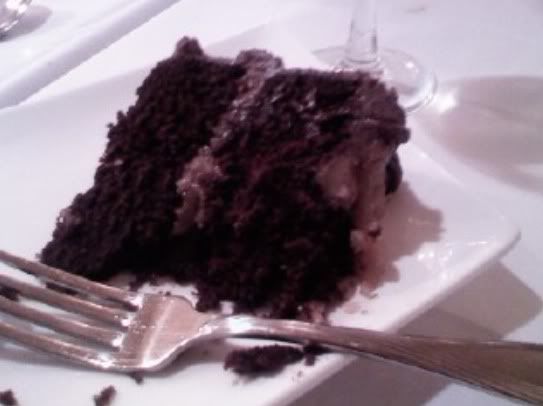 I've had a lot of german chocolate cake in my lifetime, haha considering its my dads favorite, and even last year I made a vegan version for him! But I was really excited they had it here too. It was so delicious, the cake was perfectly moist and the frosting was definitely deliciously coconuty and scrumptious. The frosting was definitely my favorite part ;)
I didn't get a shot of emily's cake though..she got the lemon cake, which was really good and not too tart. the frosting on it was delicious though, of course...that is my favorite part of any cake though haha.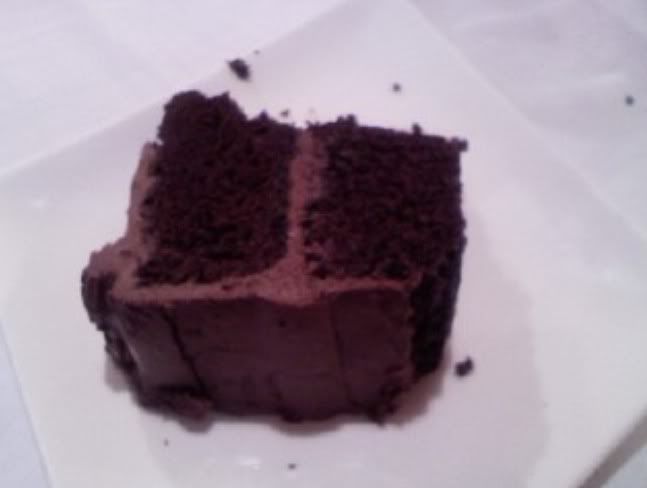 They had one other cake, which was the double chocolate cake, that jason got..and that was really good too! luckily my german chocolate cake had the same frosting as the double chocolate on top, so i got the best of both worlds haha ;)
So this place was really delicious and I'd definitely love to go back again, especially since there were a few things on the menu I still had my eye on as I ordered my lasagna ;)
My birthday night was quite good as well..definitely a 21st ;)
don't you just love the sash and tiara? haha bit much, but it was fun :)