As we're exploring more and more of London, i've found soo many awesome restaurants and cafes that cater directly to vegans, as well as others that have so many vegan options! I'm becoming more convinced that it really is more veg friendly than the states! It's gonna be a bummer to go back.. ;)
One place that we actually have been to a couple of times since being in London is located in the Camdentown Market area.. It's an all vegetarian cafe, with the majority of the options being vegan, and also has a smoothie/juice bar as well as music and social events in the evenings!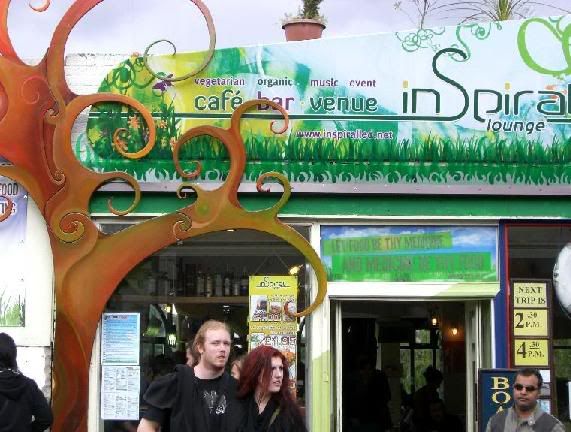 Inspiral Cafe & Lounge on Camden High Street.
So far from there I've gotten a lunch bowl, which shares the same concept as a lot of the cafes around here... you choose a size bowl and then pick from the hot and cold food bars as to what you want. I really like this concept a lot, since it lets you try different things, but I guess you have to choose carefully if you don't like your different foods being mixed!
The first time that we had went, we had actually already eaten lunch at a mediocre cafe where I had a sandwich..but we should have waited a little longer and we would've found Inspiral instead! We were so excited for it though that we ended up getting one of the smoothies anyway..all made with soya milk!!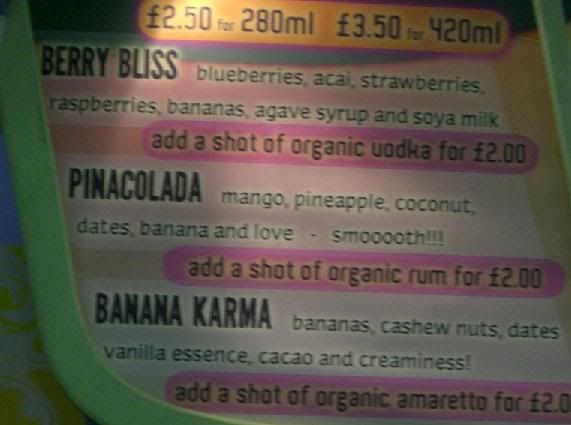 Organic vodka in your smoothie, anyone? ick..can't say that sounds very good at all!
However, I got the Berry Bliss smoothie and it was really really good! Very fresh tasting and perfectly creamy with the soy milk! :)
This place also has an "ice cream" section... and we were planning on trying it out one day when it was actually really hot in london! I sampled the Mint Chocolate Chip ice cream, hoping for something delicious...unfortunately it was made with wheatgrass and spurlina.. which I don't mind those at all in a smoothie or something like that..however, I was expecting sweet, delicious ice cream...not quite what I had in mind..so we ended up passing on that.
Skip to another all vegetarian cafe located in the Soho Area of central london..called Beat Root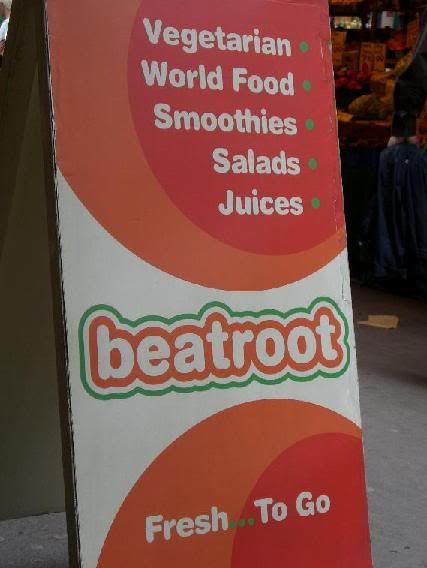 This was located just a street away from the VitaOrganic vegetarian cafe we went to a few weeks earlier, but we wanted to try something new.
The people working there were really friendly and they had a ton of options.. only two of the options were not vegan too..so that was exciting that I could try a lot :)
Same as Inspiral...the concept is you choose the size box and then pick whatever you want to fill it... I love getting a whole mix of different things..usually I just say "whatevers vegan"... ;)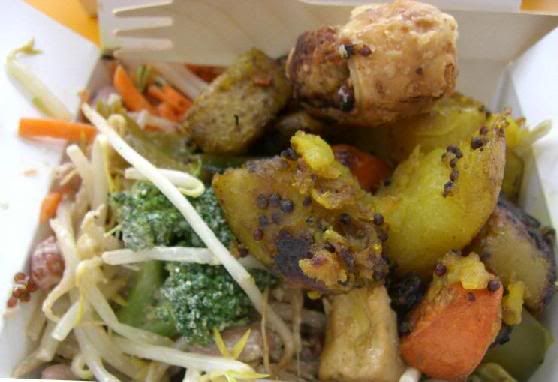 Everything that I got was SO good!
Theres a mixture of a potato curry dish, brocolli and sprouts with peanuts in this really good "creamy" sauce, a quinoa dish, and a few others I can't really remember..but I really thought everything I got was so delicious. :)
They also had a few things for dessert as well, and we chose a chocolate crispy ball to split..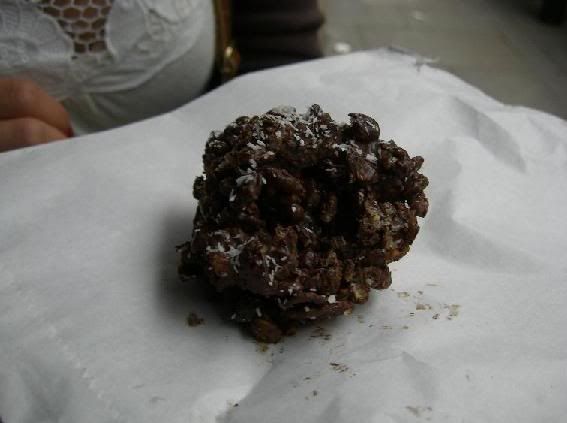 it tasted like a chocolate covered rice krispy treat..except even better ;)
SO good! This might've been my favorite vegan cafe place so far in london...
So as if London wasn't amazing enough by having the Veg all vegan chinese buffets on nearly every street... we were lucky enough to stumble upon by accident an all vegan Indian buffet as well!!
It's called Indian Veg Buffet and it's located around the Islington area of London.
First of all, it's only 3.95 pounds for all you can eat... so that was pretty sweet to begin with..
We can in to see what it looked like before we decided on it, and once we saw the curries we knew we had to eat there.
London is actually pretty well known for their impressive indian food..i'm not so sure if this vegan version of it is as good as the omnivore version..but I was a huge fan ;)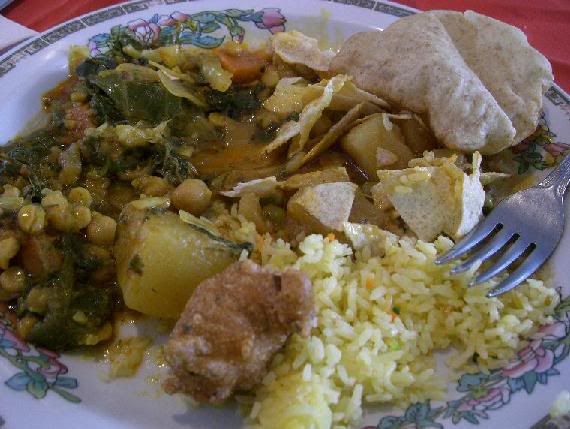 My plate.. they had four different curry options available, along with many different sides to choose from, naan bread, and a few different rice dishes. I chose the chickpea curry and the spicy cinnamon potato curry. The rice I got had a really good seasoning to it as well and went perfectly with the curries. Everything I got was soo good, of course :)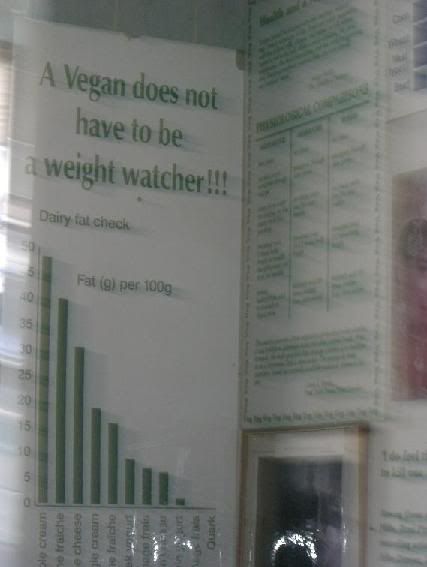 ALL around the restaurant they had these different posters regarding how healthy a vegetarian and vegan diet is as opposed to a meat-filled diet. It was really cool to see so much information on it everywhere!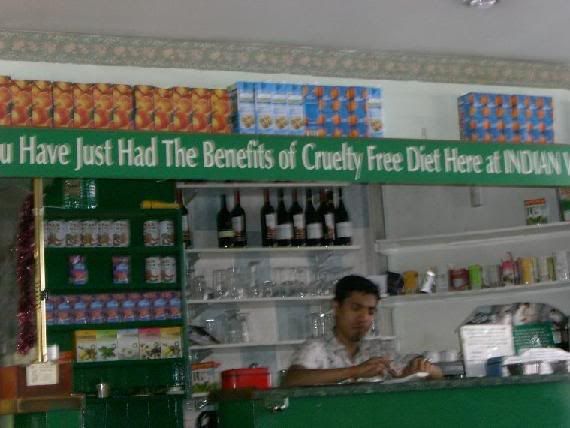 Yay for the benefits of a cruelty free diet!! :)
Not gonna lie..this guy totally thought I was taking his picture though and I think I made him blush ;) haha oh the things I do for taking blog pictures!
This place was definitely amazing and I'm so excited there are soo many vegan "buffet" options as well as different places to go for just a quick lunch..
Another thing that i've noticed in a lot of places is they have a TON of different vegan mediteranean foods as well..such as tabouli salads, hummus and falafel, chickpea salads, etc. It's so easy and convenient to just pick these up from grocery stores and such for a quick meal!
In a nutshell, I've basically fallen in love with how vegan friendly london is.. :)
We only have 4 days left of our european vacation though, so i'm a bit bummed about that..but at least it's been an AMAZING experience..
Next up I'll post about the not so vegan Dublin, Ireland! :)