So I haven't really been baking or cooking much of anything lately..
having classes over has been SUCH a relief this past week though.
its so nice to not have the stresses of having papers or tests or anything! freedom! :)
Last week though I did find this amazing place..yet only 3 miles away from my apartment!
It's called
Weaver's Way Co-Op
and its a co-op store in the Germantown/Mt. Airy part of Philadelphia that has couple stores as well. I wasn't exactly sure what to expect before I went,
however, I had been on a MISSION to find
Whole Soy Frozen Yogurt
..and i had yet to find it ANYWHERE..including whole foods and other super markets that usually carry a lot of soy products. But on the Whole Soy website, they said that Weaver's Way carried it..so I had to make a stop!
Alongside the AMAZING chocolate hazelnut frozen yogurt... (oh gosh its so good)
I also wandered the aisles and picked up a few other things, including some new flavors of fruit leather (i'm addicted to these) and a bag of
nutritional yeast
!!
I've yet to have ever cooked with this..so i'm SOO excited to make some delicious cheesy recipes!
In a nutshell, Weaver's Way had SO much to offer..plenty of different vegan foods, produce, and they also carried a lot from Mosche's line of vegan sandwiches! It is a $30 charge per year though to become a member (since i wasn't a member I had to pay 10% more..not a big deal though) and you have to work 6 hours of the year there..which I think would be totally fun anyway! When I get back from london..i'll definitely look into joining it :)
Anyway!
Onto my super amazing weekend which also included super awesome vegan food ;)
This weekend I was really lucky enough to stay in new york city with my incredibly awesome boyfriend. and also extremely lucky that he was totally up for trying out some awesome NYC vegan eateries!
On Friday we went to
Lula's Sweet Apothecary
, which I had heard about ALL over the "blog-world" being amazing vegan ice cream with a huge assortment of different toppings.
It definitely lived up to its reputation ;)
Although the ice cream maker was apparently broken, they still had 3 flavors of soft serve to choose from; vanilla, twist, or cake batter. The list of toppings on the wall definitely seemed like a good amount to choose from as well!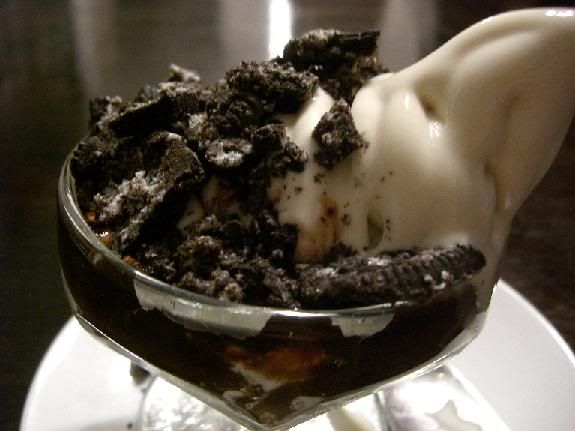 This was mine, which included Cake Batter soft serve with mint newman-o cookies, and deliciously amazing hot fudge. oh how i've missed hot fudge.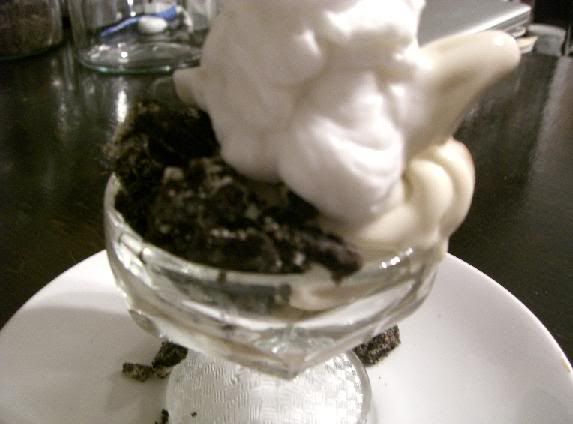 This was the boyyy's...he got the Twist soft serve with the mint newman-o cookies and coconut whipped cream! The whipped cream was quite delicious..i've missed that too!
I also got a chance to go to
Blossom
for dinner last night, which I had also heard a ton of awesome reviews about..
The place definitely has a very small and cute atmosphere..and I really liked the setup a lot! The menu wasn't huge but had a good amount of things on it..and had me torn between a few options.
The pictures however are not the best...due to my camera wanting to stop working..so I couldn't see what I was taking a picture of..note the un-centeredness haha. oh well, trust me..it was gooood ;)
I decided on the Crispy Thai Tofu with Bok Choy,rice and this delicious tangy coconut-milk based sauce. Sooo delicious! The tofu was crispy enough just the way I like it and the bok choy was really well done also. I'd definitely get it again.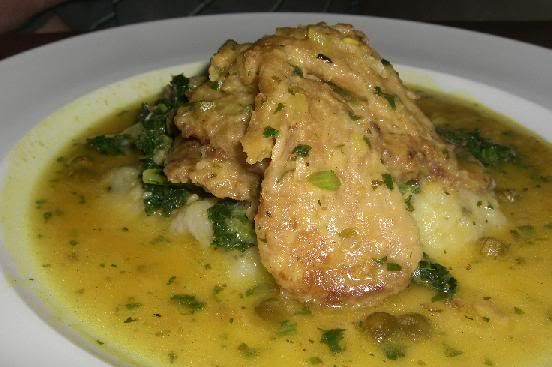 Okay so not the most flattering of pictures, BUT this meal was AMAZING. It is the Seitain Scallopini, which was seitan cutlets in a a white wine, lemon, and caper sauce. uhh....wayy too good! I totally would've gotten this instead if I knew how awesome it was!
So yeah, both of these places definitely lived up to the expectations..pure amazingness ;)
New york is just so amazing in general, as well as full of awesome vegan places..i'm quite jealous ;) surre philly isn't bad either i suppose!
After the long weekend i'm completely tired though, so i'm definitely looking forward to a nice long sleep tonight.
Hope everyone has a wonderful week!!
:)