This post is just drenched with chocolate...
I warned you ahead of time ;)
Not even on purpose really, I guess I just was on a chocolate-fix this past week or so..nothing wrong with that though.
I did a take-two of the peanut butter brownies that I tried to make a few weeks ago, but turned into a pan of a
too
gooey mess!
So I used an old brownie recipe that I knew worked well... and I just mixed up peanut butter and spread it into the mixture..
It came out pretty well, however for some reason these did turn out a bit cakey-ish than when I remember making them..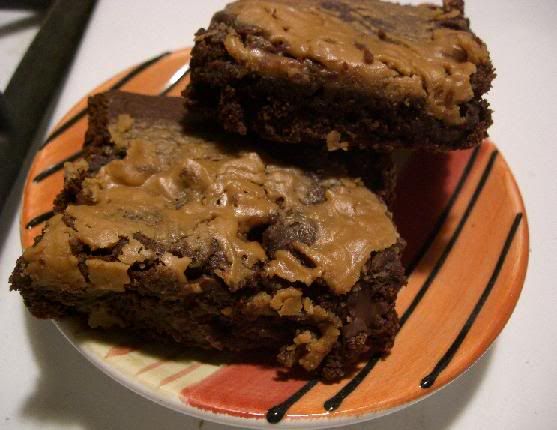 I used the same recipe from
this post.
But I did bring them into work last week, and they were all quite pleased and happy with me again :) so that's always good.
While doing a quickie whole foods trip last week, I saw they had the So Delicious Coconut Milk Yogurts in an array of flavors..and I've been meaning to try these for a while. I've tried the coconut milk ice cream made by them..in the mint chip..and was VERY impressed. I am not a fan of soy yogurt though.. I've tried REALLY hard to like it though, but I just can't get over the texture. so I was hoping for good things from this!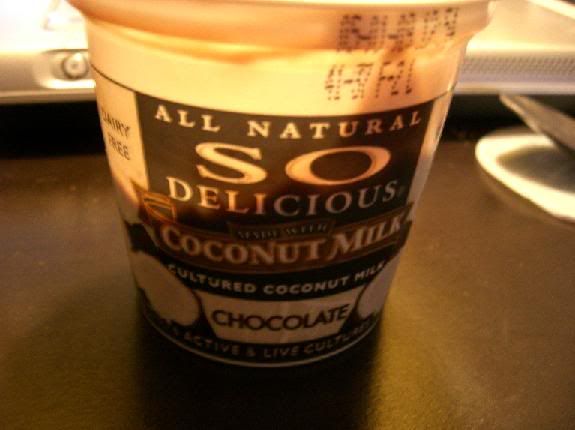 Again, i tried REALLLY hard to like it..
seriously..
with each bite I'd be like "it's not..that bad..."
honestly, I really did not enjoy it at all. the tangy ness through me off as well as the texture. maybe i should try a different flavor..
but it was kind of a big dissapointment because i used to LOVE eating yogurt pre-vegan days.. and I'd really like to find a replacement that I like. any suggestions ??
Another fun thing that I found that my mom had told me she had seen in my hometown in maryland ...and I hadn't heard anything about these..
Nasoya Silken Creations.. they had it in the shoprite near me randomly, in the refrigerated tofu section, and i really wanted to try it out! they had it in all three of the flavors, strawberry, vanilla, and..my choice..dark chocolate.
I was thinking of what to make with it, and I thought that my usual peanut butter chocolate tofu pie would be AMAZING using it..
However, I must say..on the package it says to be used in recipes or eaten straight from the box. I gave the straight from the box thing a go just to see how it tasted..and wowwww I think I might just buy it to eat! It tastes like AMAZING chocolate pudding..perfect consistency..and I'm really excited to try the other flavors out like this.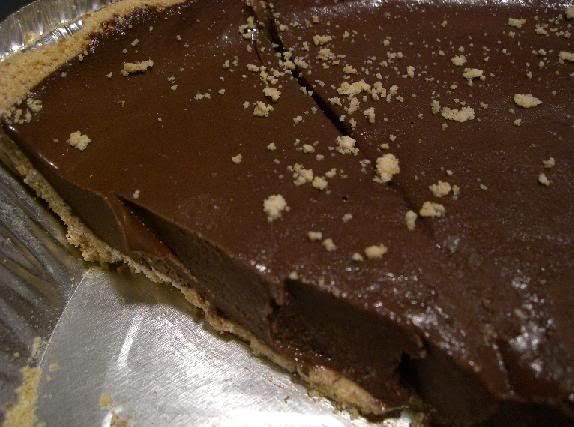 I figured it would already be SUPER chocolately so I halfed my usual 1 cup of melted chocolate chips to only a half of a cup..as well as I left out the soy milk since the tofu was already a pudding-consistency as opposed to when I use the usual silken tofu.
I will say, it did not firm up as well as previous times that I had made this pie and used regular silken tofu.
It was more of a pudding-pie..which..is still quite amazing.. but a bit messier.
I put it in the freezer however in hopes of it firming up quicker, and the next day it was a frozen-ish consistency... but kind of like an ice cream cake texture..which was actually really good! :)
And lastly for the chocolatey-goodness of this post..
my sorority had its retreat for the new girls this semester last night.. and since it was late night-ish we were asked to bring a dessert for it. Of course I jumped at that opportunity, how can I ever turn down making a baked good for others to eat ? Plus, it was thursday..and i couldn't let the friendly applebee's co-workers down!
I tried out the chocolate mint chip cookies from
Joy of Vegan Baking.
This book never lets me down!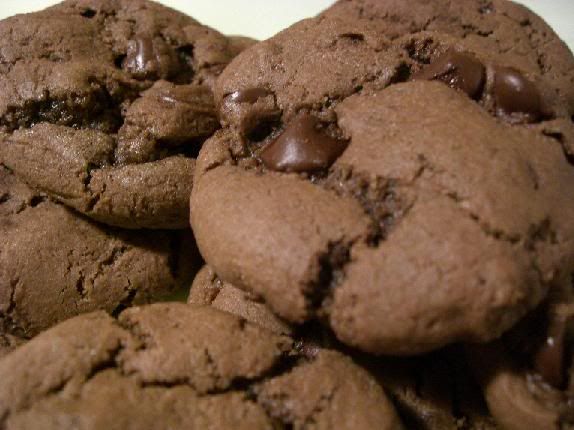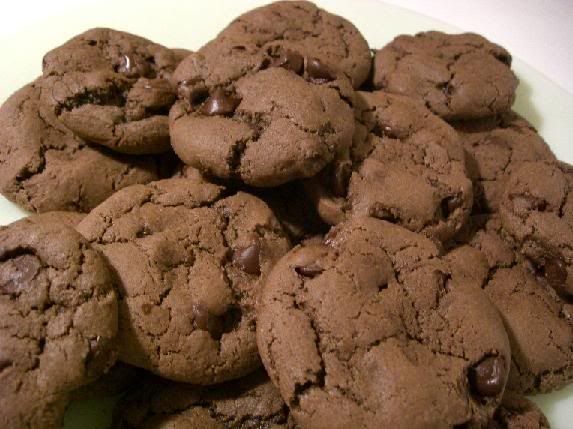 These cookies were AWESOME.
People at work were upset that I didn't bring more of them, and were raving about them all night! I still love that they don't ever believe they're vegan too ;)
I got to the retreat a bit late due to work, but a few of the girls were able to try them and said they were really good. So theres definitely another keeper in that book.. :)
Chocolate Chip Mint Cookies:
1 egg replacer (I used Ener-G)
3/4 c vegan margarine
1/2 c firmly packed brown sugar
1/2 c granulated sugar
1 tsp vanilla extract
1/2 tsp peppermint extract
1 1/2 c all-purpose flour
1/4 c cocoa powder
1 tsp baking soda
1/4 tsp salt
1 c semi-sweet chocolate chips
Preheat oven to 350 degrees. Cream the butter and sugars together in a large bowl by hand or with electric mixer at high speed. Beat in the egg replacer as well as the vanilla and peppermint extracts. In another bowl, mix the flour, cocoa, baking soda, and salt. Add to the butter mixture along with the chocolate chips. Stir well until mixed, but do not overmix. Drop by rounded teaspoons onto a nonstick cookie sheet, and bake for 10 to 12 minutes. Should make about 1 1/2 dozen cookies
Hope everyone has a wonderful weekend!! I'm going home tomorrow to be with the family for Easter, so I'm really excited for that :)