It's slightly snowing outside, nothing too bad luckily, but nothing good enough to cancel classes. hopefully tonight we'll get something good ;)
I did however have my afternoon class cancelled today, which was nice, and gave me some time to finally do laundry as well as get some delicious sushi (yes i love cucumber rolls, as boring as they are to regular sushi-eaters, i find them fabulous!)
This past weekend I found a
new
place to go for lunch/dinner. My roomie and I have decided that we are experts at finding awesome, new places! And it seems pretty good so far!
I found this place called
The All Live Cafe
which I saw on the website, they did not have a menu on there, and that they were only open on saturdays and sundays during the day and at night for dinner. So I called and asked what their menu was like, and she told me that it was
85% Raw and all vegan!
sounded perfect, no?
So the roomie and I headed out with the address, according to mapquest it was only about 3 miles away..awesome!!
We drove down the street it was on and passed the address, and did not see a restaurant..at all. just lots of houses! So we called again, and she said it was inside the building through a fence...... nervous.... haha but we went inside and I'm so glad we did!!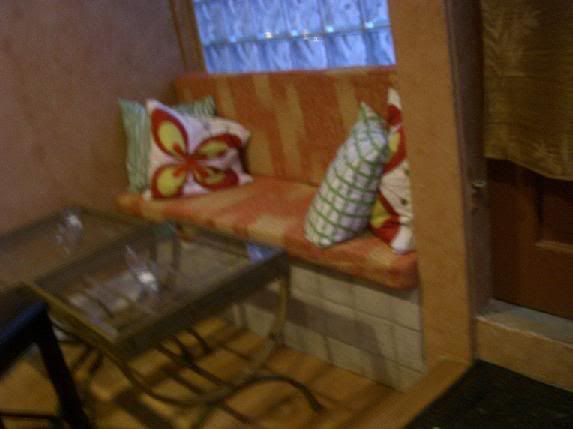 Isn't that just the cutest eating set-up ever??!
The menu was typed up on the papers that you picked up at the door, and she said that it changed a bit every weekend. They're only open on weekends, but they do a service for $100 a week where they deliver you a whole weeks worth of meals!! That's an awesome price, for AWESOME mostly raw, vegan food! I really think that'd be a great idea to do once in a while.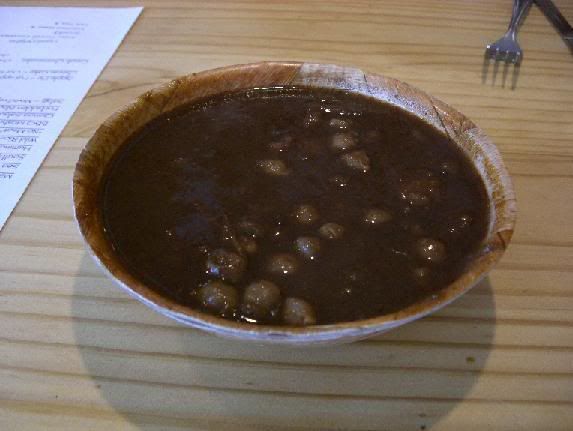 We were STARVING when we got there, so we decided to start with a bowl of the
Chickpea Chili
. It was VERY delicious! It had a hint of cinnamon in every bite, which really made it different, and very savory. perfect way to start the meal.
For your meal, you can choose 3 items on the menu for $10 and they are served in portions over a bowl of spinach mix. we both ordered different things to try a little of it all.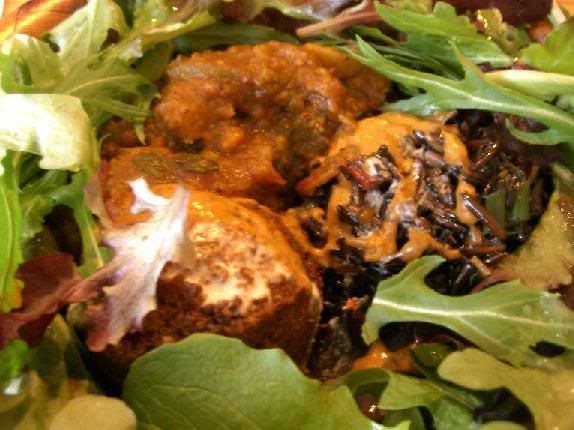 My bowl.. It consisted of
Sangi
, which was mixed veggies cooked with mild indian spices,
No Meat, Nutmeat
, which was walnuts, onions, and savory herbs, and
Wild Rice
, which was sprouted wild rice with fresh kale, peppers, onions, and herbs.
At first bite, i LOVED them all. However, after a few more bites of the No Meat, Nut meat, I was not that impressed with it, and left it in the bowl afterwards. The other two were so delicious, and blended well together!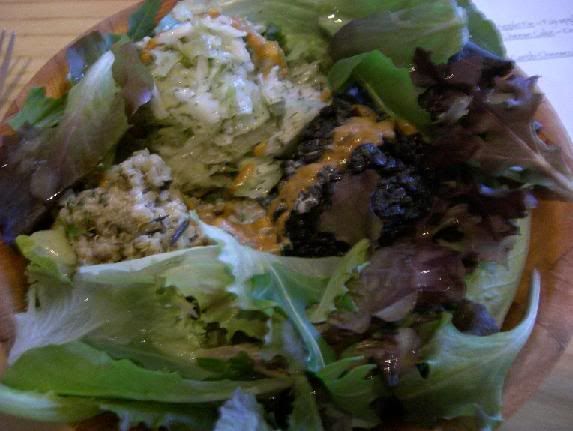 Emily's bowl, It consisted of
Marinated Cabbage
, which was green cabbage marinated in savory herbs,
Quinoa Salad
, which was quinoa with fresh vegetables and cilantro, and
Forbidden Black Rice
, which was black rice with kale, marinated onions, peppers, and herbs. All of hers were really delicious too, and I wasn't sure how I felt about cabbage, but it tasted awesome! I might've liked her combo better ;)
After the delicious meal, we knew we had to try the raw desserts they had! There were a choice of three, the raw cheezecake, the raw carob cheezecake, and the apple pie. We talked to our server, and she said the apple pie was the least heavy, even though the carob cheezecake definitely sounded good...we were getting pretty full.
So we decided on the pie.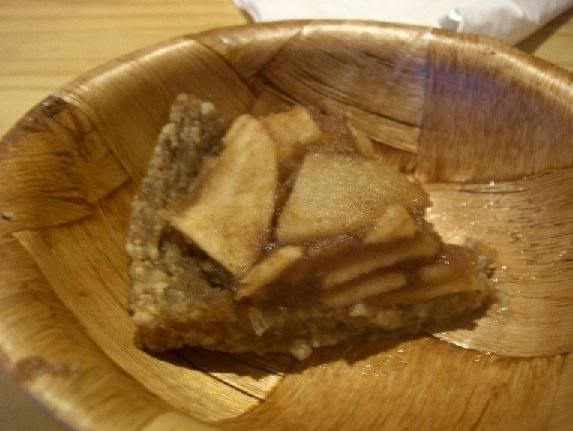 We already started eating it before I remembered to snap a picture ;) Yes, it was that good!
It was fiji apples and sweet spices in a date and almond crust.
It was perfect! Raw desserts just taste SO much better and less processed and fake tasting than regular desserts.
perfect way to end the meal.
Needless to say, we will definitely be back in a near weekend! It was amazing, the woman that worked there was very very sweet and it was just a wonderful experience. Oh, how I love finding these small little places of awesome vegan-ness. ;)