So break is almost over already! I'll be going back this weekend.. It's gone by extremely fast, but I'm definitely ready to get back and get in the swing of things again. I can feel it's going to be a good semester. :)
I have been eyeing a lot of the recipes still from Hungry Girl, and her Butternut Squash fries seemed so simple and delicious, I had to try them.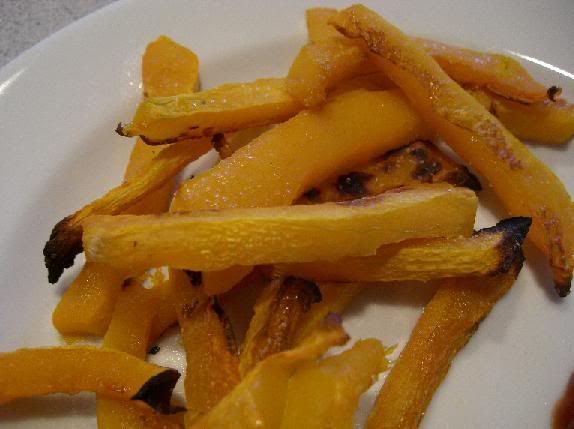 Yes, they look a bit..overcooked on the ends..but they weren't, and I felt that they needed to cook a while to be crispy..how I like my fries ;)
I've never worked with butternut squash before, so it was something new for me. I was definitely VERY pleased with them! Only problem was one squash didnt make that many fries..and i wanted more! I'll definitely be making these again and again..they're so simple and scrumtious..especially with ketchup of course.
"Bake-tastic Butternut Squash Fries" from hungry-girl..my fave.
1 medium butternut squash
enough salt to season
Preheat oven to 425 degress. Use a sharp knife to remove the ends of the squash, cut in half widthwise and then peel squash halves using a peeler. Cut squash in half lengthwise and scoop out the seeds. Cut squash into french fry shapes. use a paper towel to pat pieces to absorb excess moisture. Put squash onto a cooking sheet and add a light mist of nonstick spray on pieces and sprinkle with salt. Bake for 20 minutes, flip pieces over, bake for another 20 until they're crispy enough for you.
Yesterday I wanted to make a dessert that I hadn't made before..and something really delicious too, of course.
So I looked through my notebook of recipes that I've been meaning to make, and I decided on one that used to be on veg web..but got taken off for some reason. Anyway, it was by this baker called Chef Lindsay, i believe, and I remember she had a TON of awesome looking desserts..but i guess she deleted them all off of it? anyways, luckily I had copied this one down!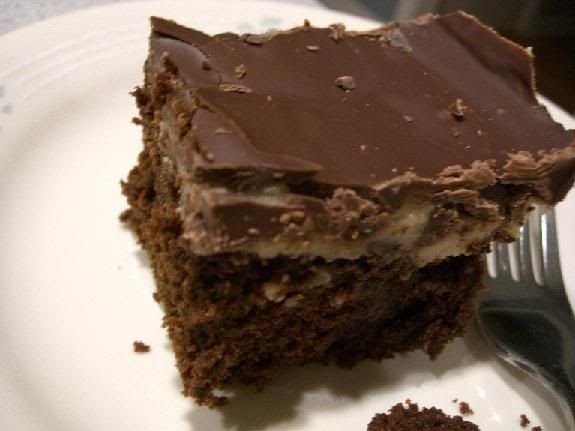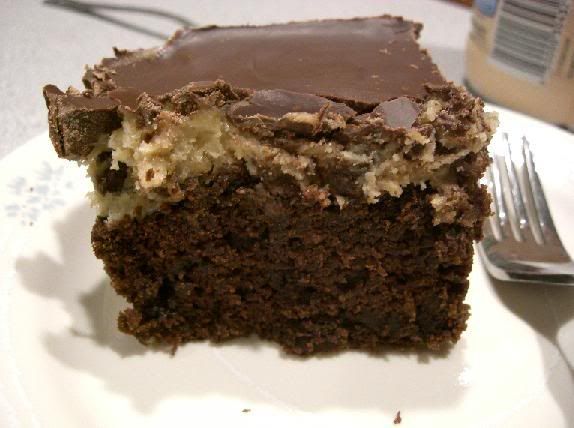 Chocolate Chip Cookie Dough Brownies.
2 1/2 c flour
1/2 c cocoa powder
2 c brown sugar
1 1/2 tsp baking soda
3/4 tsp baking powder
1 tsp salt
3/4 c brewed coffee
3 tsp vanilla
3/4 c + 2 tablespoons of soy milk
1/3 c oil
1/4 c sugar
1/2 c softened margarine
2 c chocolate chips
1 tablespoon of oil
For brownies: Preheat oven to 325 degrees. prepare a 9x9 pan. Sift 1 1/2 c flour, cocoa, 1 1/2 c brown sugar, baking soda, baking powder, and salt in a large bowl. In another bowl, stir coffee, 2 tsp vanilla, 3/4 c milk, and 1/3 c oil. Stir wet into dry ingredients and mix well. pour into pan and bake for 25 minutes (mine took about 35 until the toothpick came out clean). let cool.
For cookie dough: Mix 1/2 c brown sugar, 1/4 c sugar, and margarine until light and fluffy. Add 2 tablespoons of soy milk and 1 tsp vanilla, blend well. Lightly pour in 1 cup of flour and mix, while folding in 1 cup of chocolate chips. Spread over cooled brownies. Refrigerate while making glaze.
For glaze: In microwave, melt 1 cup chocolate chips and 1 tablespoon of oil. Stir until smooth, and spread over cookie dough and refrigerate at least 30 minutes before serving.
yes, they're amazing. Although, I will say that the brownie recipe was VERY cake-like. So if you want them to be truly BROWNIES, then I suggest using your favorite brownie recipe, and then continuing on with the rest of the recipe. But the cake like consistency was VERY delicious regardless.
for christmas I got a day-to-day calender of quotes from the Dalai Lama..and today's was really nice and i thought i'd share it. :)
"the fact that there is always a positive side to life is the one thing that gives me a lot of happiness. this world is not perfect. there are problems. but things like happiness and unhappiness are relative. realizing this gives you Hope."
hope your day is fabulous. :)