So I've honestly not posted in what..2 weeks, i believe? ridiculous! :(
But i've really not been making much that has involved more skilled baking/cooking than using a microwave. i know, it's shameful. but living on your own in a college apartment, you just don't want to cook fancy foods! convenience and cost is where its at.. which sums up what i've been eating, i mean aside from eating food from restaurants, I've been eating a lot of Amy's foods (the shepards pie is definitely one of my favorites!!) Dr. McDougall soups, Lightlean "turkey" sandwiches, etc.
however, my roomie made this DELICIOUS vegan sausage soup last week (using the tofurkey brand spicy sausage links) and it was soo amazing. i did not snap a pic or anything, but take my word for it ;)
We've also made another hungry girl recipe, her
Sassy Salsa Soup
. Which was awesome!! Who knew putting pumpkin in a mexican-ish soup would be so fabulous??
(I definitely recommend everyone to get this cookbook, even though majority of the recipes are not vegan, it's SO easy to veganize them!!)
Yesterday though, I made the
Moroccan Lentil Soup
from Happy Herbivore's blog. My mom made it for me while I was home for winter break and feeling a bit under the weather.. and i loved it so much! The curry powder and cumin in it really make the soup, and blending half of it in a blender and then adding it to the rest of the soup really makes the consistency SOO perfect!
I definitely recommend making this soup ASAP!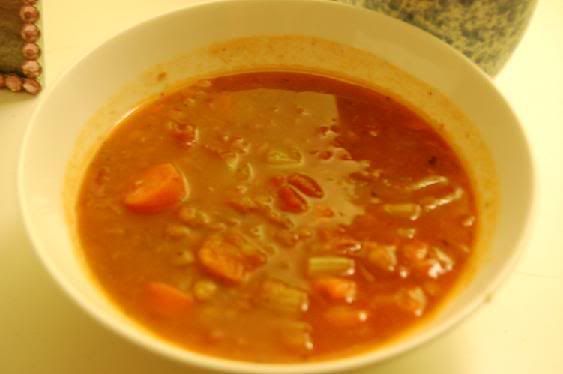 Deliciousness in a bowl..although when my mom made it, of course it was better ;)
Oh and I must talk about my most recent food obsession. Not so new, but for me, it's really hard to find a bar that I REALLY like.
I'm a huge fan of eating
Nature Valley
granola bars for breakfast and stuff..they're really delicious and most of the flavors are vegan..which is rare for granola bars that they sell in most supermarkets.
But I've seen the
Gnu bars
on SO many blogs and the 12 g of fiber with low calories REALLY made me excited to try these! And they're awesome! I've tried all the flavors, with the banana walnut bread or the chocolate brownie being my favorite, and the orange cranberry one not being one that i'd get all the time (something about orange flavored things just don't work for me!)
oh and the cinnamon raisin one of course is delicious too! :)
Oh, and ANOTHER awesome new food obsession -
Trader Joe's Fruit Floes
!
I'd take a picture, but the 4 bar box was gone in 2 days between my roomie and I! We tried the Carribean flavor, and with every bite we kept saying "oh my gosh these are sooo good"
we will definitely be stocking up and trying the different flavors on our next TJ's trip!
Well back to classes tomorrow, this is the first FULL week of classes..all 5 days..ugh! haha i'll make it though.
and hopefully it wont be two weeks till I blog again!! haha of course it won't! :)