so still no luck on finding the cord for my nikon..haha butttt i just switched the memory card into my other camera and i can upload them. :)
so i really wanted to try another recipe out from joy of vegan baking..so i decided upon the peanut butter cookies with chocolate chips. peanut butter and chocolate..you can't really go wrong.
anddd they didnt..they were absolutely delicious!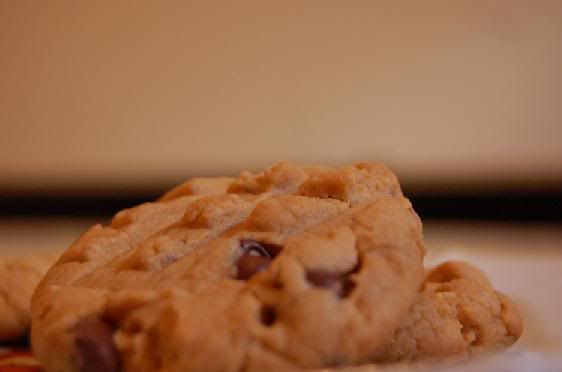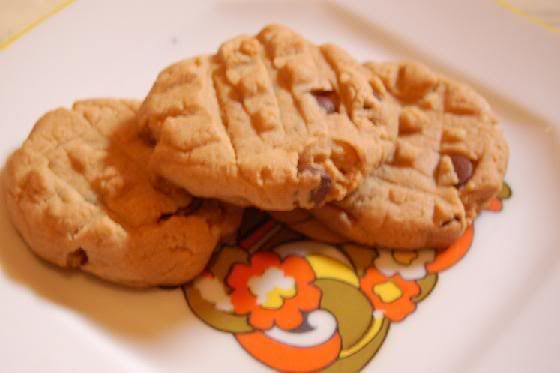 Peanut Butter Cookies: (From Joy of Vegan Baking)
1 3/4 c flour, sifted
3/4 tsp baking soda
3/4 tsp salt
1 egg replacer (I used 1 T flax blended with 3 T water)
1 1/4 c packed light brown sugar
3/4 c peanut butter
1/2 c soy milk
3 T vegan margarine
1 T vanilla extract
1/2 c vegan semi-sweet chocolate chips
Preheat the oven to 375 degrees. In a small bowl, mix flour, baking soda and salt and set aside. In a large bowl, mix together sugar, peanut butter, butter, milk, and vanilla. Beat until well blended. Then add egg replacer and blend. Add flour mixture and chocolate chips and mix. Drop the cookie batter by tablespoonfulls onto ungreased cookie sheet and flatten slightly with a fork to create criss cross pattern on top. Bake for 10-12 minutes until cookies are just turning brown, be careful not to overbake! Remove from oven and let cool. :)
So those I was really happy about. Also the sorority I'm in was having an Alumni Event this past weekend, so I had the opportunity to bake something for that as well. I still had not gotten around to making any fun cupcakes from VCTOTW, soo that was a must! I decided upon the Cookies N Cream ones.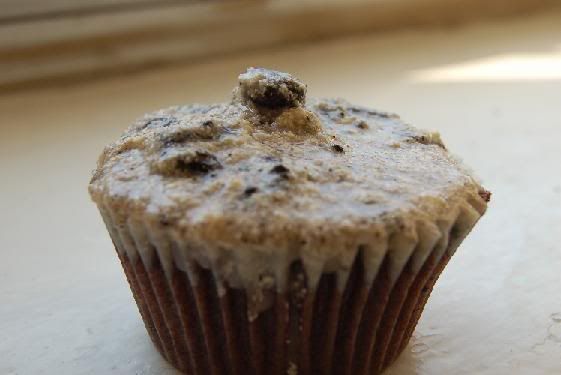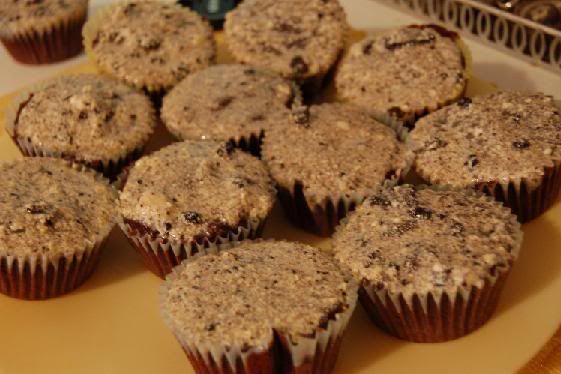 Okay so taste wise? Awesome!! The cupcakes were perfectly chocolate-y and had oreo crumbles throughout them which were great. The icing was soo sweet and delicious that I loved it with the contrast of the dry-er cupcakes. But ...those look NOTHING like the picture in the book :(
The frosting definitely did not get to the consistency that I was aiming for..thus I could not put the half of a cookie on the icing like in the picture. I think maybe the milk did it? i added 1/4 cup of soy milk like the recipe said..but obviously it didn't work out right. I kept adding more sugar & butter to it too to hopefully even it out...nope...nothing. anyone make these and have more successful frosting??
food wise for me hasn't been anything too interesting..our kitchen is seriously EMPTY ...luckily we're going grocery shopping on friday..i've been living off of canned soups and popcorn! haha nothing wrong with that though ;)