Okay so the cooking is still not going so well, but with classes and work and homework..it can get difficult to find time to go to the store and get the stuff and make something delicious.
this past weekend i went up to Syracuse, New York for a football game. The football game was the downside, since syracuse lost, however, I did find my possible new favorite vegan restaurant?
I looked up on happycow before I left to see if there were any vegan places in the area..and only a few showed up, one being the Strong Hearts Cafe. I looked over the menu online and it looked really good, not to mention they had quite a list of flavors for milkshakes as well! Soo I wrote down the address and we luckily got a chance to go there after the game.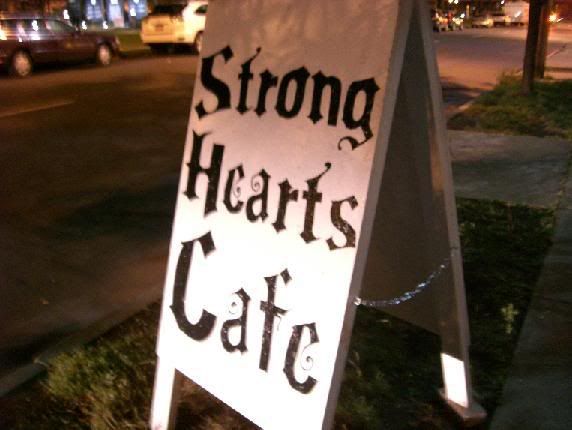 The cafe was inside of a building, which looked to be perhaps an old office building? I'm not sure really..but it was a good size, and had a bunch of tables for eating in. The menu when you first look above the cash registers and such was for all of their beverages..they had hot cocoa, brewed teas, many different coffee drinks(think cappucinos and machiatos with tons of different flavor shots!), and an extensive list of milkshakes, which i'll get to :)
The food menu was on the other wall across from when you come in, with a few salad options, a bunch of sandwich options including options like seitan, blt's, chicken and chickpea salad sandwich, etc. Not to mention an impressive looking breakfast menu, which is served all day, including french toast, waffles, pancakes, tofu scramble..etc..
I knew that after I ate I would want a milkshake, so I didn't want to fill up too quickly, so I chose a "chicken" caesar salad.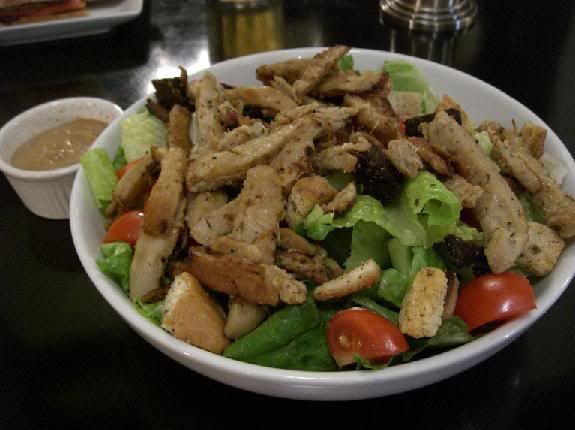 I was really excited to try the dressing, since I used to really enjoy caesar dressing. It was a darker color, but absolutely delicious! It had just the right amount of garlicy-ness to it that made it taste great. The croutons were also really crunchy and delicious. The chicken strips on top were very familiar to the morninstar chickn strips...I'm not sure if that's what they really used though, but I love morningstars so I loved these! The only thing missing is it would've been sweet to have some vegan parmesan on top, but hey..it was really good without.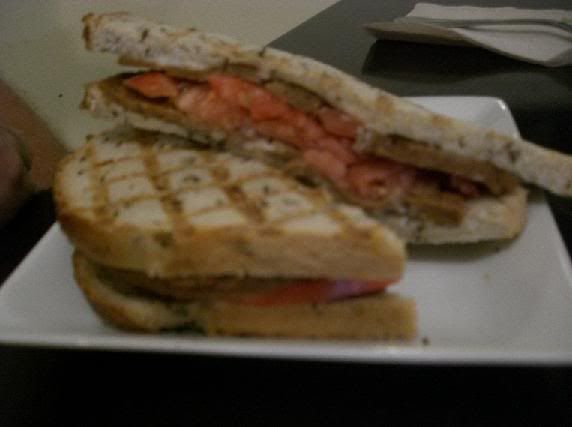 This is the sundried tomato seitan sandwich with tomato and vegan mayo on it. I only had a bite, but it was really good! And the toasty-ness of it made it perfect.
So after eating, and trying to decide on which milkshake flavor to get, I decided on a favorite, Chocolate Peanut Butter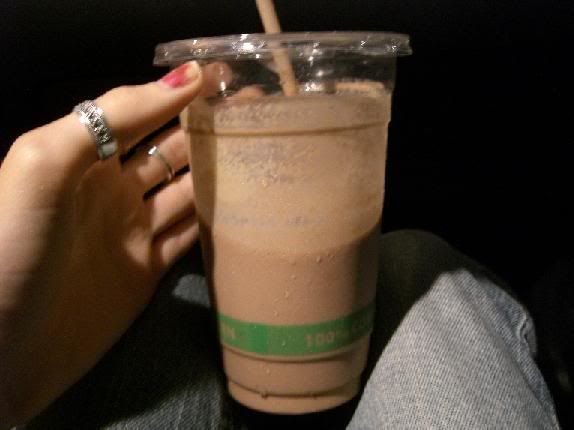 I've had a lot of milkshakes..before being vegan, but actually I haven't had one since being vegan. But this by far was the best milkshake, vegan or not, that I've had! It was soo perfect. I also got to try the chocolate coconut milkshake, which was also really good..especially if you love Mounds bars or just the combo of the two in general..it was really coconut-y but not too overly fake sweet coconut tasting. just right.
They also had plenty of baked goods at the front that the guy told me they make most of them there, such as mocha cupcakes, mint chocolate cupcakes, scones, whoopie pies, etc.
So if you're ever in the Syracuse area, definitely make a stop at the Strong Hearts Cafe. You will love it, i'm sure :)
Oh, and the best thing? On Fridays & Saturdays, they're open until 2 AM. oh I would kill for a vegan milkshake at 1 in the morning ;)